It's crunch time and the kids are heading back to school in less than a month. Time to get them ready, feed them breakfast (don't forget about yourself–you have to eat too), load them in the car and get them all to school on time right before you drive yourself to work–also on time! Did I mention it's crunch time?
Back-to-school time is a very busy time for mothers, fathers, and children as we all try to compensate for a leisurely summer that has passed by so quickly. With crunch time and added activities, full schedules and so much to be done comes a lot of stress. Here are five ways to beat back-to-school stress so that you and the kids can get everything done without losing your minds!
Ways to Beat Back to School Stress
Prepare Clothes In Advance
This is a hard one to get used to but once you have started doing it you will find that it is hard not to do! Preparing your child's clothes ahead of time by putting them away already paired up works great. For instance, place a pair of socks, underwear, a shirt, and matching bottoms together in the drawer. This way, in the morning, all your child has to do is grab a stack of clothes from the dresser and get dressed. This makes it possible for even a two-year-old to get dressed and match in the morning with little to no help from you during the rushed time.
Let the Kids Buy Lunch
School lunches are created around guidelines that assure nutrition and balance. They also cost about 20% less than the average lunch packed from home so you can save time, save money and beat the stress of having to search for a lunch box in the morning. If your child feels that he or she must have lunch from home then create a meal list at the beginning of the week and allow your child to choose options from the list and make his or her lunch the night before–himself! Saves you time and your child will still get a healthy lunch.
Carpool
If your mornings are too hectic and you find that you are often late for work during the school season because you spend the morning dropping kids off at school then maybe a carpool is the answer to your problems. Have a neighbor (who also brings their children to the same school) take the kids to school for you. You could offer to do something little for them in return. You never know–you may find that the neighbor has more time than you and it's no big deal for them to take the kids to school for you. Even if it's just a few times a week this will help to alleviate some of the stress on those days!
Keep School Items Together By the Door
Create a place that is right next to the front door for school items. Hooks for backpacks are the perfect accessory to keep track of important morning school items. Have the kids hang their backpacks up on the hooks when all homework is completed the night before so that there is no searching for the book bags and other important items in the morning!
Prepare Breakfast on Sunday
Did you make waffles for breakfast over the weekend? Make extras and then store them in freezer bags in the freezer. They will store for up to two weeks or more and you can easily pull them out and heat them up in the morning on back-to-school days. Pancakes also work well for this. You can also buy premade breakfast sandwiches that are easy to microwave and eat on the go!
What are your best tips to beat back to school stress?
Pin it for later: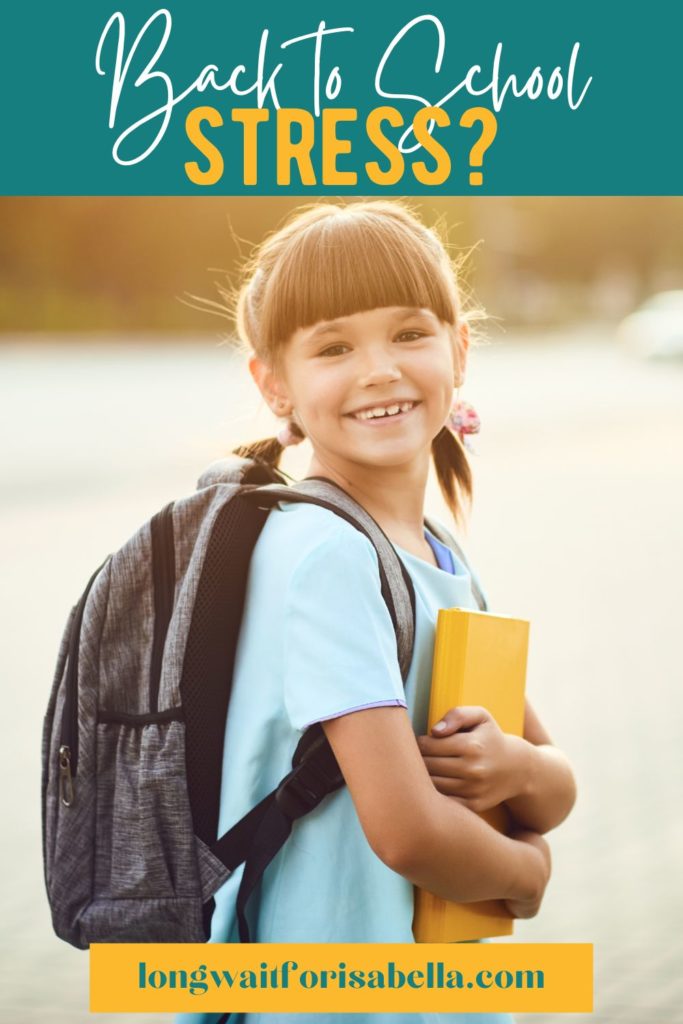 You might also like: