A picnic at the beach is a wonderful way to celebrate the beautiful summer weather. The picnic could be the entire reason for the trip to the beach, or it could be part of a larger excursion. Either way, a little bit of planning can make this a fun and stress-free mini-vacation.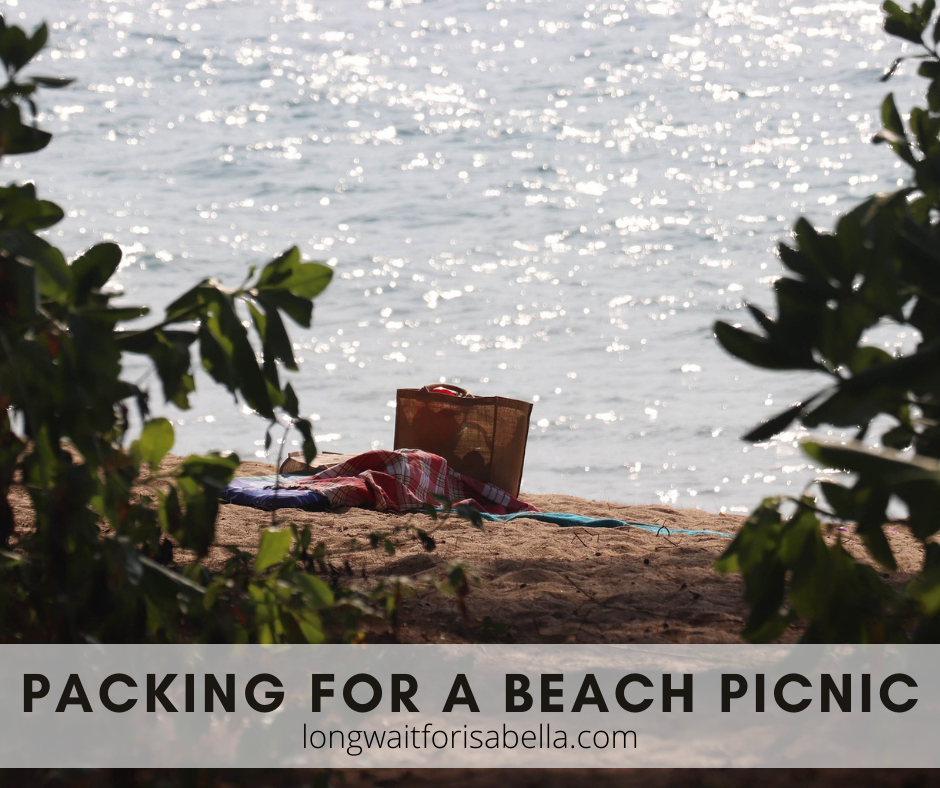 Cutlery – with extras
Regular cutlery is fine, but if you're worried that someone might misplace a piece from your set, the sturdy-but-cheap plastic stuff works well, too. Extra spoons and forks are needed for the dips, pulling out pickles, and so on. A strong knife always comes in handy, for cutting the bread and cheese, for example.
Plastic/melamine plates or bowls
There are many options for picnic plates and bowls. The everything-for-a-dollar-type of stores sell all sorts of pretty picnic dishes, for example. Many grocery stores sell sturdy plastic dishes. Another great source of picnic dishes is to save the plastic bowls that frozen "steamer" dinners are packed in, whenever you buy and eat frozen dinners. They are sturdy and practically unbreakable.  They tend to be an inoffensive grayish-white or black color that mixes well with everything. They are easy to clean: just pop them in the next dishwasher load or otherwise treat them like a regular dish until they wear out, and then recycle them. Too easy.
Cups and drinks
Ideally, pack cups or mugs with covers, to keep out the sand. Failing that, as long as the cups are not breakable, you're good to go. An extra cup or two is often useful, in case one of them gets "borrowed" for sand-castle duty or carrying sea-shells. It is important to bring lots of things to drink: water, juice, pop, etc. Everyone will have more fun and stay safer when well-hydrated.
Napkins and Tablecloth
One of the easiest things to forget is a set of napkins and a blanket or tablecloth. The napkins can be real cloth ones that match your tablecloth, if you like, or they can be paper towels or a package of the pre-moistened wipes. Wipes are endlessly useful on any car-trip, in fact. It can be a good idea to take some kind of paper product with you into the washroom, because the toilet paper is not always well-stocked.
Sun Protection
To avoid sunburn, bring sunscreen, cover-up clothing, a hat, and sunglasses. Folding picnic chairs, a beach umbrella or beach tent, and so on can be nice if you happen to have them. Many beaches are windy. Be prepared to pin these items down, either by sitting on them, or weighing down with heavy items, or using extra-long tent pegs. A trowel might be handy for digging a deep enough hole in the sand to root the beach umbrella.
Toys and Swimwear
If the trip to the beach is meant to be more than just a picnic, you might want to bring binoculars for watching the cormorants and pelicans, a camera, Frisbees or balls for games of catch, and perhaps shovels and pails for making sandcastles and collecting shells. Unless you know that it will be much too cold to swim, bathing suits, towels, cover-ups, flip-flops and sandals are definitely needed. Fresh clothes to put on after swimming are nice, too.
Food
Don't forget the food! Bite-sized pieces of assorted vegetables ("crudités"), cut or sliced cheeses, hummus, salsa, tortilla chips, pita bread, pickles and olives, baguettes, cream cheese, sliced fruit, and an assortment of dips make up a lunch that is tasty, healthy, and filling. Many grocery stores sell ready-to-eat items of this nature. A quick trip into the store on the way to the beach can nab all the food items you need.
Picnic Carrier
What to pack it in? Picnic baskets are pretty, but they are often expensive, and tend not to be very practical for a group bigger than two. Colorful or trendy grocery-shopping bags work well, particularly the insulated kind along with a freezer pack. Sea-grass laundry baskets are also easy to pack and carry. There are solid and semi-solid cooler boxes available at camping supply stores and some grocery stores. 
These are very good for keeping food and drinks cold, especially if you pre-chill them with ice before you pack them. They can be awkward to carry, however. If you're not sure how far you'll need to walk between the car and the beach, choose a cooler that's easy to carry, even when it is full. Stash a bag for garbage, even if the beach is a picnic park and you know it has garbage cans. Also, a few zipper bags in the hamper can be handy for packing any leftovers for the trip home.
With these items stashed and ready to go, you have everything you need for a fun picnic at the beach.
Pin it for later:
You Might Also Like: