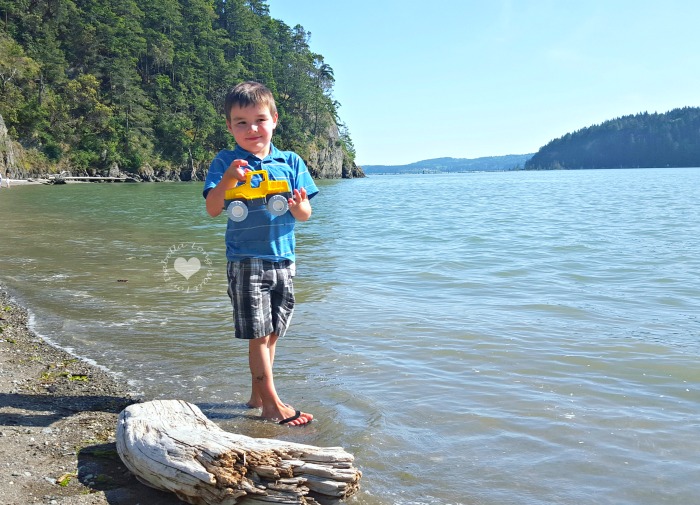 Our family loves visiting the beach in our community, Martha's Beach. Since it's right here in our community, it's close enough to walk our dog Max down to. What's fun about having a Chocolate Labrador Retriever is that he loves the water just as much, if not more, than our kids.
Nate loves playing with the drift wood, in the rocks, and in the sand. He'll play well with or without sand toys. But, he'll play longer when he has a beach toy.
Our general beach essentials include:
sunscreen
water shoes
kids beach toys
water
My kids are pretty easy to please. Spring is so great here in Western Washington. Free beach fun is exactly the kind of afternoon we all love. We've been having some great warm sunshine too. Vitamin D!
[Tweet "Stop and smell the salty air. "]
Playmobil Beach Toys
[Tweet "Thalassophile (n): a person who loves the sea and oceans."]
The excavator's bucket as well as the flag and cage can be detached and also used individually to play in the sand. The detachable, large and sturdy sand bucket can be used in many ways, e.g. to dig holes or build sand hills. The flag and the cage which are stored behind the driver's cab create more possibilities for play. For example, the flag can be used to mark the highest sand hill. There is space in the cage for a 1.2.3 figure.
The dump truck's bed as well as the two ramps and sieve can be detached and can played with individually. The dump bed is used as a sand mould to build walls. The sand sieve and two ramps create more possibilities for play. The ramps can be used e.g. as water channels or bridges.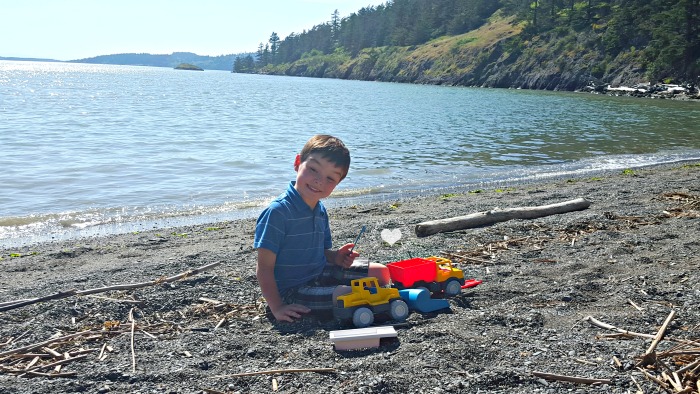 [Tweet "Salty Air. Ocean Waves. Beach Days."]
These may be the best beach toys we've owned. They're well-made, durable, a brand name we already love, and the fact that both toys have a detachable sand toy is amazing! They're coming with us to La Push for Memorial Day weekend for sure!
About Playmobil
Since 1974, PLAYMOBIL® toys, created by Hans Beck, have become a classic throughout children's playrooms, with play themes ranging from a pirate ship to a children's hospital.
Approximately 3 billion of the beloved play figures with the iconic smile have been produced since then, sparking imaginative play for children all over the world. Around 30 different play themes are distributed in approx. 100 countries worldwide. Both parents and educators recognize PLAYMOBIL®'s award-winning toys as a benchmark for high-value, quality play products.
Connect with Playmobil
Facebook | Twitter | Instagram
Disclosure: This is a sponsored post. All opinions are mine alone.