In these difficult economic times, it isn't surprising that many families everywhere are having to get creative about finding ways to have fun and provide all members with the family with some good, wholesome entertainment.
If you've got a backyard, often that can be the perfect place to create that kind of backyard family fun. If you are willing to put forth a bit of effort, for relatively little money, you can create the illusion of a vacation atmosphere for a fraction of the cost.
Backyard Family Fun Ideas
Here are some ideas as to ways to create some backyard family fun times in the comfort of your own backyard.
Backyard camping
If a real camping trip isn't an option, why not bring the camping into your own backyard? If you've already got a tent and other camping supplies, simply haul them out and set them up in the backyard. An outdoor fire pit or even a portable grill can fill in for a traditional campfire. Bring out the marshmallows, chocolate bars, graham crackers and anything else you would have cooked on the grill. You can even spend the night sleeping in your tents. For breakfast, fix something really fun so that the entire family can experience the sensation of really camping out.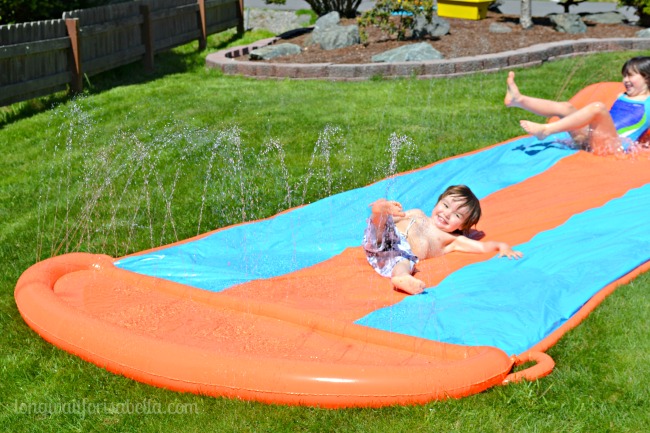 Backyard Water Park
There are inexpensive plastic inflatable slides and things that you can buy that can be used to create a water park right in the comfort of your own backyard. As long as you can hook up a hose to these things – or even use your existing slide and rig a hose to run water down the slide, kids will have a blast. The only drawback is the expense you'll incur from using so much water. It may, however, be far cheaper than the expense of a real family trip to a water park.
A Cookout
Nothing spells summer quite like a backyard cookout. Let the kids invite some friends, or make it a family ordeal. You can do something as simple as hot dogs, burgers or brats, or do something as fancy as steaks. Serve up some traditional summer time side dishes and it can be easy to have fun.
A Marshmallow Roast
A great way to enjoy a lovely summer evening as a family is by sitting in the backyard around a fire pit, over which you roast marshmallows. The fire will be helpful at keeping the bugs at bay. Kids will love the idea of roasting marshmallows, and to make it even more special, haul out graham crackers and chocolate and have an evening snack of S'mores.
Create a Family Vegetable Garden
A family vegetable garden can be a great bonding experience, and it is also a way to try to encourage healthier eating, something from which everyone can benefit. Allow everyone to pick something that they really love and give them the responsibility of caring for that one item. You can plant a strawberry patch and grow blueberries and raspberries as well. If there is a shortage of space, most things can be grown in containers quite successfully.
Backyard Games for the Whole Family
Volleyball
Setting up a volleyball game isn't all that difficult to do. You just need to have enough space so that people can move around. You can create teams to play or have two people play against one another.
Frisbee
Frisbee can be a great deal of fun, and it's one of those activities that can involve as many people as there are around. The main thing is to make sure you have enough space and that people don't throw the Frisbee so hard that they break a window.
Badminton
Badminton is another game that can easily be set up in a backyard. The cost of purchasing a set is relatively small, and it is the sort of game that many people can participate in. You don't have to have a lot of expertise to have fun at badminton.
Croquet
Croquet is another fun backyard game that multiple people can play. A croquet set can be relatively inexpensive, or it can be very expensive. It all depends on how fancy a set you want to purchase. It isn't the most ideal game for little kids, but it is suitable for young children and adults alike.
Horseshoes
Horseshoes can be a lot of fun for the entire family. A horseshoe set is not that expensive and it is something that will likely last for many years, providing an abundance of fun for everyone. They don't take up a lot of space, so it is possible that people can be doing horseshoes at the same time that other things are going on in the backyard.
The difficult economy has forced many people to scale back vacation plans and alter their lifestyles to adjust to more limited financial resources. Rather than seeing the negativity in a less than optimal financial situation, it is possible to see the light at the end of the tunnel.
Look at this as an opportunity to spend some quality family time together and to learn to create memories in the comfort of your own backyard. Having to make do with things at they are can teach children a valuable lesson, and in the end, these memories may be more meaningful to them than memories of fancy summer vacations.
Pin it for later:
You might also like: