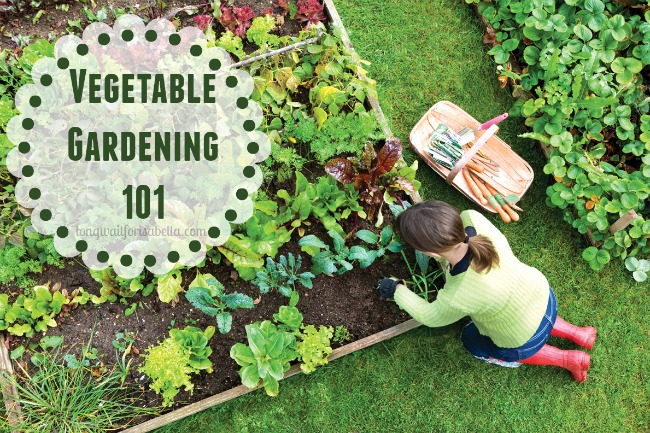 Vegetable gardening is a great way to grow your own food while still learning about the plants and their needs. Setting up a garden does take some time and commitment, but it's not a lot of time and energy once you get the garden planted. There is a lot of prep that you can do to ensure that you grow healthy vegetables that are able to resist fungus and pests.
[Tweet "Use this guide to help you get a vegetable garden started this weekend."]
Vegetable Gardening 101
Choosing a Garden Location
Choosing a location for the garden is the most important step in getting your vegetable garden started. The location makes a difference because it will determine if your vegetables get enough sun, if the soil is able to provide for them and how much fruit they will bear. Your plot will need to be in full sun at least eight hours of the day. If there is some sort of nearby wind protection, even better. Finally, the soil here must be able to be well drained and worked to a depth of at least a foot.
Raised Bed or In-Ground Bed?
Before you begin planting you need to decide if you want a raised garden bed or an in-ground one. There are benefits to both, but it depends on the soil and location that you have available to you. If you only have rough turf or an area not suitable for gardening, a raised bed allows you to create a rich environment. An in-ground bed that is easily workable is a great option too, but you need to ensure that the soil is well drained and will not become waterlogged. A border or short fence around the garden bed is ideal to help keep the soil in and small rodents out.
Build Up the Soil
Your soil is the most important aspect of your garden, ensuring that your plants are healthy and get the nutrients that they need to produce fruit.  Both the foliage and the fruit of a vegetable plant are reliant on the soil and its health, requiring you to build up the soil over time. Add organic matter to the soil one to two weeks before planting and then again mid season, with a final compost addition at the end of the growing season. Add various types of organic matter depending on the specific needs of the types of plants you are going to grow, for example tomatoes require the addition of nitrogen, so compost rich in coffee grounds.
Choose Vegetable Varieties That Produce
One of the most frustrating things about setting up a vegetable garden for the first time is spending time on vegetable plants that don't produce. Choosing a productive variety is a great way to avoid this, and a great way to maximize the garden space that you have available to you. Looks for words like everbearing, super producer and double bearing.
Know When to Harvest, Water and Retire Plants
It is important to know how to take care of the plants that you plant in your garden in order to care for them and get the most produce out of the plants. Harvest those fruits that need regular harvesting in order to encourage new growth, water the soil, not the plants and follow each plants individual watering needs and pull and retire short season plants like peas, beans and collards in order to get in a second or third crop.
You might also enjoy reading:
Basic Composting for Home Gardening