Inspired by our time alone last week, and our "girl's night". I decided to search the web for more mother daughter date ideas. I have found that with the addition of a brother to our family, my Princess can often feel left out. Babies, by nature, get a lot of attention. They need it. But, that means that my precious 5 year old girl is getting less attention than she used to. Special time with mommy is important. It is a way for us to reconnect and visit and just have fun.
10 Mother Daughter Dates:
1. Dinner together. Last week I asked my Princess what she wanted for our girl's night and she said Fettuccini Alfredo and Brocoli. She loves that meal. So I made it for her and we ate it together on trays in front of the television. She never gets to sit in the living room with a tray so it was a big treat.
2. Movie night. While eating our dinner we picked out a "girly" movie from ABC Family Channel. She is getting to that age where she can watch movies not just cartoons. A movie night does not have to be at the theater which can be expensive, it can also mean getting a movie from Redbox, Netflix, or On Demand.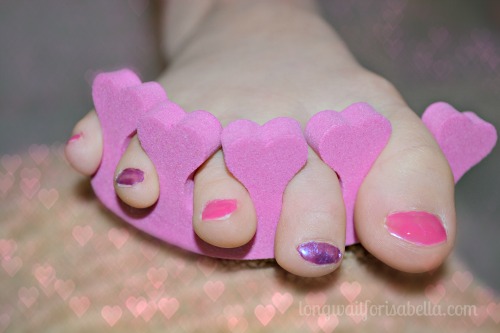 3. Pedicures/Manicures. I'd like to take my daughter to a nail salon soon. I think she'd love that kind of mother daughter date. But you can also do pedicures and manicures at home. We own a small kit and lots of nail polish colors. My Princess asks quite frequently when we can do each other's nails. She loves it. Picking out the colors and showing off her nails is her favorite part.
[amazon_link asins='B01E4AXFTY,B00BDMNIJO,B0060CRHMQ,B00SLJXOJG,B00MTUKUX6′ template='ProductCarousel' store='wpplugin01-20′ marketplace='US' link_id='85de5171-dcf0-11e6-a7f6-eb7da38d5a22′]
4. Baking. We often bake together in our home. My Princess loves cooking and baking. She enjoys when we make food together. Our date last week included making Mini Strawberry Pies and it was fun and easy. A bonding time for sure!
5. Starbucks. We love going to Starbucks. My Princess gets the kids size hot chocolate and we visit and just enjoy ourselves. I love it too. It is fun to pick out an overpriced treat while we are there too. I mean, who can pass up on Cake Pops? Hot chocolate and Cake Pops can easily be made at home too.
6. Frozen Yogurt. Going out for frozen yogurt at those popular FroYo bars is fun. Adding your toppings is so much fun. This is a perfect date night activity with your daughter. Going out for ice cream would be fun too. For some reason, you feel less guilty about eating frozen yogurt.
[amazon_link asins='B00XBC3O8Y,1455592579,B0085SN7J0,B00O2CV0XI,B00R4AFJ28′ template='ProductCarousel' store='wpplugin01-20′ marketplace='US' link_id='b0f274af-dcf0-11e6-a642-9726f4a333d1′]
7. Overnight Trip. Just getting away for one night is such a fun idea. I know of so many places here in Washington that we could have a lot of fun going to for one night. This is a must on my list.
8. Bookstore or Library. When you have a daughter like mine who loves books then a date to the bookstore or library is such a fun idea. I could let her pick one book and we could sit and read together.
9. Zoo or Children's Museum. My Princess loves any Children's Museum even our little one for our county. But Seattle has not only a zoo but also a larger children's museum. This would be a great date for us!
10. Picnic. When the weather is nice it is fun to have a picnic. In fact, this summer I am going to have an outdoor picnic for sure with my 5  year old. She will love it. I will make cut out fun sandwiches and special drinks and treats. I can't wait!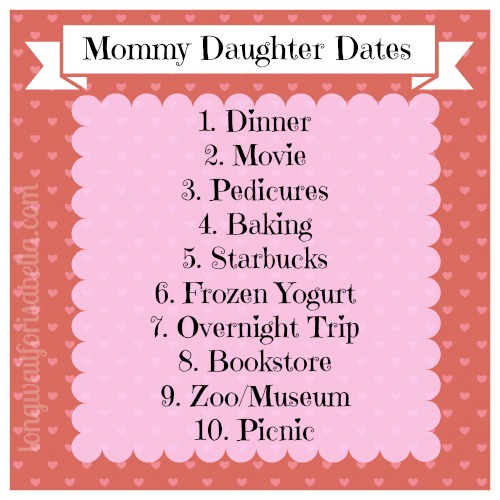 What about you? Do you do a date night or date day with your children? What ideas do you have? I'd to love to add to this list.
[amazon_link asins='1433551934,0764212249,0736929797,1414391323,0312615523′ template='ProductCarousel' store='wpplugin01-20′ marketplace='US' link_id='e459f04a-dcf0-11e6-82e1-71518311b50d']
You might also like:
Disclosure: This post contains affiliate links.