Thank you Moms Meet and Jamba Juice for sponsoring today's post.

Not too long ago, I wrote a post: Mother Daughter Date Ideas. I decided it was time to write one about Father Daughter Date Ideas. This time I wanted to share actual daddy daughter dates that my husband and daughter enjoy.
Does your husband or significant other take your daughter on dates? I think it is good for them to have time together. Fathers can truly show their daughters what it means to be treated right by a man. Their relationship has a lasting impact on her life. I am so blessed to have a great husband who is also an amazing father!
10 Father Daughter Date Ideas:
Playground – outdoor or indoor, a playground is a fun free option
Restaurant – breakfast, lunch or dinner, eating a meal out at restaurant is always fun
Jamba Juice – get a healthy juice together
Ice Cream – go out for ice cream or buy ice cream at grocery store and build your own banana split or sundae
Children's Musuem
Zoo
Splash Pad or Waterpark
Beach – throw rocks, surf, boogie board, kayak, hunt for crab, beachcomb, the possiblilites are endless
Movie – out or in a movie night is always special
Bike ride
This last week, my husband and daughter went to Jamba Juice to get the Fruit & Veggie Smoothies. They contain two servings of fruit and one serving of vegetables – no sugar added! My husband tried the Tropical Harvest Smoothie and my daughter tried the Jamba Kids Berry Beet It! Smoothie. Guess who loved this new juice the best? My daughter! She loved her smoothie and keeps asking us to go back and get her another one. I don't mind since these new Fruit & Veggie Smoothies contain amazing ingredients:
The new Tropical Harvest Smoothie is made with a fusion of mangos, peaches, and passion mango juice blended with juices from butternut squash, sweet potato and carrot. 230 calories, dairy and gluten free, this smoothie is also an excellent source of Vitamins A and C.
The Jamba Kids Berry Beet It! Smoothie is made with a blend of strawberries, mangos, bananas, and mixed berry juice with carrots, beets, broccoli, spinach, kale and lettuce. Only 190 calories, dairy and gluten free, this smoothie is an excellent source of Vitamins A, C, B6 and fiber.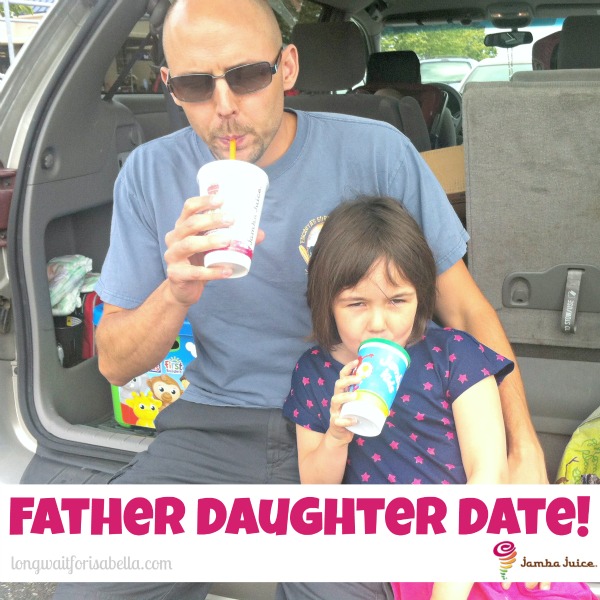 Have a Father Daughter Date at Jamba Juice this summer! Your daughter and husband will love it!
Disclosure: I received a Jamba Juice gift card in exchange for an honest review. All opinions are mine.
LaVonne
Seattle area family blogger LaVonne Long is the author and editor of Long Wait For Isabella. Traveling North America with her husband, she is a Christian homeschool mother of two.
Latest posts by LaVonne (Posts)