Keep your face always toward the sunshine – and shadows will fall behind you.

Walt Whitman
This thought says it all. Positive thinking can change the outlook and the outcome. A person's positive outlook on life helps them to reduce tension, and stress and makes them healthy. On the other hand, negative thinking can affect the physical image, increase stress, increase blood pressure, and other health conditions, so below are some easy steps to thinking in a positive way and ultimately cutting down negative thoughts.
7 Steps to Positive Thinking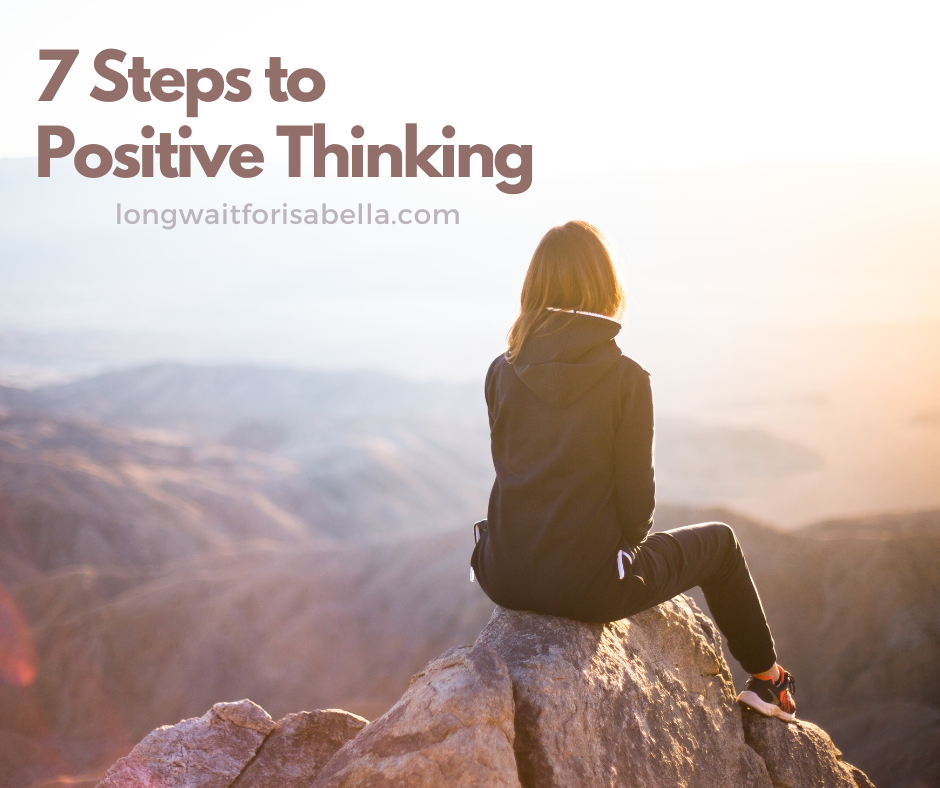 Acknowledge the source of the problem
To think in a positive way, the first thing to be done is to acknowledge the origin of the problem (negative thoughts). Identifying the source will help a person to discard negative thoughts. It is highly important to identify the source because negative thoughts prevent a person to look to the positive side. Identifying negative thoughts will help the situation from getting worse.
Smile
Research shows that a person can alter their mood from negative to positive by just forcing themself to smile. Smiling is a great tool to modify a person's thoughts. Smiling helps to change the mood and relieve stress. Always smile because it takes fewer muscles to smile than to frown, so keep smiling!
Don't compare
Many people become trapped in the jungle of negative thoughts because of comparison. Comparing with others is an unhealthy habit because all individuals have their own strengths, weakness, family conditions, social environments, etc. Moreover comparing with others may make a person feel jealous which certainly isn't good. Remember no one is perfect.
Stay away from negative people
There are people who are very negative about their thinking, no matter what the situation they will always think in a negative way, it is advisable to just stay away from these people because their thoughts can influence and have an effect on others. If a person has a friend who is highly negative then there is a great degree of possibility that the latter will also become a negative thinker. Don't let negative people feed negative thoughts. On the other hand, a person should try to speak to people who are optimistic, optimism is contagious.
Exercise
Yes, exercise is a great way to think in a positive way. If a person exercises daily then it will not only help them as a distraction from negative thoughts but also make them feel energetic. Exercise helps to lift moods and leads to good health. A recent study shows that people who exercise daily get fewer harsh thoughts. This is because exercising helps to maintain serotonin (the feel-good hormone).
Step out of your comfort zone
Stepping out of the comfort zone will surely enable a person to knock out negative thoughts. To do this a person can join interesting classes as will help to become socialized and to meet new people, visit new places, learn a new language and read books, etc. Remember as you think so shall you become.
Don't assume
Negative thinking leads to unjust assumptions, which makes one become more and more trapped. People who think in a negative way always tend to assume that they know what exactly is going to happen and thus minimize their positive feedback. Negative thinkers need to make re-assumptions that whatever is going to happen will be great, such assumptions are certainly more relaxing and there is less uncertainty of feeling.
Summing up, here is a quote that may make you think," A healthy attitude is contagious but don't wait to catch it from others. Be a carrier."
Pin it for later: