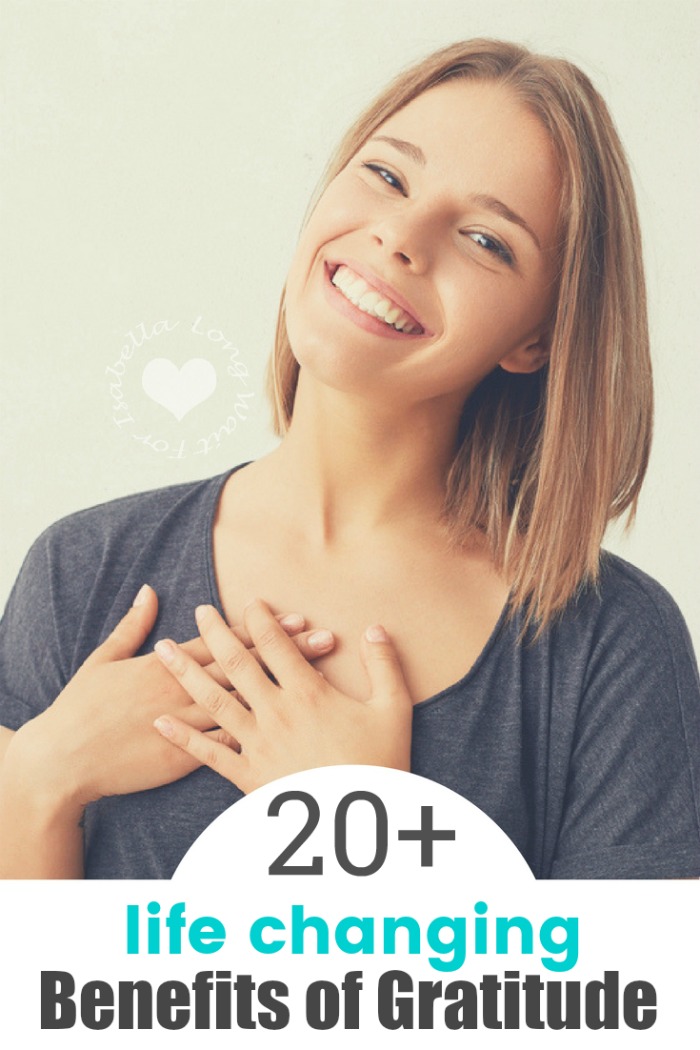 O give thanks unto the Lord; for he is good: for his mercy endureth for ever. Psalm 106: 1
What is it that all of us really want from life? Isn't it simply just one thing? I think many people will answer this question with one word: Happiness.
And what's the simplest, easiest way to be more happy? It's just being grateful! Being grateful has many benefits, all of which are highly underrated, and that's exactly why I've got over 20 super benefits of practicing gratitude in your everyday life. So read on and give thanks!
In every thing give thanks, for this is the will of God in Christ Jesus concerning you. 1 Thessalonians 5: 18
Benefits of Gratitude
Gratitude makes you a happier person- just spending a few moments everyday to recall all the things that you have and make you what you are can make you a more positive, happier person.
It makes people like you more- several studies have confirmed that people like being around people who are more grateful and happy, and gratitude tends to deepen existing relationships too.
It helps increase your self esteem and boosts your confidence levels naturally.
Gratitude makes you healthier- it helps you stay relaxed and stress-free, reduces depressive symptoms, enhances sleep quality and increases your energy levels.
It boosts your productivity- gratitude has a very direct impact in improving your career. It helps you network better and make you a more friendly person who is able to accomplish everything.
Gratitude improves your sleep quality too, which is a plus for those suffering from sleep disorders such as insomnia and sleep apnea.
It improves your overall health- meaning a lot less visits to the doctor.
It helps you live longer- yes, you read that right! Studies have shown that being grateful can actually extend your lifespan.
Gratitude can make you more likely to exercise- a perfect way to get started onto a fitness or a weight loss routine.
It helps you bounce back from a bad experience- people who are grateful are less likely to develop PTSD and tend to become all right after having a negative experience faster than others.
It makes your memories happier- you'll find yourself recalling more of the happy times in your life than sad times.
Gratitude will also help reduce your feelings of envy. You'll not feel jealous of anything or anyone anymore because you'll be contented with what you have.
It improves your social relationships- especially close ones. Your family and friends will be happy to be around you.
It makes you look good too! Being grateful is sexy yeah!
It helps you hit your goals faster- being grateful can reverse laziness and encourage you to keep working harder, helping you reach your targets faster.
It improves your ability to make decisions- with a grateful heart, you'll be less likely to make impulsive decisions.
It helps you make more friends- saying thank you often can attract more people to you- it can make you more charming!
It improves your personality- in many ways, gratitude changes your personality for the better, and makes you more in touch with your spiritual self and helps you develop values like empathy.
Gratitude makes you less materialistic and more focused on getting the best out of what you have.
It makes you more optimistic by improving your mental health and helping you escape that cycle of negative thinking.
It also makes you less self centered and narcissistic and will make you more compassionate and loving towards those around you.
Give thanks to the God of heaven, for His lovingkindness (graciousness, mercy, compassion) endures forever. Psalm 136: 26
What's your favorite way to practice gratitude?