This Fall is quite different than the others we've experienced before as a family. And though things are different, there are still many fall activities we can experience together as a family. In fact, I typed up 30 fall bucket list ideas that you can enjoy together as family during this time of social distancing.
Which fall activity are you looking forward to the most?
Fall Bucket List Ideas
Paint Rocks and Acorns
Go For A Walk
Play Frisbee in the Backyard
Play Fetch with the Dog
Marvel Movie Marathon
Build a Cardboard Playhouse
Create a Fall Wreath
Organize Your Collection
Siblings Pajama Party
Make a Bird Feeder
Virtual Dance Party
Pick Apples
Bake Pumpkin Bread
Create DIY Halloween Costumes
Family Game Night
Zoom with Friends
Decorate for Halloween
Make Caramel Apples
Read in a Pillow Fort
Make a Card to Send a Friend
Jump in a Pile of Leaves
Have a Family Halloween Photo Shoot
Watch Hocus Pocus
Finger Food Dinner
Make a Fairy Village
Backyard Camping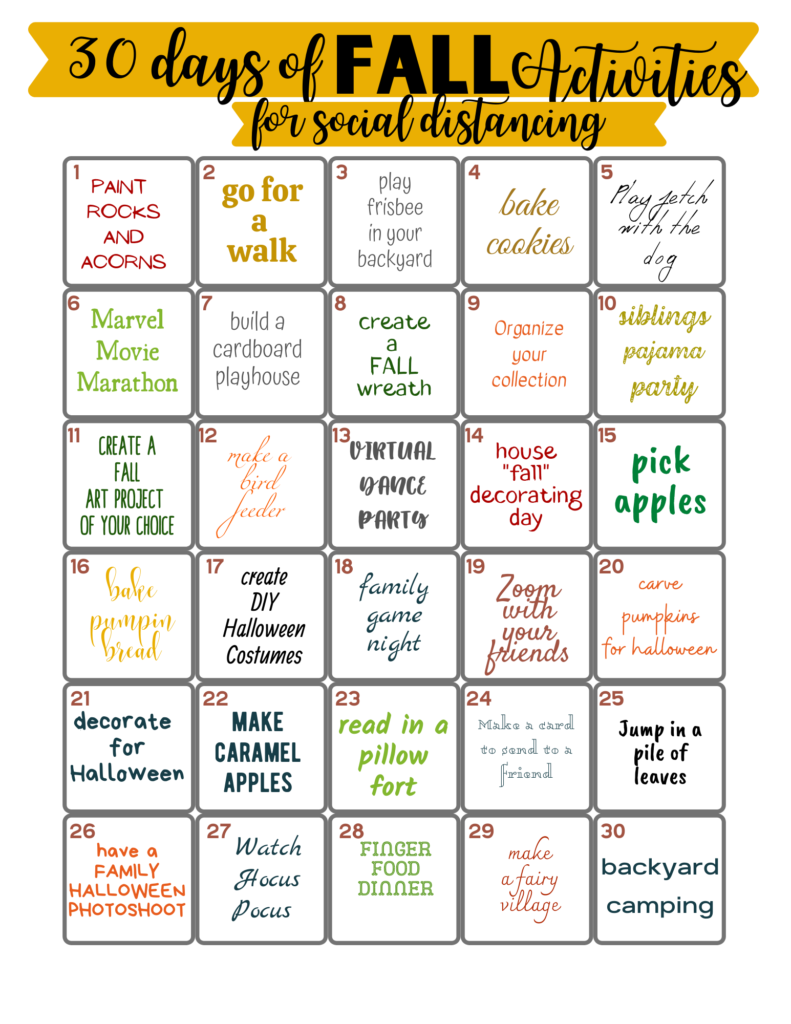 In our family we really look forward to baking with apples. In fact, we made Apple Pie Filling this week with my mom. We LOVE apple pie filling, not only for pie and dump cake but also on pancakes and in oatmeal.
Pin it for later: