We were able to use a good amount of baby items from our first child but we did need a couple things. One was a bouncer, (read here about our awesome bouncer), and the other baby product we needed was an activity mat. The TinyLove activity  mat arrived just in time.
About TinyLove Gymini Move & Play Activity Mat
The Gymini® Move & Play is the first activity baby gym to feature a sliding arch connector, which brings the toys within reach of your baby. It's more versatile, more comfortable and better adjusted to developmental needs.
Revolutionary arch connector allows endless options for playtime
Sliding rings enable flexible toy positioning for a content baby
Extra large baby mat
Ideal for tummy time
Getting baby in and out is finally easy and hassle-free
My Review of Gymini Move & Play: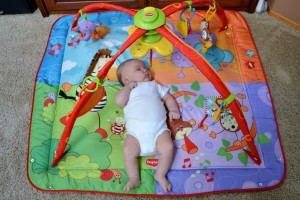 At six weeks old, we can't leave our Little Man on his activity mat for too long. Though last week, we were able to place him there and he fell asleep. We love the large size of this mat and the way it can snap up to keep our Little Man contained. Though he isn't rolling yet, I know we will be using this mat when his older. He will like the mirror and hanging toys even more as he gets a bit bigger. The bright colors are fun, and there are interactive flaps and materials on the mat itself. The music is fun and exciting as well. You will love the TinyLove Gymini Move & Play activity mat for the baby in your life!
What was your favorite baby gear? Did your baby love an activity mat? What age did they start really enjoying it?
Buy the Gymini Move & Play:
You can purchase your own Gymini Move & Play on Amazon for $63.98.
Win the Gymini Move & Play Activity Mat:
One lucky winner will win the Gymini Move & Play Activity Mat of their choice (Animals or Tiny Princess) in the Dog Days of Summer grand prize giveaway. A special thanks to TinyLove for sponsoring this great prize for the grand prize giveaway package!