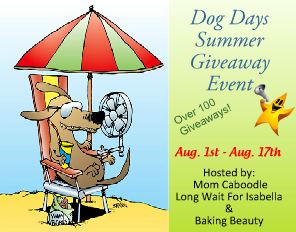 Bloggers, join us for the Dog Days of Summer Giveaway Event this August!
Sign ups are now open for this free summer themed blog giveaway event coordinated by Mom Caboodle, Long Wait For Isabella, and Baking Beauty!
Dog Days of Summer will begin on Wednesday, August 1st and end on Friday, August 17th! This is a themed event and your prize or prize package should be something for summer use. However, anything will work as long as your prize package has a minimum value of $25! (You may also offer gift cards as your prize)
There will be a grand prize for this giveaway event. We will keep you updated on the grand prize information!
We will be in contact with you via email and on our Dog Days of Summer Facebook page.
**Referral Contest: Refer your blogger friends to sign-up and be eligible to win a $25 Amazon gift card and one link of your choice on the Grand Prize Rafflecopter form! When filling out the Google Doc. be sure to let us know who referred you! The blogger with the most referrals wins!
Requirements:
Host a giveaway package worth $25 on your blog during the dates of the event. If you have more than one prize package during this event, all packages must have a minimum value of $25.
Include an entry to the grand prize giveaway in your Rafflecopter form.
Post your giveaway at the required time or you link will be removed. (Required time will be announced)
Add your blog to the linky below
Fill out the Google Document HERE
Once signed up please post about the giveaway or share on a social network. (This is optional but more exposure brings better results) Get HTML Code HERE
Send your link to a Google Doc once the giveaway has gone live so we can update the Linky form. (We will send you a link to the Google Doc. when it gets closer to the start of the event)