Being prepared with an easy-to-build emergency car kit can help you overcome a stressful and frustrating experience. Your kit can get you and your family back on the road quickly and safely when faced with a potentially dangerous situation.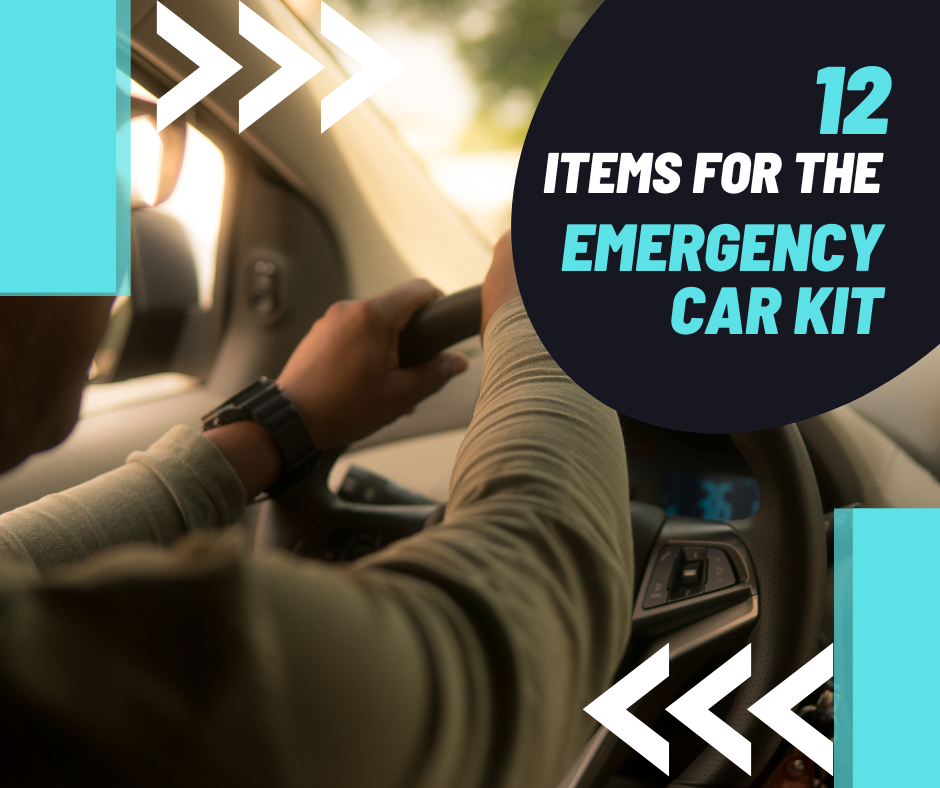 Emergency Car Kit Essentials List
When building your kit, the basic emergency supplies that you should always have in your car fall into four categories: Communication, Car Maintenance, Comfort and Safety, and Common Tools.
Communication
The easiest way out of an emergency is to get immediate help. Always have these items in your auto emergency kit:
Cell phone – Keep it charged and have your emergency numbers stored.
Phone charger – Have a dedicated charger that you do not share between your car and your home or office, risking not having it when you need it.
Emergency phone numbers – Write these numbers down and laminate this piece of paper (cheaply and easily at a printing store) to protect it.
Car Care
For common situations such as a flat tire, dead battery, mechanical breakdown, or accident, these items will get you back on the road:
Spare tire, car jack, lug wrench, tire gauge – Know how to use these items before you need them. Change a tire in your driveway on a nice day so that when you have to do it on a strange road in a blizzard at night, you will know exactly what to do.
Jumper cables – Learn how to use jumper cables before you need them to jump a weak or dead battery. Using them incorrectly can be dangerous, but they are simple to learn how to use correctly and get you out of a jam.
Tire sealant – Carry a product like those made by Slime to get a tire repaired quickly.
Vital auto fluids – Pack two quarts of oil, one gallon of antifreeze/coolant, and one jug of wiper fluid in case any of them run low. Also, store a funnel for easy pouring.
Spare fuses – Take two minutes to read your car manual and learn where your car's fuses are located (usually in multiple places) and how to change them. Some vehicles already have spare fuses and tools needed in the fuse boxes. Fuses protect the wiring and electrical equipment in your car that makes all those critical components work that you will need in an emergency such as lights, the heater, blinkers, windshield wipers, and fluid controls.
Comfort and Safety
An emergency can occur late at night, in severe weather, or in an unfamiliar area. And it may happen to you alone, your spouse or teenage driver, or the whole family. Regardless, it's going to be a tense situation. Be prepared with items that will reduce your stress:
Warm clothes, blanket, hat, rain gear, gloves, and hand warmers – Prepare for poor weather because it makes even the easiest of tasks more difficult. Use gloves and chemical hand warmers so you can work efficiently and keep your family comfortable and calm so that you can focus on the task at hand.
Water, food, can opener – Keep several water boxes, like those made by ER, and non-perishable canned food, energy bars, or trail mix on hand in case you are stuck for any length of time.
Warning/hazard light, flares, or triangles – Display these warning signals to alert others and keep you safe.
Personal security devices – Protect yourself should you attract the wrong kind of help by carrying (and knowing how to use) personal safety items such as pepper spray.
First-aid kit – Carry a multi-piece first aid kit to assist with many issues such as cuts, burns, and medication needs.
Fire extinguisher – Store a fire extinguisher specifically made for vehicles and know how to use it before you need it.
Personal care – Choose these items based on your personal needs and climates, such as lip balm, sunscreen, and various toiletries.
Common Tools
The right tool makes any job easier. Essential tools for your roadside emergency kit include:
Screwdrivers – Store a multi-bit screwdriver set that not only works on screws but can also be used to remove fuse box covers, pry objects apart, scrape, clean, and even for self-defense.
Vise-grips – Use these multi-purpose tools as an "extra set of hands", to clamp objects, loosen or tighten nuts and bolts, or even as a hammer.
Multi-tool – Pack this tool, such as a Leatherman, to cut, saw, clamp, screw, and more.
Socket wrench – Keep a universal socket set so that you have both metric and standard sizes.
Needle-nose pliers – Pull, twist, pry and clamp in those tight areas on your vehicle.
Rags, paper towels, hand cleaner – Whatever you work on is bound to get messy, so keep these for clean-up. Also, consider a tarp for when you have to get down on the ground.
Windshield scraper – De-ice and increase your visibility and safety.
Personal Light – Have a flashlight at worst, but consider a headlamp to allow you to be hands-free and more productive. Be sure to always have extra batteries in your kit and replace them every few years.
Duct tape – Patch leaks, fasten items together and cover holes with this multi-use tape.
Tow rope or strap – Get unstuck from the mud, snow, or even a ditch.
Bags – Not only will you need a bag to put all of your supplies in, but garbage bags will come in handy to dispose of waste and store similar items together like this list of tools.
These basic supplies for your car emergency kit should cover a great majority of the issues you may encounter. Of course, you can add many items and adapt your kit to your special circumstances, location, season, and desire to be prepared for any situation, to get you safely back on the road.
Pin it for later: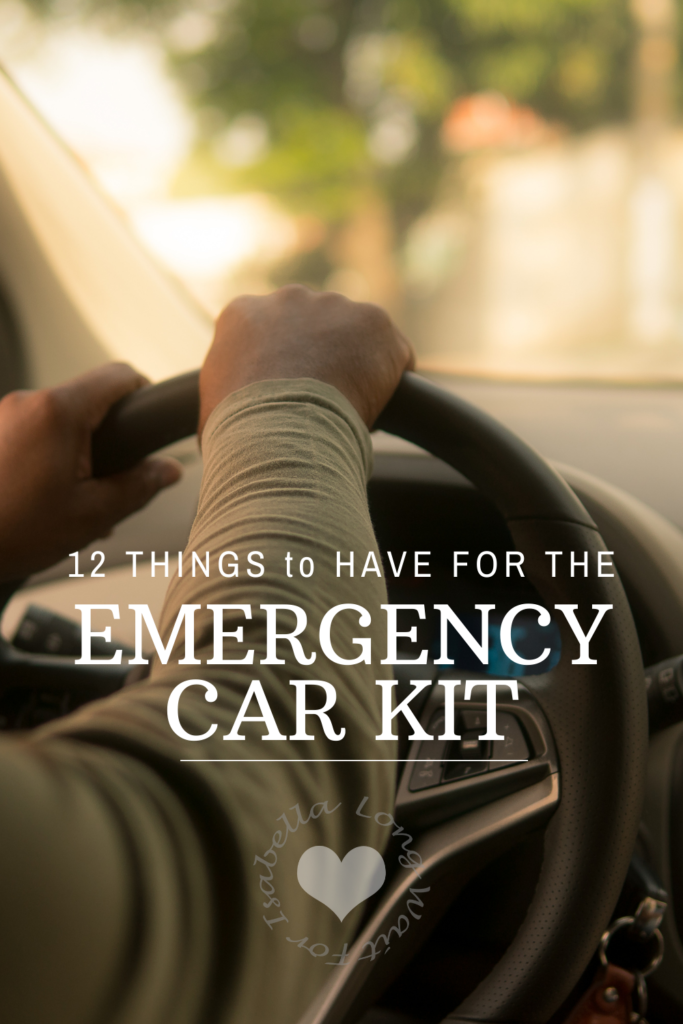 You might also like: