Beach camping is not a trip for the pristine, the bug fearing, or the shade lover. Yet, beach camping, adventure camping at its most unique, is a memorable, must be repeated, experience for everyone who has dared to brave this vacation favorite. Most campers have an innate sense of what to pack for the basic camping trip. Tents, sleeping bags, coolers, lanterns, sturdy shoes, these are all things that fly off the shelf come June. What's so different about beach camping? A lot. While these things are still a necessity there are a few things that you may not have thought of. Let's see where your head is.
Sleeping gear
Whether it is blankets, sleeping bags (bad idea for the beach!), or sheets, your beach side sleeping gear should be of a thin weave. Sounds odd, yes, but here's why, in a word. Sand. You want sand to go through your sleeping gear, not adhere to it, or get trapped, this will just give you an exfoliation you'll never forget, in spots you'd rather not be exfoliated. Sleepwear is the opposite. For your PJs you will want something light but with a tighter weave, to prevent sand from getting in.
Cover
Unless you are a sun lover and can stand the scorching hot sun for hours at a time a source of shade or cover is also a necessity. This goes for everyone, not just those with lighter skin tones. If you like to feel the breeze against your skin, you might try a half shell cabana, lightweight and pop-up. It can usually be purchased at the local department store or beach-oriented novelty shop. This will allow you to feel the breeze without flirting with skin cancer. For those of you who'd rather feel the sun on your head two words, long sleeves. At the beach? Yes. Lightweight cotton, not synthetic materials, is great for protecting your skin without leaving you swimming in a pool of your own sweat. Of course, sunblock should still be worn at all times regardless of your choice of cover.
Bug Spray
This cannot be emphasized enough! You think mosquitoes are bad? You haven't been under attack by the beach dwelling sand flies, sand ticks, and sand gnats yet. Very prolific little menaces, they often show up at night, sneaking into everything, even through your mosquito netting. Smaller than mosquitoes, they can give you a nasty bite if you are foolish enough to leave yourself unprotected. Coat yourself in bug spray, one specifically designed for small flying insects is ideal, before you leave the tent in the morning, after you've gone swimming or have sweated profusely (the cans usually recommend every few hours, very wise), and before you go to sleep.
Telescope
It doesn't have to be fancy, but if you can fit it in, bring along a good, quality telescope or set of binoculars. While the other three items mentioned above will help you stay comfortable while you're camping at the beach, a telescope or binoculars will remind you of why you came here in the first place. With unblemished horizons the beach is definitely the place to watch the astronomical wonders that circle over your head every day. Breathtaking sunsets, sunrises, cloud formations, storms, and starscapes lull you into a hypnotic sense of wonder and appreciation for the beauty not present in your office, bringing you and your tent back to the beach year after year.
What would you add? What's a beach camping must for you?
Pin it for later: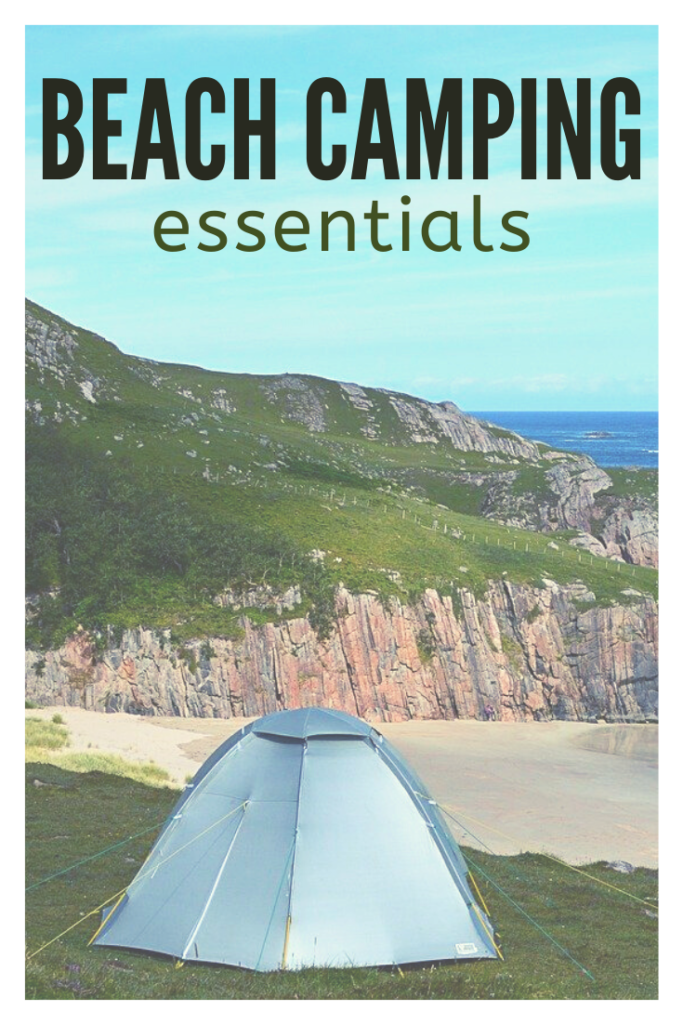 You might also like: