There are many fun lawn toys that your kids will enjoy. Some are for warmer months of the year and some are for the colder months. There is a lawn toy for every season of the year. So get outside with your kids and have some fun on the lawn!
Summer Lawn Toys
Summer months are a great time for kids to play outdoors. One fun lawn toy for summer is simple to make. You just take an old water hose and poke holes in it. Turn on the water. Instant sprinkler! Or you can head to the store for a more elaborate version of the sprinkler.
You can get one for under $5 or for more than $100. There are many different types of sprinklers. There is the old-fashioned grass-watering sprinkler. That one moves a fan of water back and forth. There are also character sprinklers. Some wave their 'arms' around spraying water everywhere. Check out all the varieties of sprinklers on the market today. You'll be pleasantly surprised at all of the imaginative designs now available.
Swimming goes hand in hand with the summer months. So consider getting a backyard pool. Some pools are plastic, some are vinyl, some are above ground or you can get an in-ground pool. There are wading pools and pools with slides and sprayers.
Your child can stay cool all day long splashing and swimming in their very own backyard pool. Keep an eye on your child at all times when they are in or near the pool. Have life jackets for the little ones. Always cover the pool when it's not in use. Swimming can be tons of fun for the whole family….you just have to play it safe.
Year Round Lawn Toys for Kids
A trampoline is another lawn toy most kids love. You can use it in all the months of the year except for winter. There are safety nets you can purchase to keep kids from falling out and hitting the ground and getting injured. Obey all safety rules for your trampoline and watch kids while they are jumping.
Don't let too many kids on the trampoline at one time and don't let them do flips. Don't let them jump off of anything onto the trampoline. Trampolines can be loads of fun if you adhere to the rules and be a safe jumper.
There are also lawn toys you can purchase in a kit. These include:
croquet
volleyball
horseshoes
t-ball
soccer
and much more.
You could also get a motorized toy car or truck for your child to ride around on the lawn. Little kids love bubble-blowing lawn mower toys too. There are also water balloons, water guns, jump-ropes and bug-catching kits. Your child can actually learn a lot just by playing in their own yard.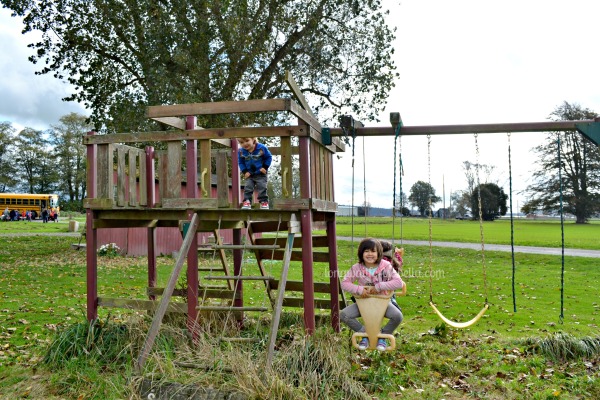 One lawn toy all kids love is a swing set. Kids can swing, slide, climb, teeter totter and more on a swing set. They will also be burning off some of that kid-energy. Most kids also enjoy having their own clubhouse in the yard or in a tree.
You can build or purchase a special backyard 'home' that your child and his/her friends will spend hours of time in. They can use their imaginations to play house, pirates, school or anything they can think of. They can decorate their house or it can be a secret hide-out.
If it's snowing outside and you have a hill you can try sledding. Be careful that kids stay away from roads when sledding. You can also buy special cubes to make snow cubes for igloos. Even in the winter months, kids can have fun on the lawn. They can have a good, old-fashioned snowball fight. Snowballs are one lawn toy you won't have to purchase. You can get a snowman-making kit. These come with eyes, nose, buttons, a hat and more.
If you are planning an outdoor party in the warmer months you may want to get any of the following: a kids' bouncy castle, ball pit, or a giant, blow-up water slide. You can rent these lawn toys. Your child's party will be a huge success. There are a wide variety of lawn toys out there for all seasons. See what you can find. Your kids will thank you for it.
Pin it for later:
You might also like: