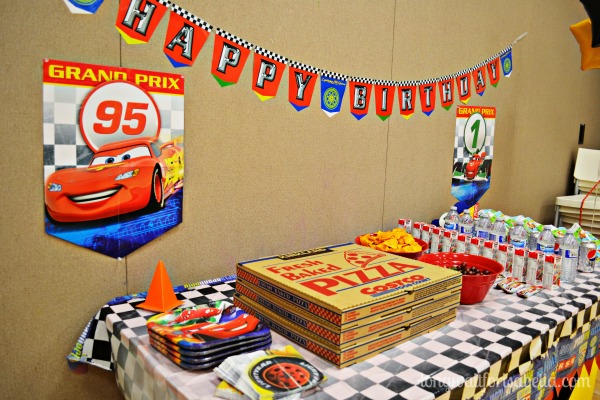 My Little Man turned two this month. Wow! How time flies! Last year we hosted a home birthday party and it was fun, but a lot of work. This year we decided to have his birthday party at our local Children's Museum. We are members and so there was steep discount – no cleaning up, you can bring your own decorations and food, and the kids get to play with awesome things (restaurant, dentist office, bank, yacht, grocery store, dress-up stage, art room, and much much more!) How could we not host a party here? We went with a Disney Cars Birthday party theme.
We were able to get in 30 minutes early to decorate with our Disney Cars birthday decorations. It was pretty quick and easy to open all the amazing things I ordered from Oriental Trading Company. When the worker came in about 20 minutes after we arrived, he was impressed. I told him it was all Oriental Trading – I just opened and hung up the items.
Thankfully, the room had hooks to hang everything. Our hanging Disney Cars decorations looked great around the room. There were two small tables for kids to sit at and we were able to cover those and add table decor to them as well. We decided the easiest thing was to serve pizza. We were able to pick up the pizza 15 minutes before the party. We also served grapes, strawberries, chips, granola bars, water, juice boxes, and soda. Easy food options for toddlers!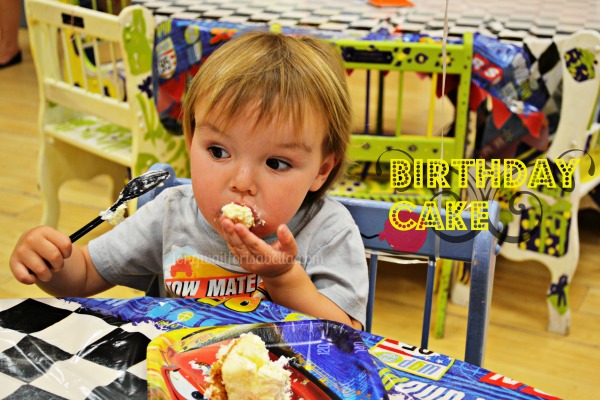 Happy Birthday, Nathanael!
He sang along with all our friends and family to Happy Birthday song. My Little Man loved his birthday cake too and ate it all by himself.
We had a bag of party favors for each of the seven children that attended. No candy favors this year. Just Disney Cars filled fun bags! Those were a big hit!
What birthday themes have you done for your kids?
Oriental Trading Company has a large amount of supplies for birthday parties at an affordable price. And the quality of all the items we received? Top notch! In fact, we are saving everything, just in case we use it once more when he is 5 or 6.
Connect with Oriental Trading