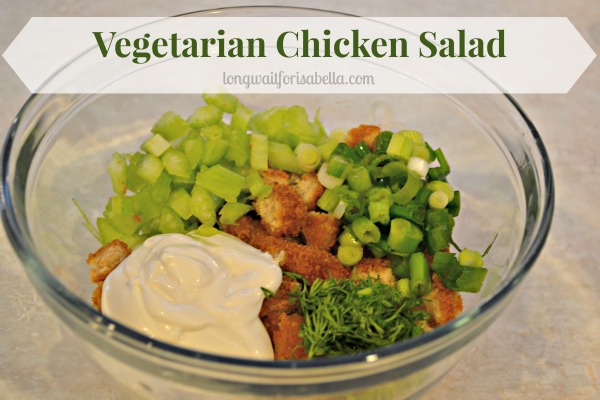 Do you pack lunches? For your kids? For your husband? My daughter is homeschooled and my husband works from home so most of our lunches are eaten together. But when we are traveling, we often pack family lunches.
Since we eat vegetarian food (with the exception of fish), Morningstar Farms products are a common meat substitute in our family. My kids love the Chik 'n Nuggets. But the hubby and I love chicken salad. So when I purchased a box of these yummy Chick 'n Nuggets, I knew half the box would go towards a vegetarian chicken salad for my husband and I and the rest could be dipped in ketchup for lunch for the kiddos.
Ingredients
8 Morningstar Farms Chik 'n Nuggets
1/3 cup of vegan mayonnaise or regular mayonnaise
1/2 stalk of celery, chopped
2 green onions, chopped
1 T freshly chopped dill
salt and pepper to taste
Instructions
Mix all ingredients together. Serve on bread, toast, or crackers!
This is such a quick and easy thing to make. We can serve it on 100 calorie rounds, on bread (toasted too!) or just with saltine crackers. It is so tasty. That fresh dill just makes it taste so good.
What are your brown bag musts?
What foods do your kids or husband love for you to make in their lunch bag?


Find your fresh take on eating well. Browse hundreds of meat-free recipes at MorningStarFarms.com.
Disclosure: Compensation was provided by Kellogg's MorningStar via Glam Media. The opinions expressed herein are those of the author and are not indicative of the opinions or positions of Kellogg's MorningStar.
You might also like: