We've had a rough week. The trials and tribulations this week just felt overwhelming. Do you have weeks like that? Negative things never end it seems. You wonder, can anything else happen? That was my week this past week.
Can I vent a bit on here? 
This week, we had problems with Straight Talk cell phone service. My husband's phone has been shut off for four days now. We are doing everything we can to get it back up. There is no communication at ST and their customer service is seriously lacking. You have no idea how many hours have been spent on the phone with them.
My daughter had a hearing test early last week. She has some speech delays. (For example, she is still struggling with her "st" and "ck" sounds.) We found out at the ENT that she has fluid behind her ear drums that wasn't draining. So Friday, she had a surgery to get tubes placed and her ears and her adenoids reduced.
I woke up Wednesday morning with another eye infection. I can't seem to shake this right eye problem. Even after DCR tear duct surgery, it is still causing problems. Right now, I have another surgery scheduled for Tuesday, but I am thinking of cancelling.
Friday night my Little Man got sick. He has a terrible cough and a low grade fever. We've had a few sleepless nights the past few nights. Lack of sleep is always difficult.
It is all just piling up right before we are supposed to fly to Baton Rouge on Tuesday for five weeks. The stress of traveling and being gone is enough for me but to add all this other stuff? Well, I have just felt on the brink of losing it all week.
Lord, what more is going to happen in our family?
I don't even know if I want to ask.
Have you had a terrible week like this before?
I read this verse in my email this morning and it helped me a lot. I am trying to take comfort in the fact that through it all God is with me. I just feel lost and alone. I need to cling more to the Lord in times like this. But of course, I am more prone to say, "Lord, why me?" or "Why aren't you taking this all away, Lord?" I need to quit thinking of God as my Genie who grants wishes and just trust Him. It is hard though. Still after all these years, it is hard.
"Forget the former things; do not dwell on the past. See, I am doing a new thing! Now it springs up; do you not perceive it? I am making a way in the desert and streams in the wasteland." Isaiah 43:18-19
Trails and Tribulations Bible Verses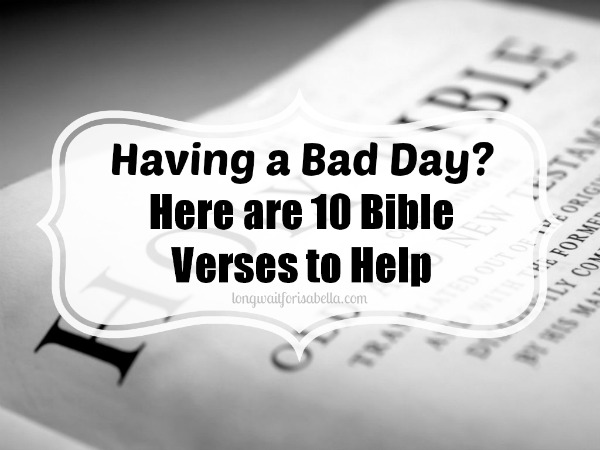 I have said these things to you, that in me you may have peace. In the world you will have tribulation. But take heart; I have overcome the world. John 16:33
For I am the LORD, your God, who takes hold of your right hand and says to you, Do not fear; I will help you. Isaiah 41:13
God is our refuge and strength, an ever-present help in trouble. Therefore we will not fear, though the earth give way and the mountains fall into the heart of the sea, though its waters roar and foam and the mountains quake with their surging. Psalm 46:1-3
For I know the plans I have for you, declares the Lord, plans for welfare and not for evil, to give you a future and a hope. Jeremiah 29: 11
And this same God who takes care of me will supply all your needs from his glorious riches, which have been given to us in Christ Jesus. Philippians 4:19
Now may the Lord of peace himself give you peace at all times in every way. The Lord be with you all. 2 Thessalonians 3:16
I can do everything through him who gives me strength. Philippians 4:13
Do not grieve, for the joy of the Lord is your strength. Nehemiah 8:10
Trust in the Lord with all your heart, and do not lean on your own understanding. In all your ways acknowledge him, and he will make straight your paths. Proverbs 3:5-6
Cast all your anxiety on him because he cares for you. 1 Peter 5:7
Any other Bible verses you'd like to add to this list?
Pin it for later: