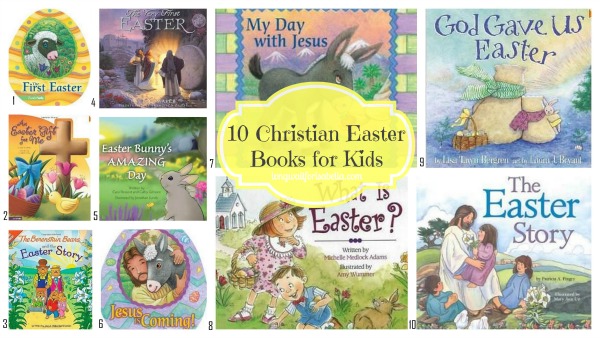 I have had a few great non-candy Easter basket ideas on my blog lately (Veggie Tales DVD, Strawberry Shortcake DVD, Puppet Monster and Little Angels Prayers For Children.). I also wanted to share with you 10 great Christian Easter Books for kids that you get on Amazon. These would be great for your child's Easter basket. I love bringing the true meaning of Easter into the holiday. These books help do that:
1. The First Easter (Easter Board Books)
2. An Easter Gift for Me
3. The Berenstain Bears and the Easter Story (Berenstain Bears/Living Lights)
4. The Very First Easter
5. Easter Bunny's Amazing Day
6. Jesus Is Coming! (Easter Board Books)
7. My Day with Jesus (Easter Board Books)
8. What Is Easter?
9. God Gave Us Easter
10. The Easter Story
What non-candy Easter gifts do you like to put in your kids Easter basket? We are limited to the amount we of items we can fly back home with so I am going to be shopping for light items for my Princes