This week we visited the Stony Creek Farms Pumpkin Fall Festival in Noblesville, Indiana. What a fun time we had! A hay ride took us up to the pumpkin patch which was all among Christmas trees. We searched high and low and found the "perfect pumpkin" for carving.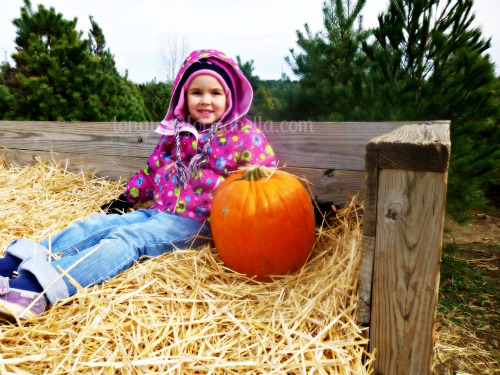 At home, daddy helped the Princess carve her pumpkin while Little Man watched with glee.
We got the pumpkin carving idea from last week's post Alternatives to Halloween.
I think our Christian pumpkin carving turned out great!
Here's a Fish and Cross pumpkin carving template!
Pin it for later:
Carving Tips
Actually carving your pumpkin is simple enough. Here are some tips to make carving easy and effective:
Saw steadily with a continuous up and down motion, and don't press too hard or try to go too fast.
When you're finished cutting out a standalone piece (like an eye), pop it out of the pumpkin wall with your finger, not your carving tool.
To cut clean, sharp corners, remove and reinsert the carving tool.
Carve starting from the inside of the design and working your way outward.
Resist the urge to put your free hand inside the pumpkin while carving. Only do so if you can clearly see where all of your hand is.
If you accidentally break off a part of your carving as you work, such as a protruding tooth, stick it back on with a toothpick!
[amazon_link asins='1565239199,B0045V7ZXA,B01KKNK1RS,B00412X08M,B01LYB20SI' template='ProductCarousel' store='wpplugin01-20′ marketplace='US' link_id='add8540d-9358-11e7-a583-8d57ec171794′]