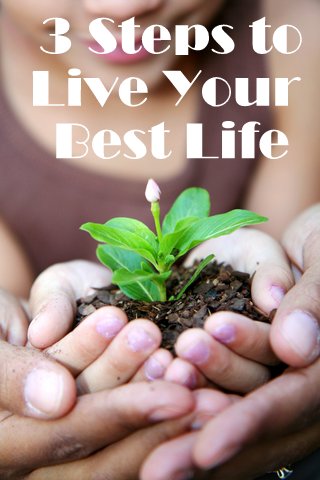 This has been a busy summer. Having a second child and keeping up with this blog has made life hectic. What is supposed to be a relaxing time off at home this summer has been anything but. So I blogged recently about setting blogging limits. And you know what? I feel a lot better this week now that I have a plan. FOCUS.
It is easy, isn't it, to get sidetracked and focus on things that are not all that important? The life I want to live for myself and my family is not a life of busy internet blog work. It took me a little while to figure it out but I have figured out that for me "living your best life" means practicing these three simple (yet so difficult) things.
Living Your Best Life in Three Simple Steps:
---
1. Time for myself – since starting a weight loss program I am working on getting me healthy – back to a good weight but also realizing why I am eating the foods I was eating and the cues to eat poorly.
2. Time for spiritual growth – God is not interested in the motions or being of a Christian. He just wants us – fully. This is one area that I don't want to be pushing aside.
3. Quality time with family – my family does not want me on the internet all day. So having a plan and sticking to it is important. I can  blog at night and get things done after they go to bed. With homeschool starting again and time with an ever growing baby it is easy to not pay attention, or to only pay attention half way. My family, my husband – they don't deserve that.
I want to be in it all the way! I want to live my best life!
---
The Clorox Lounge
Clorox is sponsoring the O You!, The Oprah Magazine event in Los Angeles you can enter for a chance to win tickets to the event by playing fun games and entering a sweepstakes at The Clorox Lounge. Starting September 6, every time you play one of the Games for Thrones you'll be entered to win one of 10 Kindle fires with an O, The Oprah Magazine subscription and the grand prize – round trip airfare to Los Angeles complete with two nights hotel accommodations, airport transfers and admission to O You! (up to 12 entries a day). Visit TheCloroxLounge.com to learn more about the games and see terms.
About O You! Event
You've read the magazine, now join us for a day dedicated to you and living your best life! Every year, this full-day event brings readers from around the world together with our most distinguished experts and talent. On October 20, 2012, O will take over the Los Angeles Convention Center at L.A. Live, located in downtown Los Angeles. Join all of your O, The Oprah Magazine favorites, including Gayle King, Suze Orman, Martha Beck, Peter Walsh and more, for a truly memorable day of learning, inspiration and fun!
Doesn't the O You! Event sound amazing? I know I'd love to win the grand prize. One of the 10 Kindle Fires would be nice too!
*Disclosure: I was compensated for writing this blog post while participating in the SocialMoms and The Clorox Lounge blogging program. The opinions and ideas expressed here are my own. To read more posts on this topic, click here.