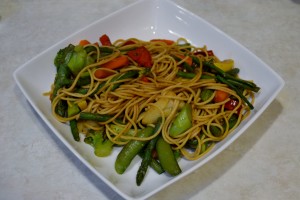 Tuesdays are the day I weigh in at my local Weight Watcher's meeting. I was worried this week since the last week and half I was on a Canoe Journey. Though I wasn't pigging out, I definitely was not counting my points while camping. Thankfully, at weigh in on Tuesday morning I had lost 3.4 pounds in two weeks. I was very  happy indeed. So now I have lost a total of 11.6 lbs since June 12 when I began this weight loss journey. (Enough pounds lost this week to get my clapper – a plastic hand clapper to applaud other members accomplishments.)
So I wanted to share with you a favorite points plus vegetarian recipe that I make on Weight Watchers: Simple Vegetables and Noodles. The reason I like this meal is because not only is it a lot of food, there fore filling, it is also quick and easy.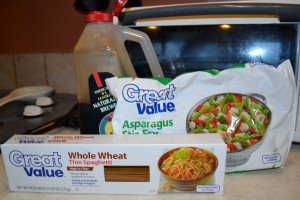 Vegetable and Noodles:
1 cup of Thin Spaghetti (5 points plus)
2 cups of Frozen Vegetables (0 points plus)
2 T Soy Sauce (0 points plus)
Garlic powder to taste (0 points plus)
Cook whole wheat thin spaghetti according to box. While cooking, stir fry frozen vegetables in cooking spray. Once vegetables are cooked (careful not to overcook) add cooked spaghetti noodles, soy sauce and garlic powder. Mix together and heat together for only about 1 minute. Serve and enjoy.
5 points plus
Have you tried Weight Watchers? If so, do you have a favorite points plus vegetarian recipe? Or a website you can share with me that helped you?
Weight Watchers is not just a weight loss program but a lifestyle program. They are teaching me how to eat the correct foods and portions. I love it.
To read my previous post about Weight Watchers and see a favorite low points plus dessert recipe visit:
*Disclosure: I do not represent Weight Watchers. All opinions are mine.