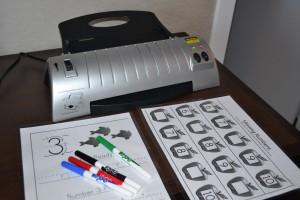 We are really enjoying our K4 Curriculum for homeschool. Since we travel it is nice that all of my material is on my little thumb drive and I just print out my sheets weekly. When we first started it in January, I bought laminating paper and laminated our sheets by hand. That got so tedious! A laminator for homeschool is what I really needed.
So I finally decided to invest in a Scotch Thermal Laminator. I wish I had done it sooner! It makes homeschool preschool so much easier. Plus, I can now use dry erase pens and reuse this curriculum one day when the baby boy gets to be 4 year old. Bonus!
In addition to the K4 Curriculum, we are still using our Teach My Preschool Kit and love that too.It is compact enough that I can easily travel with the entire kit.  Most days my Princess can't get enough of school. She wants to do more than our curriculum and kit offers, so I let her work on PreK workbooks too. She loves learning – and I love that!
We are currently introducing her to sight words. My goal is for her to be reading by the time she is 5 in December. It amazes me how quickly she is memorizing her sight words. She now knows a, I, to, do, he, it, and this last week we worked on of, on.
 Do you use a laminator for homeschool?
What other tools make homeschooling easier?
Since I am just starting, I love all the tips I can get.