Go beyond just reading the Bible.
Verse mapping means getting real about studying the Bible. More than simply reading a verse or Scripture passage, it means using Bible study tools to research what you've just read in the Bible—to learn more about what God is saying to you and how you can apply his Word to your life today. 
So grab your journal, pens, Bible, and concordance and get started today!
Verse Mapping 101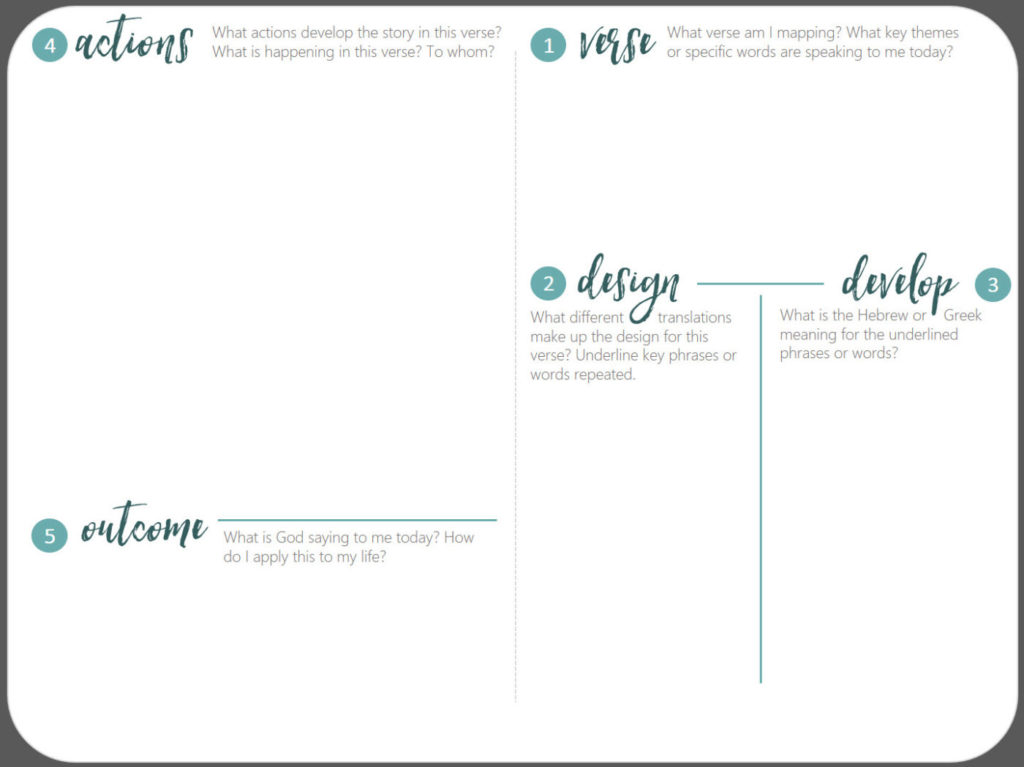 There are five simple steps to verse map.
Choose: Select a verse and write it out.
Compare: Record this verse in two or three other Bible translations and underline key words that are the same or different between translations.
Research: Look up the Hebrew or Greek meaning for the underlined words and record it.
Consider: Ask questions of the verse. Imagine what it would be like to have experienced what's happening. Read the verses surrounding this verse and use other study tools to dig even deeper, if you prefer.
Apply: What is God saying to you? How does this verse relate to your life today?
Here's a great blog post from Kristy Cambron explaining this technique for Bible study in even great detail ==> https://kristycambron.com/verse-mapping-101-steps-to-study-the-bible-like-never-before/.
Verse Mapping Bible
In the NIV Verse Mapping Bible, author Kristy Cambron expands her verse mapping curriculum series to include verses from the entire Bible, showing you how to compare Bible translations, pick out meaningful words, and delve into the true meaning of each verse using starter verse maps and prompts. Verse mapping will help you study the historical context, transliteration, translation, connotation, and theological framework of a verse. This unique study technique includes exploring Hebrew and Greek word studies, finding connections in Scripture, comparing Bible translations, and learning as much as you can from your time in God's Word.
Features:
Full text of the accurate, readable, and clear New International Version (NIV)
Guided instructions on how verse mapping works, how to start, and how to get the most from your mapping
350 partially completed verse maps with pre-selected verses in multiple Bible translations and helpful Hebrew or Greek word studies
Includes directions on how to use the Reverse Interlinear feature on BibleGateway.com to research the Greek and Hebrew translations for these 350 verses for free
More than 70 blank verse maps for your own inductive Bible study journey
66 book introductions
Presentation page
Topical index
Satin ribbon marker
Cloth over board cover lays flat when open
Exclusive Zondervan NIV Comfort Print® typeface
8-point print size
Buy your on Verse Mapping Bible today!
Pin it for later:
Connect with Kristy Cambron
Facebook | Twitter | Instagram | Pinterest
Enter for your chance to win!
Head over to Blessed Freebies for your chance to win an NIV Verse Mapping Bible. This giveaway is open to US residents 18+. This giveaway ends on March 10, 2021.