This is a sponsored post with Visit Seattle. All opinions are mine alone.
Our family has missed out on multiple travels this year in the pandemic. We are willing to postpone our travels and change plans to keep our family and community safe, of course. But, we really wanted to the end the year with a local staycation. A quick getaway, locally, where we could distance and mask, but still support our local Washington economy. A weekend plan to visit Seattle was exactly what we needed.
Motif Seattle
My kids were so excited to stay in a nice downtown hotel and visit some great Seattle iconic places. Seattle really does have great things to do, see, eat and drink for family. Family travel to Seattle is a perfect staycation idea this holiday season. Truly. Plan to visit Seattle with your family this holiday season!
We stayed in a lovely hotel downtown, Motif. It was situated just a few blocks from Pike Place Market, the Monorail, and Westlake Park. We walked a lot and it was nice to see everyone distanced and masking even outside on the streets. Motif currently has some great deals on their website to enjoy a fun staycation. You need to check it out.
Connect with Motif: Facebook | Twitter | Instagram
Pike Place Market
Pike Place Market was only a few blocks away from Motif. We walked down to the Market three times during our weekend. It's a great place for food, snacks, hot drinks, and of course gifts this holiday season. We love visiting Pike Place Market — it's always a must-visit place when we are in Seattle.
So many handmade and homegrown items are available at Pike Place Market. This holiday season you'll get a free gift when you spend $50. When you are in Seattle, this is truly a must stop location.
Connect with Pike Place Market: Facebook | Twitter | Instagram
Westlake Spark Light Sculputures
Westlake Park Light Sculptures is free family fun downtown. This urban park is located very near Motif and we walked through it twice during our staycation in Seattle. Over 80,000 lights make these fun sculptures and it's well worth a visit. Stores can be found around this park, and the one we visited and my kids LOVED was See's Candies. So many fun holiday candies to choose from — we splurged.
Woodland Park Zoo
First, if you can get tickets to the Wild Lanterns holiday festival at Woodland Park Zoo you need too. There are so many amazing animal lanterns around the Zoo. When they are lit up — your kids will LOVE them. We visited on a sunny day, thankfully and we had a lot of fun. We've been to the Zoo many times over the years and it never fails to bring us joy. Our kids watched the red panda, rhinos, elephants, and giraffes for so long.
Connect with the Woodland Park Zoo: Facebook | Twitter | Instagram
Seattle Center Monorail
Just a little over a block from Motif you can find the Seattle Center Monorail. It's a short ride over to the Seattle Center and this fun little train runs every 10 minutes. Built for the 1962 Seattle World's Fair, this little ride was a pretty big hit for both of my kids.
Connect with Seattle Center Monorail: Facebook | Twitter | Instagram
Space Needle
The must-see Seattle site, in my opinion, is the Space Needle. This was my kids absolute favorite thing about our staycation in Seattle. The Space Needle has been completely transformed since I last visited in 2009. You can now experience two entirely new levels of thrills! From an all-glass floor on the lower level to floor-to-ceiling glass on the upper level. I'll be honest, it was so amazing and awesome that I felt a little fear since I am scared of heights. The amount of glass lets you see all the beauty of Seattle — you do not want to pass up the chance to visit the Space Needle.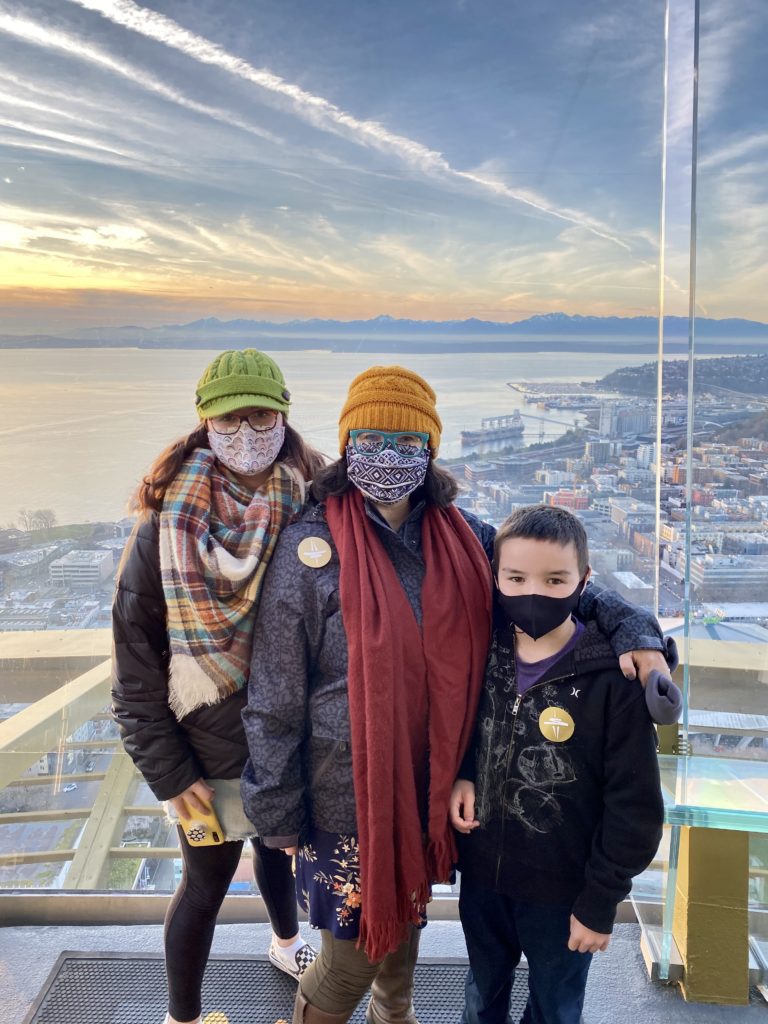 Connect with Space Needle: Facebook | Twitter | Instagram
We enjoyed many great meals in Seattle and we really loved smoked salmon chowder at Pike Chowder, getting hot drinks at Starbucks, and bringin home a dozen vegan donuts from Mighty-O Donuts.
Pike Place Chowder
Smoked Salmon is a PNW staple. The smoked salmon chowder with sourdough bread at Pike Place Chowder is not to be passed up. It is delicious. Located right across the street from Pike Place Market.
Starbucks
The original Starbucks is located across from Pike Place Market. We've actually visited it before when family was visiting from out of town. The line is usually very long, including this visit. One block up, there is another Starbucks. During the holidays it's always nice to get hot drinks when walking downtown.
Mighty-O Donuts
Our favorite donut place in Seattle happens to have five locations. Vegan donuts that are made with organic ingredients and no GMOs. During the holiday season we love getting Ginger Spice and Grasshopper. They are all delicious though. If you're in Seattle get Mighty-O Donuts!
Safety Precautions
A staycation during the 2020 pandemic is a great way to travel as a family. Visiting Seattle is great because every single place we visited had amazing safety precautions in place. People masked and distanced even on the streets downtown. From contact-less check-in at Motif, to required masks in every indoor building, and cleaning procedures that killed viruses and germs — you can feel safe visiting Seattle with your immediate members of your family. Plan to visit Seattle today!
Pin it for later: