What do Jacques Cousteau, Rachel Carson and Jesse Owens have in common? Young readers of Honest History magazine will recognize these famous names from the feature stories of the latest issues. With beautifully designed stories and illustrations, this independent children's magazine is celebrating its second anniversary issue on September 1, 2020. And it's the ideal supplement to a new school year of at-home learning.
With back-to-school rapidly approaching, Honest History offers subscriptions ($69.99 annually) and single issues ($17.95 each) created for kids ages 6 to 12 years old. Each content-packed issue invites historians-in-the-making to explore fascinating tales, from a war of the (electric) currents to the race to space. Every issue is crafted to complement the others, broadening a youngster's understanding of history and encouraging kids to do their own research beyond the pages. The amazing competition between scientist Nikola Tesla and Thomas Edison in Issue Three gives a great foundation for appreciating an interview with a NASA astronaut in Issue Five.
Each magazine edition overflows with fun, DIY crafts and activities to bring history to life. Kids might solve a puzzle using Morse Code or pore over a blueprint of the Space Shuttle. The themed issues delve into a topic typically not covered in an elementary or middle school textbook. Imagine the dinnertime conversations after a day spent learning The Language of Espionage from Issue 6!
"We started Honest History as a place for kids to explore the past and re-discover stories of people, just like us, who changed the world," explains Brooke Knight, Co-founder and Editor in Chief. "In our experience, history contains answers and also sparks new questions — our goal is to bring true tales from around the world into the imagination of children (and their parents, too)."
"We value research, design, journalistic integrity and accuracy above hyperbole. Truthfully, we believe that history contains stories with facts greater than any work of fiction," continues Knight.
Parents will be impressed with Honest History's attention to detail — from the moment the magazine arrives in a beautifully designed envelope to the talented illustrators designing each issue as a magazine to collect and cherish!
In addition to each quarterly issue, Honest History offers resources through their blog for parents who are creating a new normal for themselves and their children as back-to-school might mean back to the kitchen table. A soothing perspective has never been more valuable: Crack open a book and you can not only learn from someone who's several thousand miles away; you can learn from someone who's several thousand years away. Back issues One through Eight are available individually at https://honesthistorymag.com/shop/.
My Isabella loved reading about Queen Isabella. She hadn't read about this queen of Spain. You can learn more about her in issue 9. When I asked my Isabella to read the magazine, at first she was hesitant. She thought it was "school". Isabella loves history though and soon she was excited to learn more. These magazines are written specifically in a way that kids enjoy. As a parent, anything that gets the kids off of screens and learning in a fun way is a BIG win for us.
"I like Honest History magazine because it's really easy to read and follow. The magazines are interesting and the pictures are great." – Isabella, 12
ABOUT HONEST HISTORY
Honest History is a beautifully designed magazine with stories that spark curiosity and imagination in children. We've made it our mission to find stories that are lesser known in modern classrooms and teach lessons that can be applied to our everyday lives. Each issue is printed on high-quality paper with a soft-touch cover that we'd like to describe but must be experienced. Suffice it to say, this is a magazine you will enjoy over and over again! Discover the adventure magazine for young historians at https://honesthistorymag.com/.
Connect with Honest History
Pin it for later:
Win Honest History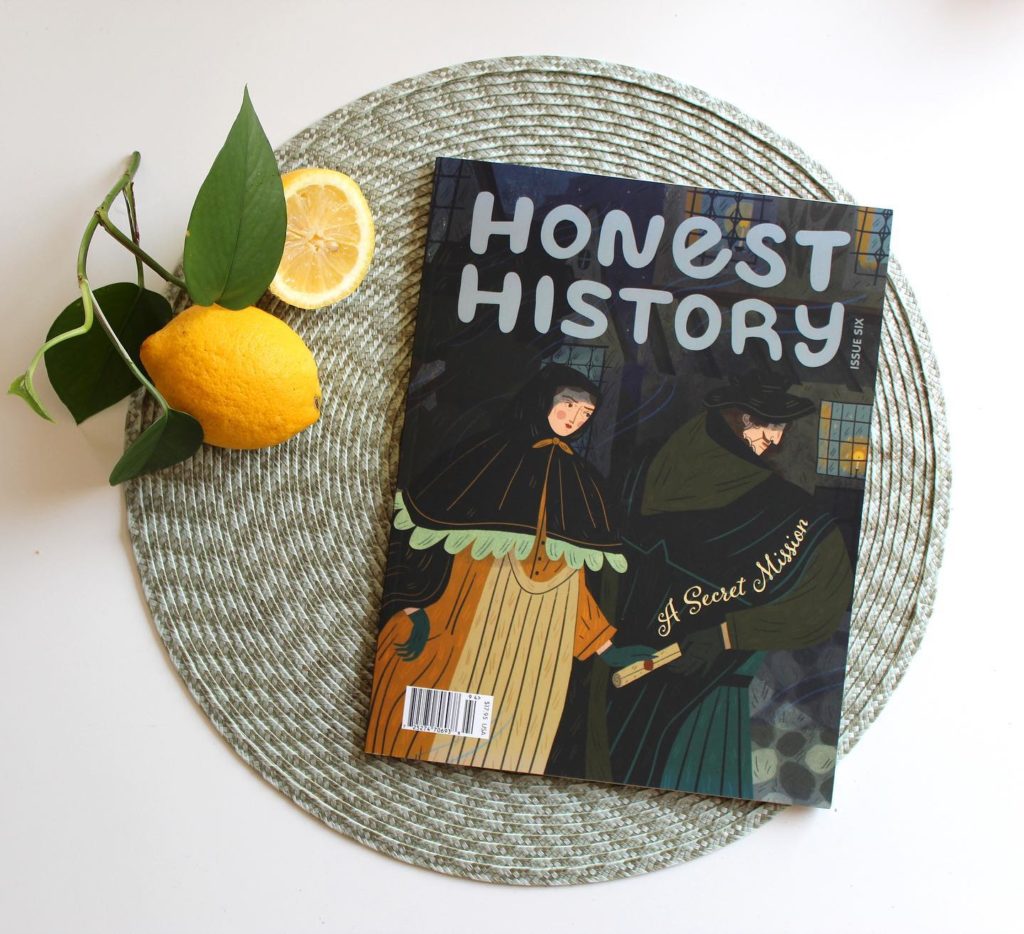 One lucky Long Wait For Isabella reader will win a set of Honest History magazines. Enter the Rafflecopter form below for your chance to win. Open to US residents 18+.
a Rafflecopter giveaway