With the holiday season wrapping up, I love making resolutions that are easy to keep. There's no better resolution for the family than to practice kindness. So, in honor of New Year's, but honestly, this can be done anytime of the year, I'd love to share a kindness calendar that the whole family can participate in.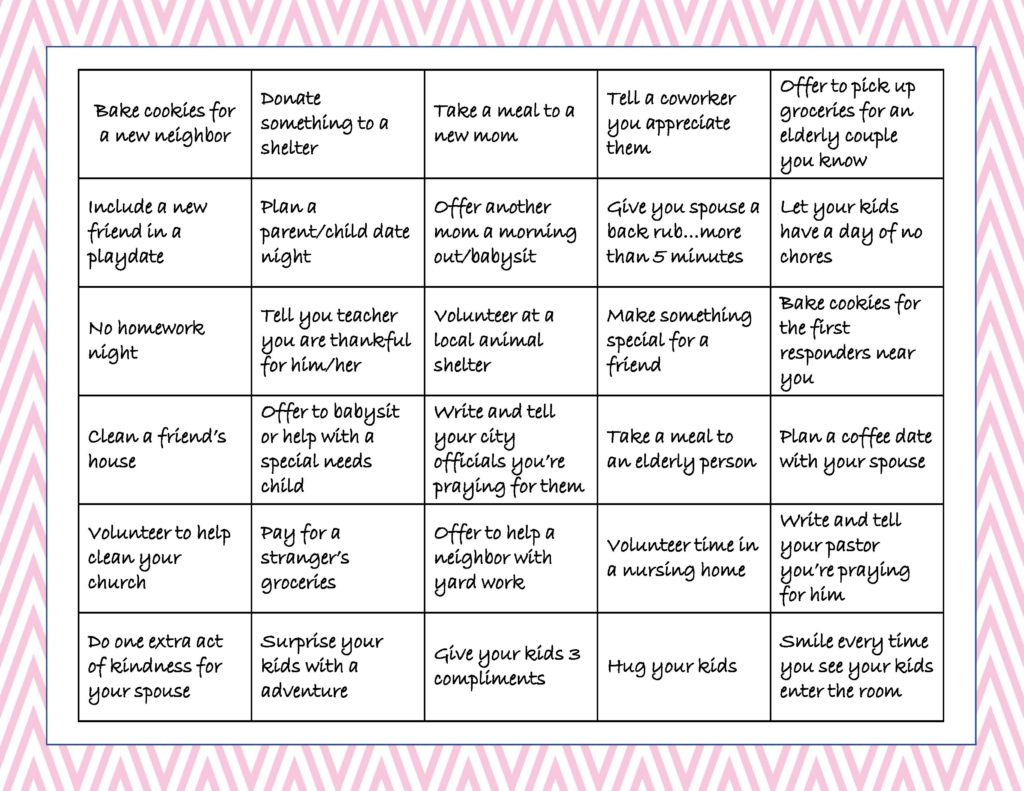 30 Days of Kindness Calendar
Bake cookies for new neighbor
Donate something to a shelter
Take a meal to a new mom
Tell a coworker you appreciate them
Offer to pick up groceries for the elderly
Include a new friend in a playdate
Plan a parent/child date night
Offer another mom to babysit
Give your spouse a backrub
Let your kids have a day of no chores
No homework night
Tell your teacher you're thankful for him/her
Volunteer at a local animal shelter
Make something special for a friend
Bake cookies for the first responders near you
Clean a friend's house
Offer to help with a special needs child
Write and tell your city officials you're praying for them
Take a meal to an elderly person
Plan a coffee date with your spouse
Volunteer to help clean your church
Pay for a stranger's groceries
Offer to help a neighbor with yard work
Volunteer time in a nursing home
Write and tell your pastor you're praying for him
Do one extra act of kindness for your spouse
Surprise your kids with an adventure
Give your kids 3 compliments
Hug your kids
Smile every time you see your kids enter the room
What other kind acts can you do this month? I'd love to add to this kindness calendar!
Pin it for later: