The Little Mermaid has always been a favorite Disney cartoon here in the Long House. If you're thinking of having a Little Mermaid party or maybe even a mermaid party then these cake pops are a great idea to serve for a sweet treat.
Little Mermaid Party Idea
Ingredients
1 stick of butter (1/2 cup) butter
1/2 cup granulated sugar
1 cup white cake mix
1 cup all purpose flour
1 Tablespoon vanilla extract
1 cup Wilton yellow chocolate melts
1/2 cup Wilton light blue chocolate melts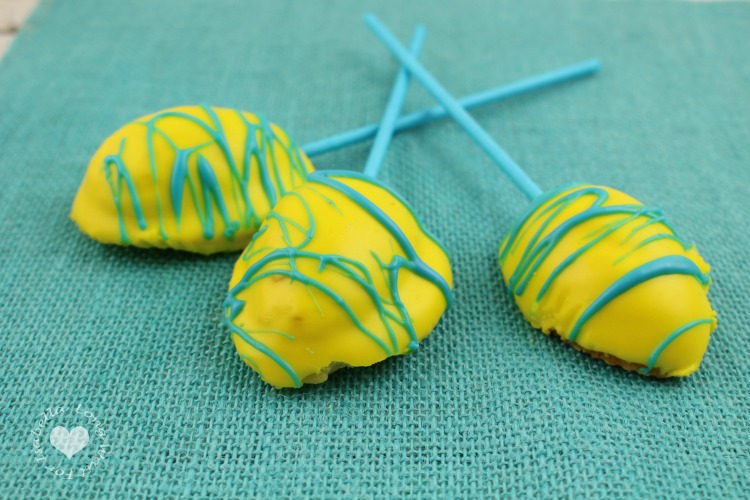 Directions
1. In a medium mixing bowl, add the butter and sugar. Cream with an electric mixer on medium until light and fluffy.
2. Add the cake mix, flour and vanilla and mix thoroughly.
3. Press dough into the egg molds and chill for one hour or freeze for 30 minutes.
4. Once the cookie doughs are chilled thoroughly, line a cookie sheet with wax paper.
5. Pop the cookie dough eggs out of the molds on to the cookie sheet.
6. In a double boiler, add the yellow chocolate melts. Stir continuously until melted.
7. Using 2 forks, dip each egg into the melted yellow chocolate, covering completely. Place on cookie sheet to "set" for 15 minutes.
8. In a microwave safe bowl, melts the blue chocolate melts in 30 second intervals until completely melted, stirring between intervals.
9. Using a spoon drizzle the melted blue chocolate on top of the yellow chocolate.
10. Insert cookie pop sticks into each cookie dough egg.
10. Keep chilled until ready to serve.
11. ENJOY!!