About She-Ra Netflix
The savior of Etheria is here as DreamWorks She-Ra and The Princesses of Power brings to life a story of magic, friendship, loyalty, and an epic battle for peace. Inspired by the popular '80s series, DreamWorks She-Ra and the Princesses of Power tells the story of an orphan named Adora, who leaves behind her former life in the evil Horde when she discovers a magic sword that transforms her into the mythical warrior princess, She-Ra. Set in a world where women are unabashedly at the forefront, the series brings forth indomitable female characters each with their unique abilities and flaws to empower and entertain audiences everywhere.
Thirteen Heroic Episodes Only on Netflix
Netflix She-Ra and the Princess of Power Cast
Aimee Carrero (Elena of Avalor) stars as Adora/She-Ra, Karen Fukuhara (Suicide Squad) as Glimmer, AJ Michalka (The Goldbergs) as Catra, Marcus Scribner (black-ish) as Bow, Reshma Shetty (Royal Pains) as Angella, Lorraine Toussaint (Orange is the New Black) as Shadow Weaver, Keston John (The Good Place) as Hordak, Lauren Ash (Superstore) as Scorpia, Christine Woods (Hello Ladies) as Entrapta, Genesis Rodriguez (Time After Time) as Perfuma, Jordan Fisher (Grease Live!) as Seahawk, Vella Lovell (Crazy Ex-Girlfriend) as Mermista, Merit Leighton (Katie and Alexa) as Frosta, Sandra Oh (Killing Eve) as Castaspella, and Krystal Joy Brown (Motown: The Musical) as Netossa.
Isabella was sent a DIY She-ra kit to make her own cape, sword, and crown. She was excited to make her own She-ra accesories. We can't wait to watch the new reboot together.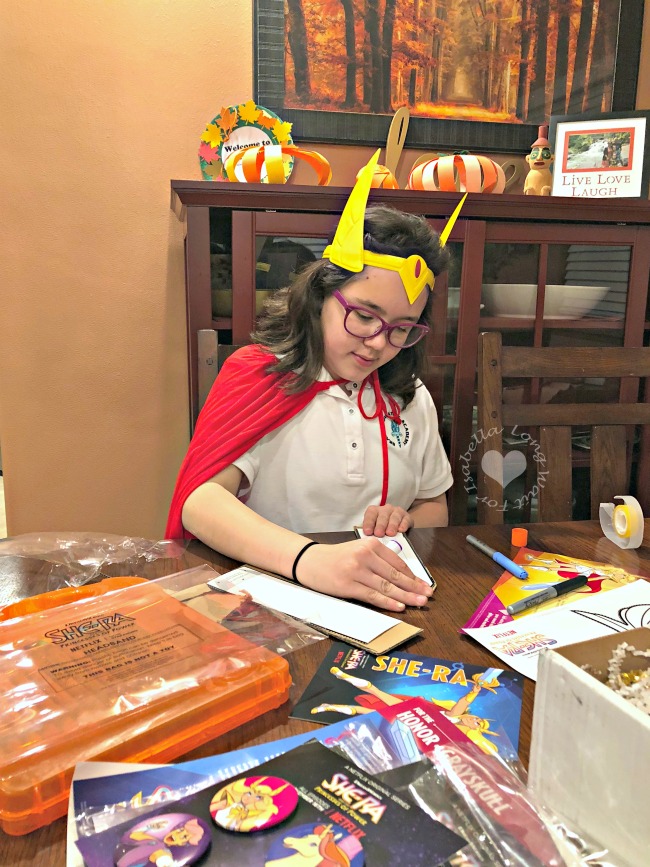 Watch the 13 half-hour episodes on Netflix today!
Connect with She-Ra Princess of Power on Facebook and Twitter.
Pin it for later: