Do you love attending Christmas parties? We love our family, school, and church Christmas party each year. Most of the holiday parties that we attend are potluck style. So I need to bring a holiday dish of some kind. I won't lie. Usually, I just buy something from Costco. It's just easier. As a busy mom to two kids, that now works at my kids' school, buying all the things just works for our family.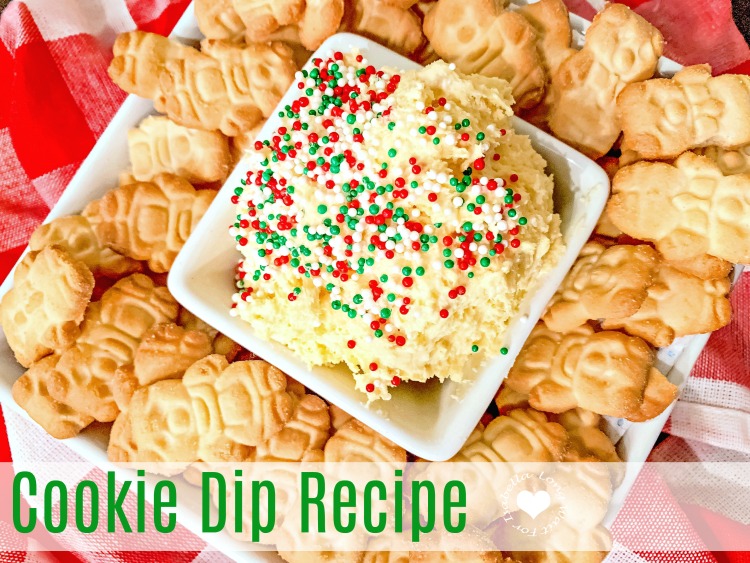 But when it's a kid's party, I do like to get creative and have a bit of fun. That's why I like this cookie dip recipe. It's a fun way for kids to dip festive cookies or make their own cookie sandwiches. Honestly, this cookie dip can be made any time of year. You can use any color sprinkles or even food coloring to make perfect for any season.
[amazon_link asins='B000JJO058,B0723B8NB6,B06WP4DGQP,B01IF2Q8XM,B00H1C8ZDY' template='ProductCarousel' store='wpplugin01-20′ marketplace='US' link_id='72b6fa83-dada-11e8-9b8c-c5d77744e013′]
Cookie Dip Recipe Ingredients
1 Box Yellow Cake Mix. ( if Holiday Funfetti is on shelves, that works even better)
8oz Container Coolwhip
1 Plain Yogurt Cup
Christmas Sprinkles
Teddy Bear Cookies for dunking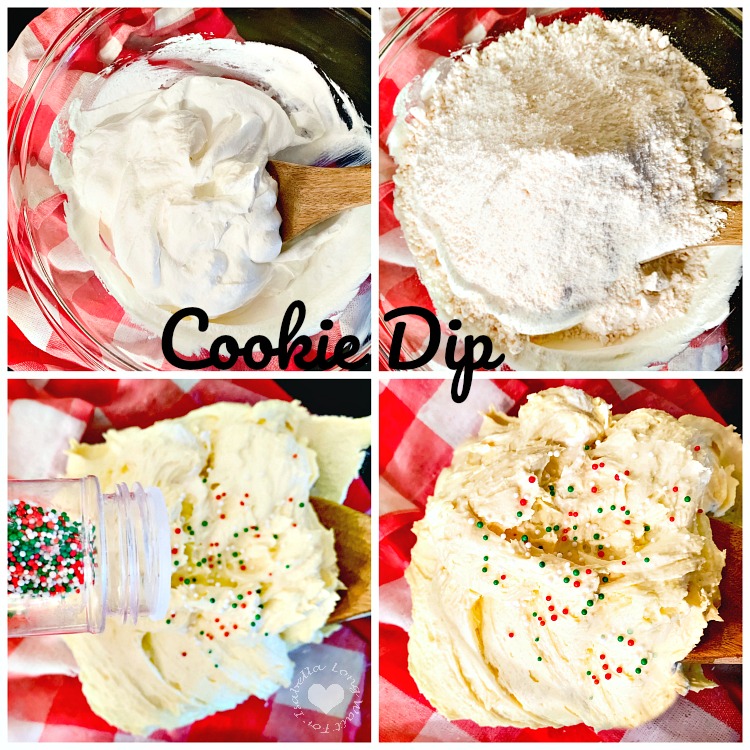 [amazon_link asins='B072C58S6W,B0078TP862,B01IA4FW50,B06XCTNX1H,B06Y53MXB6′ template='ProductCarousel' store='wpplugin01-20′ marketplace='US' link_id='fd30a80f-dada-11e8-bf82-5d28dfb028f1′]
Cookie Dip Recipe Directions
1. Take your Coolwhip & pour it into a large mixing bowl.
2. Then add your yogurt cup.
3. Mix well.
4. Now take your cake mix and pour it into your cool whip/yogurt mixture.
5. Mix well. You can also use a hand mixer if you have one handy. The Dunkaroo batter does take awhile to mix throughly by hand.
4. Add those sprinkles! What's Dunkaroo Dip without those sprinkles?
5. Scoop your Dunkroo Mix into a serving bowl. Then grab those cookies for dunking!
6. Serve & Enjoy!