Do you have an RC fan in your house? My six year old, Nate, loves all things remote control. So when I had the opportunity to add the Max Flex RC 300 to our Kids Holiday Gift Guide this year, I knew this one would be a hit. And not just in my home, but homes across the country. This is really an amazing toy. Your RC cars fan will LOVE it this holiday season.
About Max Flex RC 300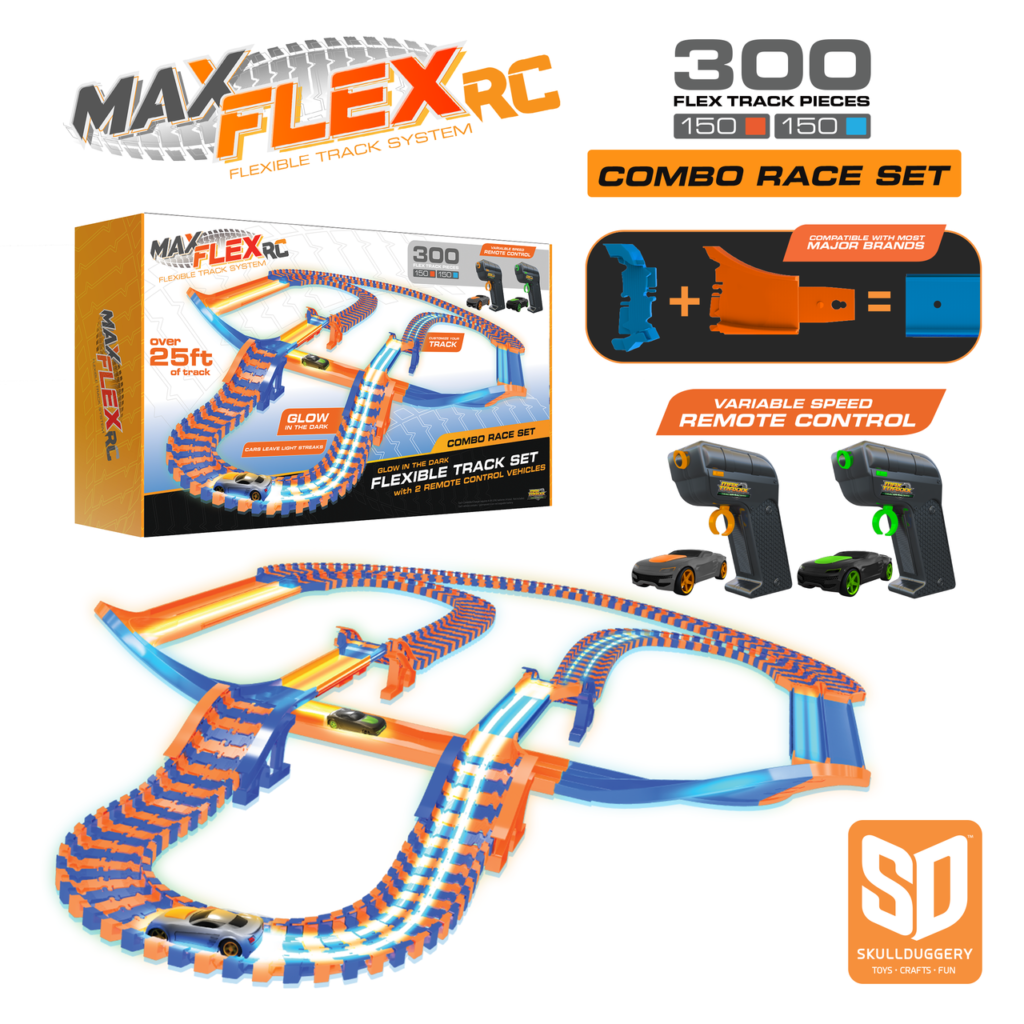 This new Max Flex RC  adds even more excitement, creativity and challenge to your racing fun! Only Max Traxxx combines Light Tracing Technology cars that blaze streaks of light across Glow-in-the-Dark tracks with the extra fun of flexible track in their Max Flex R/C Flexible Track Systems!
Possibly the coolest track system ever, Max Flex allows you to build a big track – over 25 feet in total length! – and to change the twists and curves of the flexible track on the fly! You have never experienced racing like this before! Set up your customized racing circuit and compete head-to-head! Tracer Racer cars feature undercarriage lights that not only make these cars appear to be hovering rather than rolling – the lights also leave glowing streaks in their wake showing how the racers are "burning" up the track. And R/C Tracer Racers can be driven at variable speeds with a top to-scale speed of 500 miles per hour!! Racers recharge by being plugged into the control – only one set of 4 AA batteries for each charger are required (batteries not included).
The Max Flex Combo race set is perfect for both beginning and advanced race fans as variable speed remote control cars and customizable track configurations allow racers to control course difficulty. The set is also further customizable by adding Max Traxxx track modules (sold separately) for even more racing fun!
[amazon_link asins='B012B5GIPW,B074LTVV42,B00LBCX1DY,B012B5GZ6Y,B01JMTB6KM,B01G5XMMF6′ template='ProductCarousel' store='wpplugin01-20′ marketplace='US' link_id='13b3e3de-d556-11e8-a5b5-9966794c09ec']
[Tweet "Adults and kids can have their car and race it too, at the same time!"]
Visit our Facebook Page to see what Nate built ==> Long Wait For Isabella Facebook page.
Created by Skullduggery, who is known for its award-winning race tracks, has been seen on the TODAY Show and captured the hearts of hard-to-please Oppenheim toy experts with Platinum and Gold seals. This holiday season, the must-have toy is a glow-in-the-dark flexible track, with two lanes, that kids build around the coffee table and couch.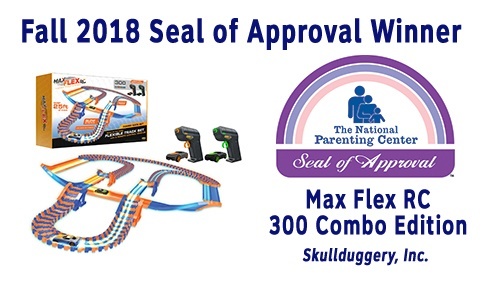 This RC cars set already won a rave review with The National Parenting Center, who bestowed its Fall Seal of Approval on the crazy-fun toy!
Skullduggery has done it again. Expanding their Max Flex RC line they have created a racing set that is easy to set up, provides hours of fun play, is customizable, and looks totally cool. Once you see the track lit up with lightning streaks, especially when you turn off all the lights, you will be blown away.
Connect with Skulldeggery
Facebook | Twitter | Instagram
Win the Max Flex RC 300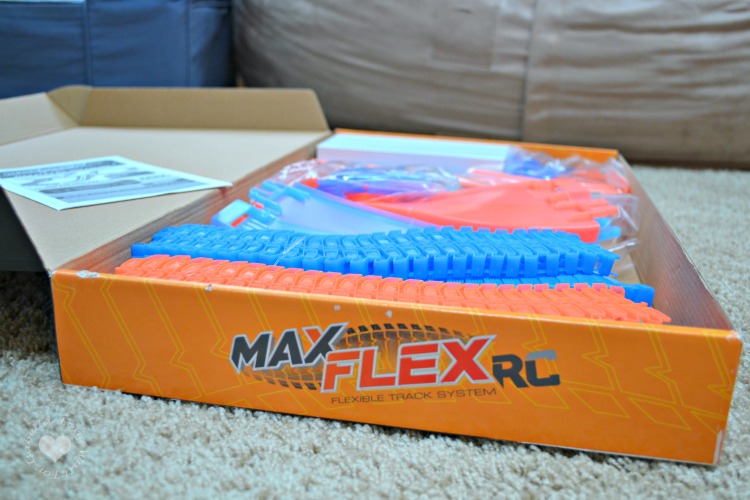 One lucky Long Wait For Isabella reader will win their own Max Flex RC 300! Valued at $99.99, this amazing racing set will sure to be a HOT holiday gift for the RC cars fan in your life. Enter the Rafflecopter form below for your chance to win. Open to US residents 18+.
Good Luck!
Disclosure: This is a sponsored post. All opinions are mine alone.