SOLO: OUR STAR WARS STORY
To celebrate the in-home launch of Solo: A Star Wars Story, we chat to the all-star cast about their journey to the Millennium Falcon… and beyond.
What Star Wars means to the actors?
What was it like to walk on to the iconic Star Wars set for the very first time?
Alden Ehrenreich, Donald Glover, Joonas Suotamo, Emilia Clarke, Paul Bettany and Phoebe Waller-Bridge explain all in this exclusive interview.
The in-home release of Solo: A Star Wars Story is packed with bonus material including deleted scenes, cast interviews and never-before-seen featurettes on the making of the movie. The story of the most beloved scoundrel in the galaxy is on a lightspeed course for homes Digitally in HD and 4K Ultra HD™ and via Movies Anywhere on September 14, and on Blu-ray 4K Ultra HD™, Blu-ray™, DVD and On-Demand on September 25.
ALDEN EHRENREICH: HAN SOLO
"Star Wars has always meant a lot to me. Ever since I was a kid, I've loved everything about it. I had all the toys. I had a Phantom Menace poster on my wall, which had Anakin Skywalker with the shadow of Darth Vader. It's an unbelievably good poster."
"Right before we started shooting the movie, I wanted to talk to Harrison Ford, just to pay respect and have him give us his blessing on the film. We had lunch two years ago, and he was really encouraging and supportive. He is so effusive about the movie, which means so much to me. I know it's also a huge deal to Ron [Howard] and Kathleen [Kennedy] to have him genuinely enjoy the film."
"As soon as I was cast in the role, I did as much research as possible. First of all, I sat down and watched the movies. I watched Star Wars: The Phantom Menace through The Force Awakens straight away. At that point, those were all the movies that had been made."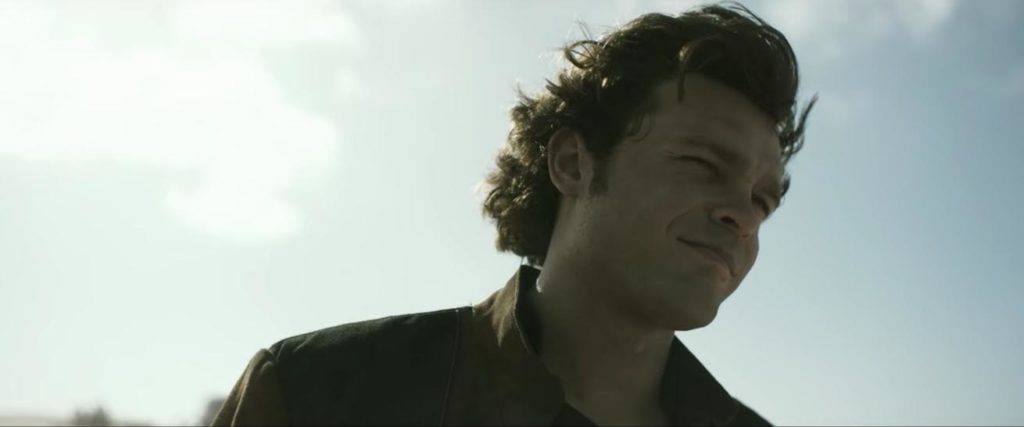 "This project is bigger than you can wrap your head around. It's wonderful. Stepping into the cockpit of the Millennium Falcon is especially surreal. You get in there and you can't believe you're inside. It's an amazing feeling. That's the set everyone wants to see when they visit you at work. They want to have that experience, too. After a couple of months of shooting, you're inside the Millennium Falcon and you're flying it; you know where all the buttons are and you know how the chair feels. That's when you go, 'Okay, this is my ship now.' That feeling was deeply gratifying."
DONALD GLOVER: LANDO CALRISSIAN
"Star Wars was a big part of my upbringing. When I was a kid, the first toy I can remember getting was a Lando Calrissian action figure that my father bought me. I had a Darth Vader one, too. Star Warswas one of the first movies my father showed me. We had it on VHS and LaserDisc. That's how long ago it was! Like any seven-year-old boy, I pretended to be Lando, so it was pretty surreal to be cast as a character I'd watched throughout my childhood."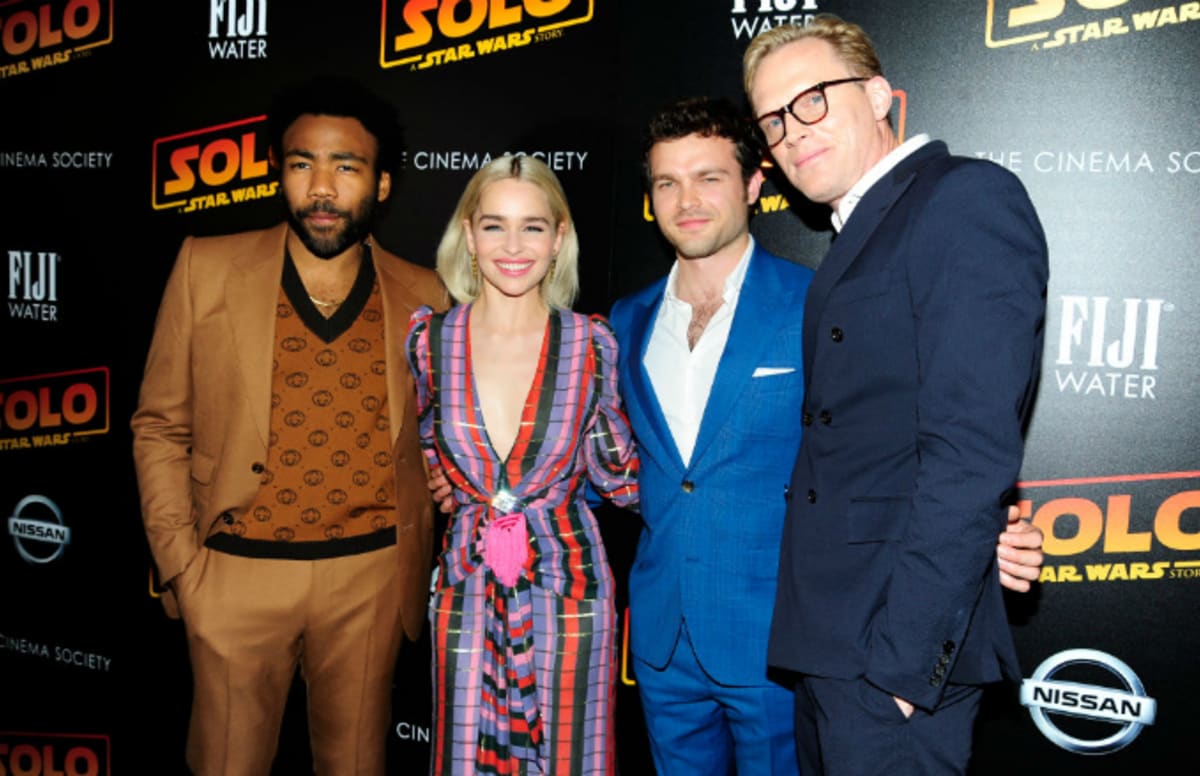 "It felt like a dream walking on to the Solo set for the very first time. It's tough to find the words to describe it. You can't help but smile and feel like a child. It was amazing. The very first scene I shot for the movie was the scene with the card game, sabacc. I sat down at that table with all those creatures and it felt incredible. You sit there and you enjoy every second. You touch things. You talk to the creatures. You talk to the people under the table operating the creatures. It was really cool. We played sabacc for three days straight, but I'd learned a lot of card tricks before that. I also learned a couple of tricks on rolling the dice. We spent a lot of time playing sabacc for this movie."
"There was not a lot of space to move in the Millennium Falcon'scockpit; especially when you've got a Wookiee and a droid in there with you – but there was a lot more space in Lando's quarters. That was my favorite part of the Falcon. I would go in there and read books."
JOONAS SUOTAMO: CHEWBACCA
"Back in 2013, I saw the first casting announcement for this role. They were looking for someone who was 7' 2" with blue eyes. I can remember it vividly because I thought to myself, 'I am too short for this role.' About four months later, they called me and asked me to shoot an audition tape – but they didn't mention it was Star Wars. They found me because of my basketball background. They called the Scandinavian Basketball Association and discovered there was a seven-foot tall, blue-eyed guy there. That's how it all started for me. After J.J. Abrams saw me, I was asked to be Peter Mayhew's double for The Force Awakens. That was my first time as Chewie. I also got into the suit in The Last Jedi, and now for Solo."
"The first Solo set I walked on to was the mud pit where audiences get to meet Chewie for the very first time. Seeing the pit was a dreary moment for me, because I knew I was going to roll around in that mud for a very long time shooting the fight scene with Han. For those scenes, I often wore a wetsuit underneath the Chewbacca suit to protect me from the cold. I was wet the whole time and there was mud everywhere in that pit – and it was cold. I'd been practicing stunts for two months before we got to set, but it would all culminate in that mud pit. I was excited because the screenplay was so good. I knew it was going to be an amazing movie."
PHOEBE WALLER-BRIDGE: L3-37
"I was nervous but excited on my first day on Solo. Before you step on set, you know that the people building these sets, making these costumes and creating the creatures are at the top of their game. You know you're about to walk into a new world that's literally magical. I walked through a little cave-like door and suddenly it was smoky. The lighting was very dark and realistic. There were creatures behind a bar serving drinks. There were droids surrounding a cage and the band was playing. "
"When we were taken through to the cockpit, everyone instantly regressed to being eight-year-old kids. Everyone was desperate to press all the buttons, but we were also scared that we might take off. It was strangely emotional and panicky and hyperactive in there. I think the producers knew they had to bring us in at least an hour early, so that we could calm down from the magic of seeing it for the first time.
"It was tricky to get into L3's cockpit seat. Once I was in there, it was fine – but getting in was tough because I was wearing a droid costume. There was a moment when I thought I was going to have to do it without L3's legs – but eventually I managed to climb into the seat. I did a lot of practice climbing in and out of the chair. Once you were in there, it was amazing. There was a huge screen covering all the windows of the cockpit, so it felt like you were really going into space."
EMILIA CLARKE: QI'RA
"The first set I walked on to for Solo was one of the biggest sound stages in Europe. It was at Pinewood Studios in England and it was enormous. It was mental! In the scene, Han and Qi'ra have just escaped Mother Proxima's clutches and we are in the space port. We were surrounded by droids and stormtroopers, so it was veryStar Wars. There were cameras on wires and creatures wandering around. It literally couldn't have been more Star Wars. It felt like every bit of the Star Wars galaxy was thrown into one room. That was my epic first day."
"What did it feel like to walk on to the set? It was pretty astonishing really. It felt like you had to feign a sense of cool, because internally you were freaking out. It was like, 'Okay, we're cool. Everything's going to be cool.' But inside I was blown away and I was really, really excited.
"Walking on to the Millennium Falcon for the first time was just as cool. You don't even need to be a diehard fan to have that 'walking into Santa's grotto for the first time' feeling. It was just astonishing. You don't expect to be blown away by it, but the power that the franchise holds over just about everyone is incredible. It's very, very powerful."
"Filming scenes in the Millennium Falcon was a lot of fun. You can get really comfy on those leather seats. You really can. A fun game to play is: 'How many crew members can you fit into the Millennium Falcon?' There were often more people than there were seats. Especially in that little cockpit. When they yelled cut, we'd all be thinking, 'Great. Who gets to sit down?'"
PAUL BETTANY: DRYDEN VOS
"The first set that I stepped on to was the ballroom of Dryden's starship, or star-yacht. It was amazing. I walked down a spiral staircase and there was a girl in a gold lamé dress singing into a microphone. There was an R2 unit going by with champagne flutes on his head, if indeed that is a head. I got chills."
"The attention to detail on the sets was incredible. I was blown away by it all. There was a cyclorama [a 360-degree view] of [the Italian mountain range] the Dolomites outside the yacht, and it was actually the Dolomites because I recognized the mountains. The cyclorama is a big screen, which actually moved when the vehicle was supposed to be moving. The light changed on the mountains and animals flew into shot. It was incredible.
"I didn't get to shoot any scenes in the Millennium Falcon, but I went on to the Falcon set a lot because I would bring lots of friends' kids to look around. That set also gave me chills. Star Wars was a really big film for me when I was a six-year-old boy. To be able to walk on to the Millennium Falcon was the stuff of childhood dreams. I loved it, although it was interesting to see that Lando keeps it in much better shape than Han. It was very clean compared to the Falcon we see in the '70s movies. In the '70s, it looks frankly unhygienic."
About Solo: A Star Wars Story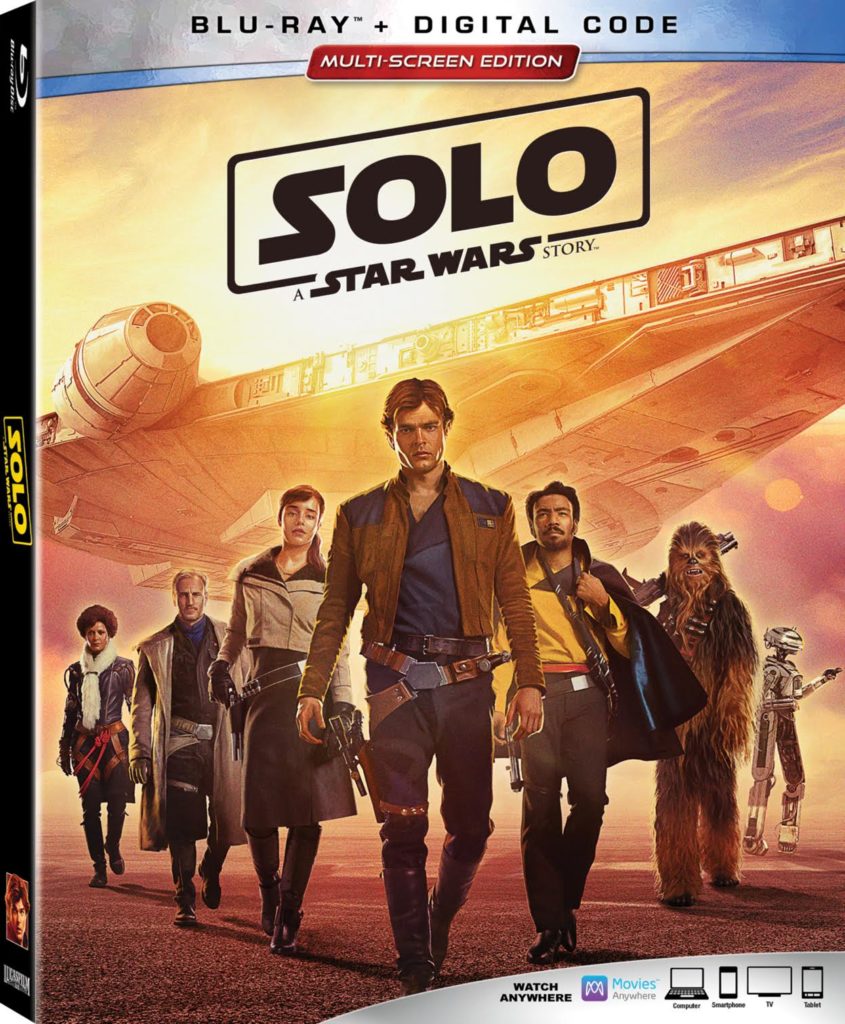 Solo: A Star Wars Story is an action-packed journey that explores Han's first encounters with future friend and copilot Chewbacca (Joonas Suotamo) and notorious gambler Lando Calrissian (Donald Glover). The film takes viewers on a ride showing Han's adventure-filled past alongside fellow street thief Qi'ra (Emilia Clarke) and career criminal Beckett (Woody Harrelson). "Solo: A Star Wars Story" bonus material takes fans behind the scenes with the star-studded cast and screenwriters Jonathan Kasdan & Lawrence Kasdan (writer of Star Wars: The Empire Strikes Back and Star Wars: Return of the Jedi). Special features include a revealing feature on Chewie and his enduring friendship with Han; a close-up look at the original version of the Millennium Falcon and Han's first time piloting the infamous ship; the creation of the film's otherworldly settings and pulse-pounding action sequences; and eight never-before-seen deleted and extended scenes.
Disclosure: This is a sponsored post. All opinions are mine alone.