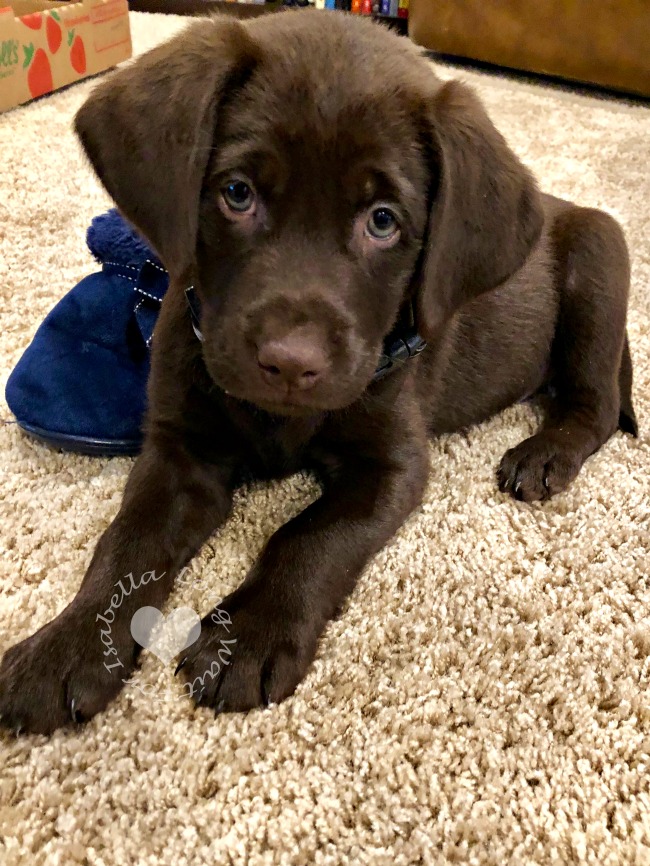 When we had a dog before, I don't think crate training was as popular. I hadn't heard about it 15 years ago. But now that we are proud owners of a Chocolate Lab puppy, Max, I knew we would be training him to sleep in and rest in a crate.
Crate training a puppy works great when you can't be home 24/7. Keep reading, to learn a few tricks to make the task easier than ever before.
Meals in the Crate
If your dog gets nervous being confined to the crate, try this clever trick. When dinner time rolls around, put your puppy's food and water bowl inside the crate, leaving the door wide open.
Ideally, you want your dog to be standing completely inside when he eats his meal. But, baby steps may be required. In this case, begin by putting food and water toward the entrance of the cage. Move his meal further in (each day) until he feels comfortable enough to eat inside. This technique helps your dog understand that the crate is a safe place to be.
[amazon_link asins='B000QFT1RC,B00MYDYD86,B018OUW18Q,B000YIYTMS,B00LKMN7M0′ template='ProductCarousel' store='wpplugin01-20′ marketplace='US' link_id='faf8d3bd-badd-11e8-872c-5b2a28c3c215′]
Give Your Puppy Treats
A dog treat is a highly effective tool to get your dog to enjoy crate time, as well as an easy trick to get him to actually enter the cage. On a regular basis, throw a few of your dog's favorite snacks inside when he's not looking and allow him to discover the surprise himself.
You can even give him new toys or a chew bone, but make sure to let him find these things on his own. Not only does this encourage your dog to enter the crate without being instructed to do so, it eventually becomes the first place he'll go to whenever he's sniffing out a yummy treat!
[amazon_link asins='B00DT2ZUKQ,B001G96UK8,B000H0ZJHW,B0017JG5X4,B010IU5B78′ template='ProductCarousel' store='wpplugin01-20′ marketplace='US' link_id='155777fb-bade-11e8-8d87-4bddf1ea727a']
Make it a Comfortable Experience
When you purchase a crate to train your puppy, it's important to make it extra comfortable for him. Your dog will have an easier time with crate training when he feels relaxed in his new domain.
First, you need to decide where in your home your dog will feel the safest in the cage. He'll most likely want to be in a room where your family spends a lot of time. So, consider placing the crate in the living room in a location that doesn't see a lot of foot traffic.
Line the bottom with a thick blanket or bedspread and toss in a few of his favorite toys. Your puppy might also appreciate a blanket or sheet draped over the cage to make it more private and cozy.
[amazon_link asins='B00QKSSGH0,B01M71HN5H,B01GV9ONOW,B00P0YQYYW,B000084E7Y' template='ProductCarousel' store='wpplugin01-20′ marketplace='US' link_id='32825b73-bade-11e8-9bc2-05e7a4d1ebcc']
These are just a few ideas to make it easier to crate train your puppy. Never feel like you're being mean doing this. Lots of older dogs rather spend time in their crate (with the door open) than anywhere else.