Isabella is hooked on making slime recipes. She is always searching for how to make slime on YouTube kids and trying any recipe she can get a hold of. That's why when I was asked to review Slime Sorcery, I knew she'd want this book badly. I like when we can find slime without borax, and this book has 97 borax-free recipes!
Slime Sorcery
97 Magical Concoctions Made from Almost Anything – Including Fluffy, Galaxy, Crunchy, Magnetic, Color-changing, and Glow-In-The-Dark Slime
By Adam Vandergrift
THE CRAZIEST AND BIGGEST BOOK OF DIY SLIME RECIPES EVER
With over 100 creative, borax-free slime recipes, Slime Sorcery is packed with color photos and step-by-step instructions for making slime out of anything and everything.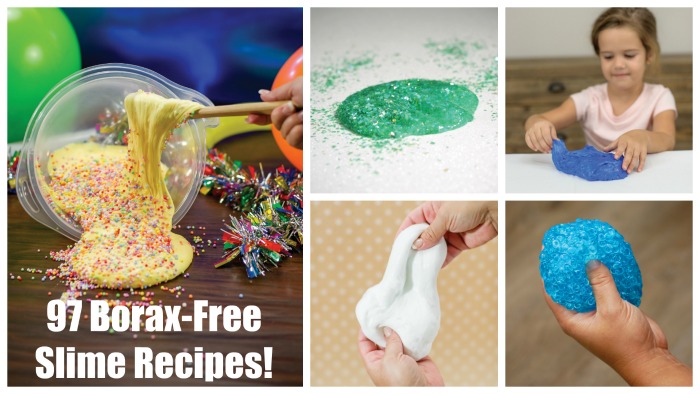 Will it slime? Find out by creating every type of slime imaginable, including:
Marshmallow Fluff Slime
Strawberry Jam Slime
Mermaid Scales Slime
Crunchy Slime
Confetti Birthday Cake Slime
Cameron's Fluffy Midnight Slime
We love that this is slime without borax and these slime recipes are so unique. Isabella loves that this book is always right at her fingertips.
Make Slime Recipes
In this book, you'll find so many great recipes for slime, but our favorite is either Mermaid Scales Slime or Marshmallow Fluff. Mermaid Scales Slime is just so pretty and the Marshmallow Fluff is so soft and fluffy.
Mermaid Scales Slime
Mermaids are enchanting and very beautiful. This slime glistens and shimmers just like a mermaid's tail when the light hits it just right. The depth of color is mesmerizing. Just one look and you'll be hooked! Here's what you need:
½ (4-ounce) bottle clear glue
2 tablespoons water
1 tablespoon iridescent fine glitter
¼ cup green iridescent confetti glitter
2 to 3 tablespoons clear liquid detergent
medium bowl
spoon
1. Add the glue, water, fine glitter, and confetti glitter to a medium bowl and mix to combine.
2. Slowly add the detergent and mix until the slime forms.
3. Once your slime is no longer sticky, take it out of the bowl, stretch it, and enjoy its beauty.
[Tweet "Get the Mermaid Scales #Slime recipe #free! #SlimeSorcery"]
Marshmallow Fluff Slime
Much like the real thing, this slime is silky, smooth, and shiny. It can be the base for many exciting recipes or easily stand alone. Here's what you need:
2 (4-ounce) bottles white glue
3 cups shaving cream
1 cup foaming hand soap
4 tablespoons lotion
6 to 7 tablespoons contact lens solution
medium bowl
spoon
1. Combine the glue, shaving cream, soap, and lotion in a medium bowl and mix to combine.
2. Add the contact lens solution and mix until your slime begins to form.
3. Take your slime out of the bowl and stretch it between your hands until the slime is no longer
sticky.
==> Slime Hack <==
If your slime is still sticky, mix ½ teaspoon baking soda and 2 tablespoons water together knead it into
your slime. Voilà, stickiness is gone! If you don't have baking soda, you can also use 1 teaspoon
baby oil to rid your slime of its sticky texture.
[Tweet "Here's a #slime hack for sticky slime! #SlimeSorcery"]
Do you like these two recipes above? Because if you do, then you're sure to love the Slime Sorcery book. There are so many great recipes for slime. It's so affordable, get it today!
Pin it for later:
Connect with Ulysses Press
Facebook | Twitter | Instagram
Win Slime Sorcery
Two (2) lucky Long Wait For Isabella reader will win a copy of Slime Sorcery. Enter the Rafflecopter form below for your chance to win. Open to US residents 18+.
Disclosure: This is a sponsored post. All opinions are mine alone.