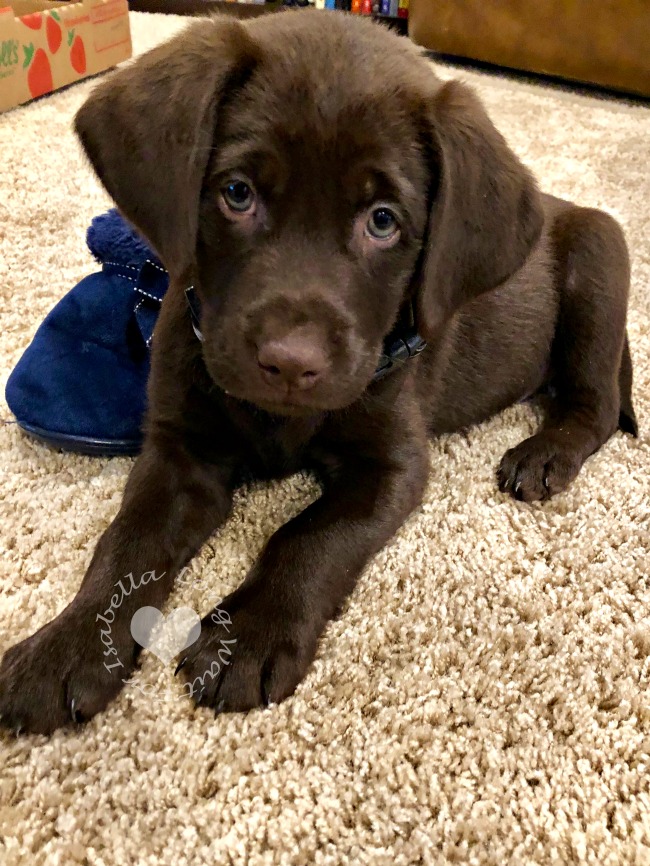 If you've been following me on Instagram and Facebook you already know we have a Chocolate Labrador Retriever puppy. Max is now four months old and life is getting easier. Those first few months have been hard. (Have you had a puppy before?) My husband and I had a dog before and didn't feed him quality food or treats so we've decided that we'd get the very best for Max. We want him around for at least 15 years!
We haven't been giving Max very many human food treats. He'll occasionally get a piece of banana or apple when the kids have their after-school snack. And at least one night per week, he'll get a bit of salmon from my husband. He has a few healthy dog treats, but when I was given the chance for Max to try soft dog treats from NurishPet, I was more than happy to.
[amazon_link asins='B075V9Y8DQ,B075VCD824,B075VC61VQ' template='ProductCarousel' store='wpplugin01-20′ marketplace='US' link_id='78cb736f-375f-11e8-9745-9b49d2918b38′]
About NurishPet Natural Supplement Chews
These delicious dog supplement soft chews are all-natural, gluten free, and dairy free. Unlike other pet supplement brands, NurishPet uses a no-heat process to create soft dog treats. This process maintains the ingredient integrity and quality, meaning your dog fully benefits from the nutritional value of the raw ingredients.
[Tweet "Raw supplements your dog will drool over!"]
We live here in the great and beautiful Pacific Northwest, so Max has already had wild salmon and LOVED it. I was very happy to let him try the Wild Alaskan Salmon Oil dog chews from NurishPet.
Wild Alaskan Salmon Oil Soft Chews
These soft chews use scientifically proven ingredients to support a longer and healthier life for your doggie. The ingredients directly aid in vast overall improvement of dog's healthy skin and shiny coats; often seen almost immediately upon use. Wild Alaskan Salmon Oil is known to substantially reduce shedding; even during the heaviest times of year.
No soy, wheat, corn, sugar, salt or gumming agents is used in process. NurishPet Soft Chews are All-Natural, Gluten Free, & Dairy Free and Proudly Manufactured in the USA.
Connect with NurishPet
Facebook | Twitter | Instagram
Disclosure: This is a sponsored post. All opinions are mine alone.