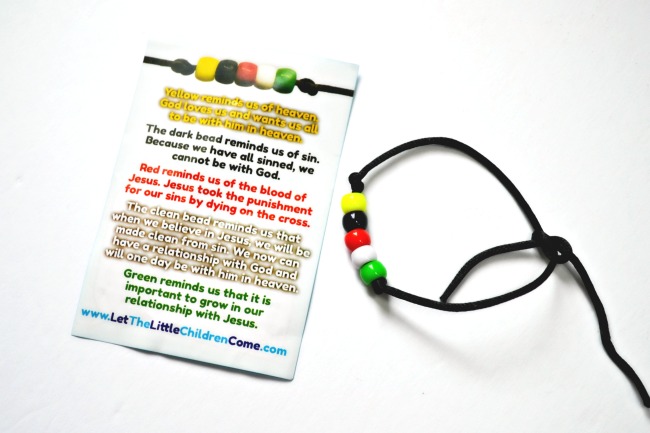 Working in Children's Ministry at church, I love finding simple crafts the kids in my pre-K class can do. But, I want the crafts to also be meaningful. That's why I am loving this Wordless Bracelet Kit.
When Jesus taught his first disciples, he used things they were familiar with, like sheep, fish and bread. We can follow in Jesus' footsteps by using this Wordless Bracelet Kit to share the gospel message while assembling the bracelets together with the children. These Salvation Bracelets puts the gospel message in the hands of children and equips them to also share the message of salvation with their friends.
The Wordless Bracelet Kit
In this kit, you'll find detailed instructions on:
How to assemble the bracelets, and
Key points to cover when presenting the gospel using the Wordless Bracelet.
This kit contains 20 individually packaged sets of:
5 beads (yellow, black, red, white and green)
1 cord
1 simple guide to equip each child to present the gospel to their friends through the gospel colors of the beads
Salvation Bracelets
5 simple beads that mean so much. Here is a quick rundown on what the beads represent:
Yellow Bead – heaven
Black Bead – sin
Red Bead – Jesus' blood
White Bead – our clean hearts because of Jesus
Green Bead – grow our relationship with Jesus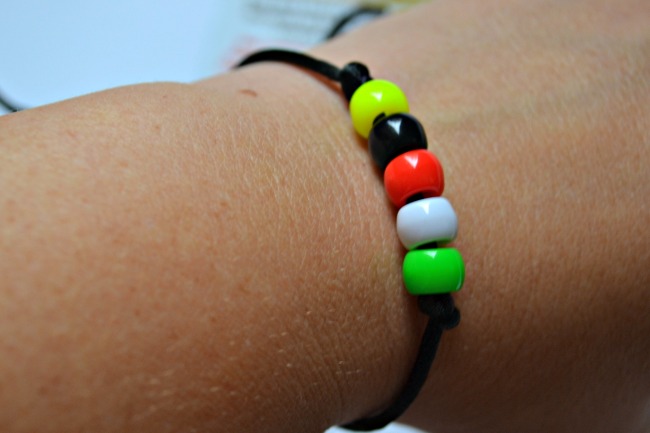 Let The Little Children Come has a great script, with Bible verses, to present this Gospel message to kids so they can understand more easily.
Pin it for later: 
Connect with Let The Little Children Come
About Let The Little Children Come
Let The Little Children Come aims to provide effective child evangelism tools and resources. It is their hope that these tools and resources will help you in conveying the powerful gospel message to children. Their child evangelism tools are more than just simple children's tracts. Each product is designed to capture and hold the attention of children, while not distracting them from the core message of salvation through Jesus Christ.
Having said that, the fact remains that any gospel presentation tool is useless without the empowerment of the Holy Spirit. As you evangelize to children with these (or any other) tools, they encourage you to commit your efforts to God. It is He who would minister to the hearts of your listeners. Share the gospel in love and obedience, and leave the results to God.
Let The Little Children Come is not affiliated with any church or organization.

Disclosure: This is a sponsored post. All opinions are mine alone.