The book of Psalms was written as hymns and was meant to be sung to praise the Lord. There are 150 Psalms in the Bible, and each one tells a different story within the hymn. Here are thirty-one verses from the many various hymns that will help motivate and inspire you every day of the month.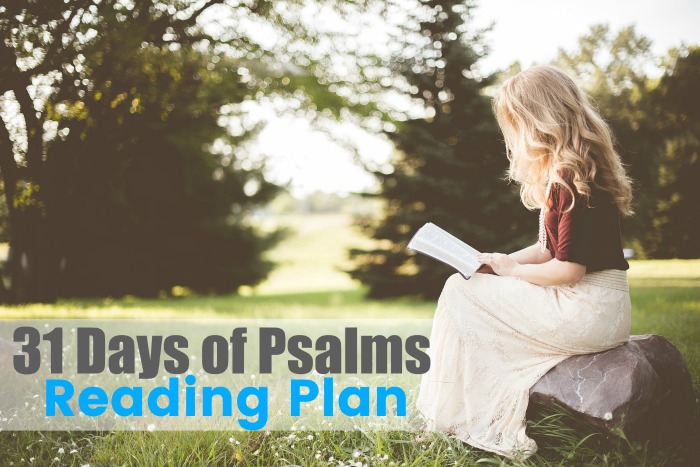 31 Days of Psalms Reading Plan
Day One: "Blessed is the one who does not walk in step with the wicked or stand in the way that sinners take or sit in the company of mockers." Psalms 1:1
Day Two: "As for God, his way is perfect: The LORD's word is flawless; he shields all who take refuge in him." Psalms 18:30
Day Three: "The LORD looks down from heaven on all mankind to see if there are any who understand, any who seek God." Psalms 14:2
Day Four: "Delight yourself in the Lord, and he will give you the desires of your heart." Psalms 37:4
Day Five: "It is God who arms me with strength and keeps my way secure." Psalms 18:32
Day Six: "God is within her, she will not fall; God will help her at break of day." Psalms 46:5
Day Seven: "He rules the world in righteousness and judges the peoples with equity." Psalms 9:8
Day Eight: "In my distress, I called to the LORD; I cried to my God for help. From his temple he heard my voice; my cry came before him, into his ears" Psalms 18:6
Day Nine: "Therefore I will praise you, LORD, among the nations; I will sing the praises of your name." Psalms 18:49
Day Ten: "You provide a broad path for my feet, so that my ankles do not give way." Psalms 18:36
Day Eleven: "The precepts of the LORD are right, giving joy to the heart. The commands of the LORD are radiant, giving light to the eyes." Psalms 19:8
Day Twelve: "Create in me a pure heart, O God, and renew a steadfast spirit within me." Psalms 51:10
Day Thirteen: "I will sing the LORD's praise, for he has been good to me" Psalms 13:6
Day Fourteen: "The LORD is my shepherd, I lack nothing." Psalms 23:1
Day Fifteen: "You make known to me the path of life; you will fill me with joy in your presence, with eternal pleasures at your right hand." Psalms 16:11
Day Sixteen: "Look on my affliction and my distress and take away all my sins." Psalms 25:18
Day Seventeen: "Blessed are those who have regard for the weak; the LORD delivers them in times of trouble." Psalms 41:1
Day Eighteen: "LORD, you alone are my portion and my cup; you make my lot secure." Psalms 16:5
Day Nineteen: "I call on you, my God, for you will answer me; turn your ear to me and hear my prayer." Psalms 17:6
Day Twenty: "Guide me in your truth and teach me, for you are God my Savior, and my hope is in you all day long." Psalms 25:5
Day Twenty-One: "In you, LORD my God, I put my trust" Psalms 25:1
Day Twenty-Two: "The LORD gives strength to his people; the LORD blesses his people with peace." Psalms 29:11
Day Twenty-Three: "Sing the praises of the LORD, you his faithful people; praise his holy name." Psalms 30:4
Day Twenty-Four: "Refrain from anger and turn from wrath; do not fret—it leads only to evil." Psalms 37:8
Day Twenty-Five: "He guides the humble in what is right and teaches them his way." Psalms 25:9
Day Twenty-Six: "How priceless is your unfailing love, O God! People take refuge in the shadow of your wings." Psalms 36:7
Day Twenty-Seven: "Many, LORD my God, are the wonders you have done, the things you planned for us. None can compare with you; were I to speak and tell of your deeds, they would be too many to declare." Psalms 40:5
Day Twenty-Eight: "The LORD is my light and my salvation – whom shall I fear? The LORD is the stronghold of my life – of whom shall I be afraid?" Psalms 27:1
Day Twenty-Nine: "I will instruct you and teach you in the way you should go; I will counsel you with my loving eye on you." Psalms 32:8
Day Thirty: "I praise you, for I am fearfully and wonderfully made. Wonderful are your works; my soul knows it very well." Psalms 139:14
Day Thirty-One: "Let everything that has breath praise the LORD. Praise the LORD." Psalms 150:6
Pin it for later: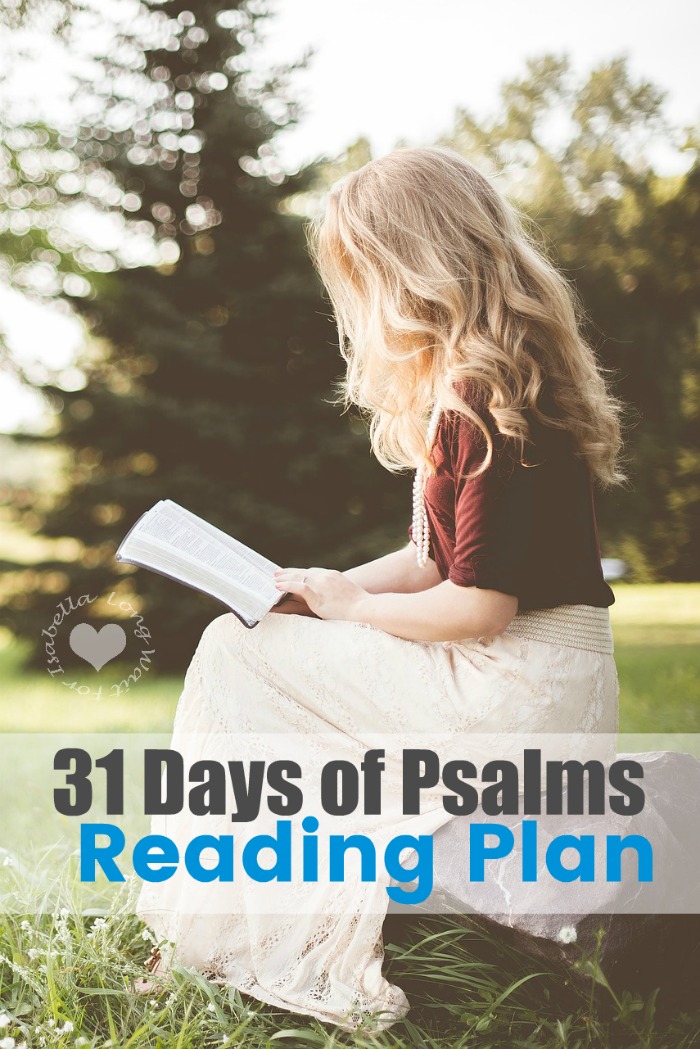 To make it even easier, I've created the above verses into a printable Psalms Reading Plan. Simply open the image below in a new tab and print, or open the printable PDF and print from there!
Here is the printable PDF version of this ==> Psalms Reading Plan Printable.