8 Australia/New Zealand Easter Eggs from Thor: Ragnarok:
In a special clip from the Commentary Track you'll find the Australia/New Zealand influence on the space ships in the film, along with a variety of additional AU/NZ fun facts from Thor Ragnarok director Taika himself!
1. The horns on Surtur's helmet were crafted out of an ancient Australian boomerang that the crew received as a gift while filming in Australia.
2. The Grandmaster's henchwoman, Topaz, is played by Rachel House. She has starred in many of Taika Waititi's projects, including Eagle vs. Shark, Boy, and Hunt for the Wilderpeople.
3. Taika Waititi is a big fan of sketch comedy actor Steven Oliver from Australia's "Black Comedy" television series and contacted him to be "Cousin Carlo" in a scene with Jeff Goldblum.
4. The scene where Valkyrie opens a bottle with her blade is an homage to the Beth Heke character in Once Were Warriors.
5. Chris Hemsworth loved Taika Waititi so much he shaved an "N" and a "Z" in the sides of his head for "New Zealand." (according to Taika, at least)
6. Interns from a local Aboriginal community created much of the Hulk parade masks & banner props on Sakaar. Several of the interns ended up getting jobs with the art department.
7. During Hela's fight sequence against the army of Asgard, she is doubled by the famous New Zealand stuntwoman, Zoe Bell.
8. The colors for The Grandmaster's ship, The Commodore, were inspired by the Aboriginal flag, while Valkyrie's ship colors were modeled on the Maori flag. Many of the space ships in the film were also named after cars from the Australia/New Zealand car company, Holden – Statesman, Commodore, Escort, Kingswood, Torana, etc.
Pin it for later: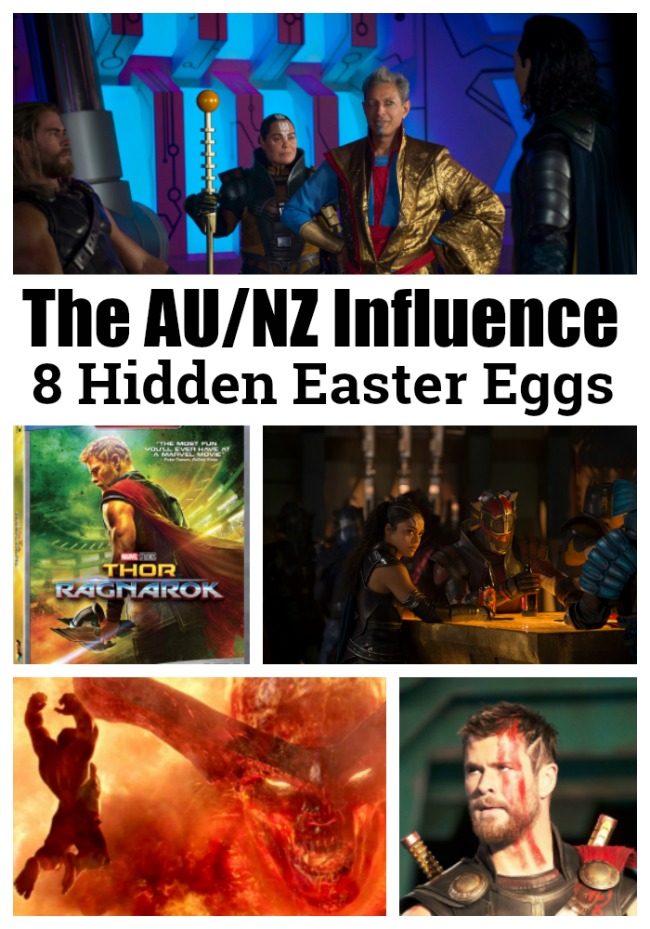 About Thor Ragnarok
In Marvel Studios' Thor: Ragnarok, Thor (Chris Hemsworth) is imprisoned on the other side of the universe without his mighty hammer and finds himself in a race against time to get back to Asgard to stop Ragnarok – the destruction of his home world and the end of Asgardian civilization – at the hands of an all-powerful new threat, the ruthless Hela (Cate Blanchett). But first he must survive a deadly gladiatorial contest that pits him against his former ally and fellow Avenger – the Incredible Hulk (Mark Ruffalo) – and grapple with his silver-tongued adopted brother Loki (Tom Hiddleston), the fierce warrior Valkyrie (Tessa Thompson) and the eccentric Grandmaster (Jeff Goldblum).
Connect with Thor
Facebook | Twitter | Instagram
Disclosure: This is a sponsored post. All opinions are mine alone.