There is no denying the Jack Kirby comics influence on the world of Sakaar in the movie Thor: Ragnarok. {Jack Kirby is widely regarded as one comics major innovators and one of its most prolific and influential creators. Kirby created numerous characters for DC Comics including Captain American and Thor.}
Marvel Studios' Thor: Ragnarok — Tribute to Kirby
Hidden References to Jack Kirby Comics in Thor: Ragnarok
Here are 11 comic book Easter eggs (hidden references) related to Jack Kirby art from the Thor: Ragnarok commentary track with Taika Waititi:
The initial Hela costume is loosely based on the comic design and transitions into the iconic version when she returns to Asgard. Her weapons were based on Gorr the God Butcher's weapons from the "God of Thunder" comic storyline.
Sakaar's design was taken from Jack Kirby's artwork. Taika was a fan as a kid and incorporated many shapes and colors from classic comics.
The obedience discs are power inhibitors lifted from the "Planet Hulk" comic storyline.
The designs of many background characters in Sakaar were also lifted directly from Jack Kirby comics.
Traditionally, the Grandmaster in the comics is blue-skinned, but they thought people might tie it back to Jeff Goldblum's character from "Earth Girls Are Easy."
The characters of Korg and Miek are from the "Planet Hulk" comic storyline. Taika based Korg's voice on the Polynesian bouncers in New Zealand, many of whom are extremely polite and don't want to hurt anyone.
The large wolf, Fenris, is a great ally of Hela's in the comics.
The mural on the back wall of The Grandmaster's suite is actual Jack Kirby artwork.
After years of fans asking for it, Thor finally got his helmet in the Sakaarian battle arena.
Odin's spear, Gungnir, appears in the background of the throne room on Asgard.
Hulk's Sakaarian wardrobe casual wear is lifted from various Hulk comics.
Pin it for later:
About Thor: Ragnarok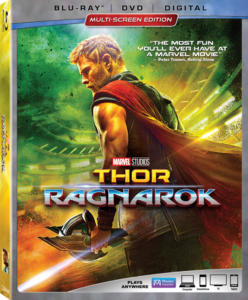 In Marvel Studios' "Thor: Ragnarok," Thor (Chris Hemsworth) is imprisoned on the other side of the universe without his mighty hammer and finds himself in a race against time to get back to Asgard to stop Ragnarok – the destruction of his home world and the end of Asgardian civilization – at the hands of an all-powerful new threat, the ruthless Hela (Cate Blanchett). But first he must survive a deadly gladiatorial contest that pits him against his former ally and fellow Avenger – the Incredible Hulk (Mark Ruffalo) – and grapple with his silver-tongued adopted brother Loki (Tom Hiddleston), the fierce warrior Valkyrie (Tessa Thompson) and the eccentric Grandmaster (Jeff Goldblum).
Connect with Thor
Facebook | Twitter | Instagram
Win Thor: Ragnarok
One lucky Long Wait For Isabella reader will win their own Digital Copy of Thor: Ragnarok. Enter the Rafflecopter form below for your chance to win. Open to US readers 18+.
Disclosure: This is a sponsored post. All opinions are mine alone.