From the studio that brought you MIRACLES FROM HEAVEN & CLOUDY WITH A CHANCE OF MEATBALLS comes the timeless tale about faith, friendship, and the importance of believing in yourself. AFFIRM Films and Sony Pictures Animation's THE STAR arrives for the first time on Digital on February 6 and on Blu-ray + DVD + Digital February 20 from Sony Pictures Home Entertainment.
The heartwarming animated comedy follows a small but brave donkey named Bo (voiced by Steven Yeun), who yearns for a life beyond his daily grind at the village mill. One day he finds the courage to break free and finally goes on the adventure of his dreams. On his journey, he teams up with Ruth (voiced by Aidy Bryant), a lovable sheep who has lost her flock and Dave (voiced by Keegan-Michael Key), a dove with lofty aspirations, along with three wisecracking camels voiced by Tracy Morgan, Tyler Perry and Oprah Winfrey. Bo and his new friends follow the star and become accidental heroes in the greatest story ever told.
Rounding out the all-star voice cast including Gina Rodriguez as Mary, Zachary Levi as Joseph, Grammy® Award-Winner Kelly Clarkson as Leah the horse, Anthony Anderson as Zach the goat, Ving Rhames as Thaddeus the dog, Gabriel Iglesias as Rufus the dog, Patricia Heaton as Edith the cow, Emmy® and Tony® Award-Winner Kristin Chenoweth as Abby the mouse, and Christopher Plummer as King Herod.
The Star Movie Trailer
THE STAR is filled with more than an hour of engaging bonus materials including the "Star-aoke: Sing Along with Bo & Friends," a dance along to "Life Is Good" by A Great Big World, plus a collection of fun lyric videos that will have you singing along to the inspiring music from THE STAR. Families can enjoy crafting and baking with "how-to" videos "Star Mason Jar Votives" and "Sweet and Sparkly Stars," and they also can go behind-the-scenes to explore the amazing talent who bring these characters to life. In "Faith All Year Round," renowned pastor and motivational speaker, DeVon Franklin delivers a fun and engaging children's sermon discussing the themes of the film and keeping the spirit of this inspiring story alive in us every day.
Products from Amazon.com
‹
›
Bonus Materials Include:
Star-aoke: Sing-Along with Bo & Friends: In this all new song, sing along with your favorite characters including Bo, Dave, Ruth and the unforgettable camels
"Life Is Good" Dance-Along: Shake your tail feathers and move your hooves in this fun dance along
Lyric Sing-Along Videos: Enjoy the eclectic and inspiring music of THE STAR with these colorful lyric videos that allow you to sing along with your favorite recording artists
"The Star" by Mariah Carey
"Can You See" by Fifth Harmony
"Children Go Where I Send You" by Kelsea Ballerini
"We Three Kings" by Kirk Franklin
"Life Is Good" by A Great Big World
Sweet and Sparkly Stars: Create star-themed cookies to be enjoyed year round
Star Mason Jar Votives: Let the light of THE STAR shine with this simple yet stunning craft
Faith All Year Round with DeVon Franklin: A children's sermon discussing the themes of the film and how to keep the spirit of this inspiring story alive in us every day
An All-Star Cast: Meet the stars of the film and explore the exciting voice cast who bring these amazing characters to life
THE STAR has a run time of approximately 86 minutes and is rated PG: for some thematic elements.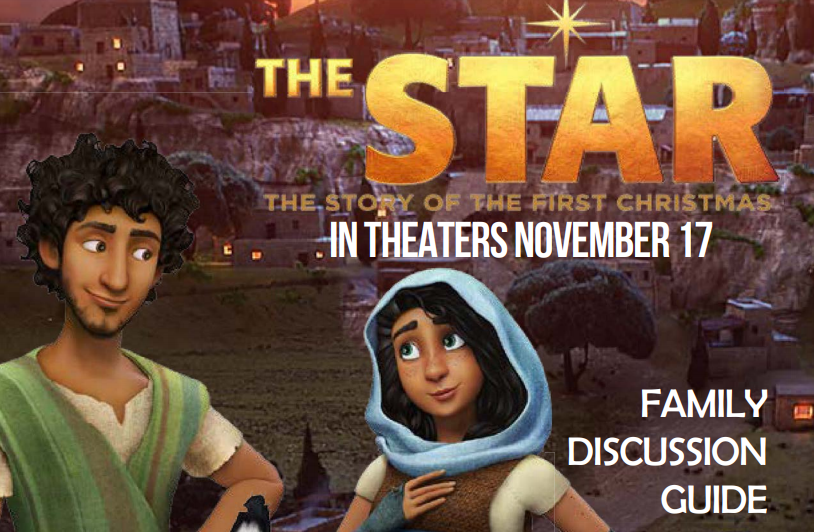 Download the Family Discussion guide here ==> http://origin-flash.sonypictures.com/ist/thestar_resources/thestar_wellplannedguide.pdf. The Discussion Guide's topic is Courage. You'll be happy you've checked this out!
Get printable activities here ==> http://www.thestarmovie.com/thestaractivities/. You'll find:
dioramas
coloring pages
mazes
connect the dots
character cards
and more!
Connect with The Star Movie
Facebook | Twitter | Instagram
Disclosure: This is a sponsored post. All opinions are mine alone.