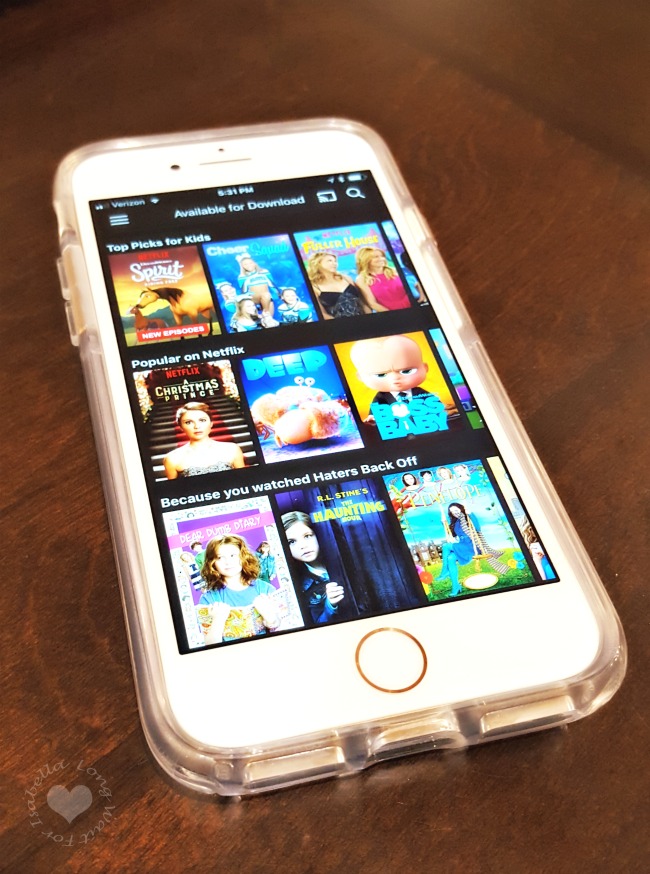 We received great news this holiday season. My husband's mobile phone plan has now moved to unlimited data, meaning it will never slow down. So my kids can now stream as much Netflix as they want on his phone! That's great holiday news for our family. Really great. I don't know about your family, but when we're in the car over the holiday season or shopping in the store we like to give our kids our cell phone. It just keeps the peace.
Are you traveling this holiday season?
Must-Have Travel Essential – Netflix On The Go
Though we now have unlimited data on one of our cell phones, we still like to take advantage of Netflix downloadable shows. When we travel I like to put shows on my iPhone for the kids.
Between delayed flights, lost luggage, public tantrums and that one thing you forgot to pack, traveling with your family can get complicated, fast. In fact, 23% of parents in the US say one of their main concerns when traveling is keeping their kids entertained.
With the holidays just around the corner, parents can look to offline viewing on Netflix to keep everything, and everyone, under control while on the go. From the tried-and-true shows you can rely on like Beat Bugs and Luna Petunia to calm any meltdown, to discovering new show obsessions like PJ Masks, Netflix downloads are a must-have travel essential for parents and their kids.
So when it's time to go on a trip together, one thing is for sure: when Netflix at home becomes Netflix on the go, everyone stays content, engaged and, most importantly, NOT bored. How does Netflix keep your family sane and entertained while on the go?
Netflix Packing Essentials
There are Netflix shows for everyone in the family to pack in their carry-on. And it's not just Netflix originals, check out the 'Available for Download' menu on the Netflix app on your mobile or tablet device and browse all of the titles available to take with you whenever and wherever you want.
Which shows are your children watching this holiday season?
(Mine have started watching Spirit: Riding Free!)
Connect with Netflix
==> Connect with Netflix Family on Facebook <==
Disclosure: This is a sponsored post with Netflix. All opinions are mine alone.