This post has been sponsored by Pfizer Consumer Healthcare. All thoughts and reviews are my own.
My kids bring home cold germs from school every year. In fact, this year I got sick for almost three weeks. That cold/flu? It went around their school. Thankfully, they didn't catch that one. Just me. I am waiting for the dreaded day that both my kids will get flu germs and be home sick together. It hasn't happened yet, but if it does happen, or should I say when it happens, I am prepared.
How to Kill Germs
Wash Your Hands: It seems so easy, but having the kids wash their hands to kill those pesky hand germs is essential. When in the vehicle travelling, carry some baby wipes or hand sanitizer to clean up hands. We also tell our children not to touch their eyes and nose.
This week we've started watching holiday movies. First on our list? Home Alone. So in honor of that great film, I printed and black and white simple bathroom printable "Wash Your Hands You Filthy Animal". Print yours here: Filthy Animal Printable.
Pin it for later: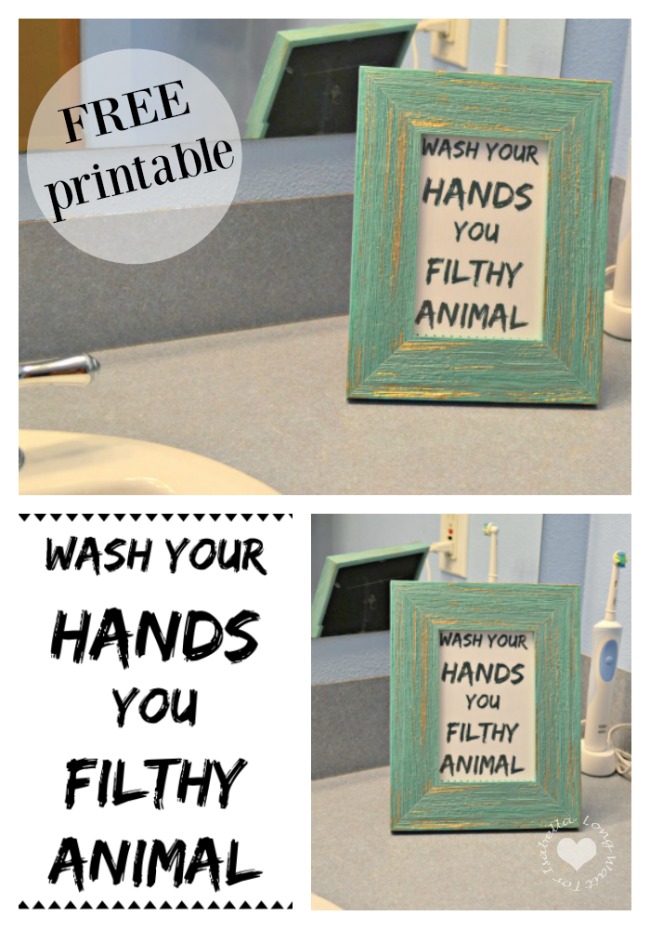 Disinfect High Contact Surfaces: this holiday cold and flu season we like to disinfect door knobs, frige handle, faucets, remote controls and electronics. You can easily disinfect with water and vinegar mixture. (We like to purchase the large size vinegar at our local big box store and use throughout the house.)
Your Child Has A Cold
Once the kids catch those pesky germs we like to be prepared. Here are four ways we like to combat the holiday colds:
Children's Medicine: We have our medicine cabinet stocked with great children's medicine in names we trust to work.
Water: We keep our kids very well hydrated during their cold and flu.
Nutrition: We like to feed the kids great foods that are full of nutritious vegetables. We stay away from processed sweets and build up their immune system.
Rest: This might be my favorite thing about the kids getting a cold. They like to snuggle and rest. I love those moments. Let them catch up on a lot of sleep.

Sick Just Got Real
When sick gets real, here are three solutions we use in our home to tackle those cold germs:
Ease those aches and pains, while reducing a child's fever fast with Children's Advil® Suspension, a great solution for kids as young as 2 and up to 11. Children's Advil comes in several great-tasting flavors, including: Sugar-free Dye-free Berry, Bubble Gum, Grape, Blue Raspberry, Fruit and Dye-Free White Grape flavors. There's also Infants' Advil® White Grape, which provides unsurpassed fever relief  with a syringe for easy dosing for children 6-23 months.
Formulated just for kids, Children's Robitussin® DM Day/Night Pack (Children's Robitussin® Cough & Chest Congestion for ages 4+ and Children's Robitussin® Nighttime Cough for ages 6+) non-drowsy daytime formula helps break up chest congestion, while the long-acting nighttime formula relieves coughs and runny noses to help kids get the rest they need.
All in a great tasting grape flavor, Children's Dimetapp® Cold & Cough for ages 6+ tackles a child's most bothersome stuffy and runny noses, all while working to relieve cough.
Connect with Sick Just Got Real