This shop has been compensated by Collective Bias, Inc. and its advertiser. All opinions are mine alone. #RoadTripTreats #CollectiveBias
This summer we are taking a family road trip for our annual Native American canoe journey. Our road trip will take us into British Columbia, Canada. We are heading to Vancouver Island this summer and we can't wait!
Have you been to Vancouver Island? Any great kid-friendly recommendations?
We'll be spending a week traveling up Vancouver Island via canoe with hundreds of other canoe families. Since the kids and I are usually part of the "ground crew" we'll be spending a lot of time in the car. I've compiled 10+ games that I know they'd love to play with mom and Nana in car.
Road trips require treats — it's a universal truth. So before I share the list of fun games the kids will love to play, here's a sweepstakes you need to enter. You'll also see some great snack options for those summer road trips! Even momma needs snacks, right? Thankfully, the kids love these snacks too.
[Tweet "Road trips require treats — it's a universal truth."]
Road Trip Treats Sweepstakes
The #RoadTripTreatsSweepstakes ends on August 14, 2017 and is open to US residents 18+. The Grand Prize includes a $500 Walmart Gift Card, a Yeti Cooler & more! Plus, there are Weekly Gift Card Prize Packs (ARV $350 each).
===> Head to www.RoadTripTreats.com to learn more and enter for your chance to win! <===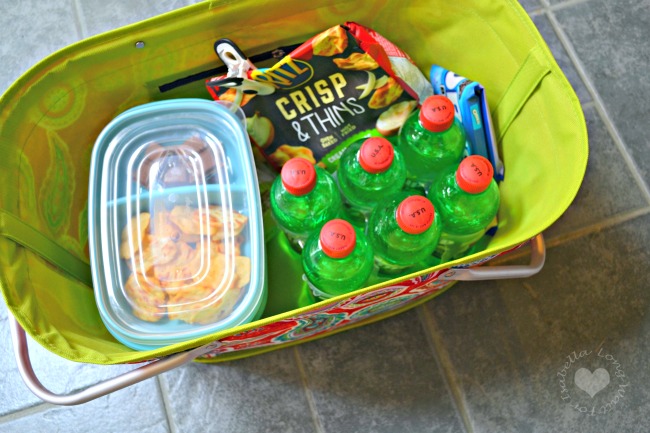 The Best Kids Travel Games
Besides i-Spy and Slug-Bug, there are so many other car games families can play together on a road trip. Here's a list I've compiled of simple easy games the whole family will enjoy:
License Plate Game – see how many States and Province license plates you can find. You can print the state and province names off before and have the kids cross them off.
I Packed my Grandmother's Trunk – The first player says "I Packed my Grandmother's Trunk and in it I put" followed by something that begins with A, such as apples. The second player repeats what the first person said, but adds something that begins with B. So she might say "I Packed my Grandmother's Trunk and in it I put apples and bananas." And so on with C, D, E and the rest of the alphabet. If someone forgets an item, he is out. The last player to be able to recite all the items on the list wins.
20 Questions – Player One thinks of a person, place or thing. Everyone else takes turns asking questions that can be answered with a simple yes or no. After each answer, the questioner gets one guess. Play continues until a player guesses correctly.
Mystery Alphabet – one child holds out his hand and closes his eyes while the other child "writes" a letter on his hand with her finger.  The first child has to guess which letter the second person is writing.
Counting Animals – count all the animals you see outside the window outloud. See how how you can get. You can count other things too: red cars, trucks, people walking, etc.
License Plate Alphabet Game – find every letter, A-Z, in the passing license plates
The Alphabet Game – Start with the letter "A" and find one on a sign, truck, building or license plate, say the word and then move on to the next letter.  Do this together as a family and there are no winners or losers.
The Song Game – one person hums a favorite song and everyone else tries to guess which song they are humming. The correct guesser then goes next.
Printable Games – road trip BINGO, road trip Scavenger Hunt, Tic-Tac-Toe
Card Games – bring a deck of cards and have the kids play Crazy 8s or Go Fish.
---
Pin it for later:
---
Travel Games for older kids:
Animal Name Game – One person names an animal. Then each person in order has to name another animal (no repeating!) that starts with the last letter of the previous animal named.  You can do other categories as well (states, TV shows, countries, etc…)
Third of a Ghost – for older kids and adults, this spelling game will be a hit.
Spelling Bee – bring a small dictionary, or write down a lot of great words for older kids and hold your own spelling bee in the car.
Who am I — Think of someone you know, friend or relative.  Give hints, one at a time, for example "She has brown hair".  Let everyone go around one time with their guess. If no one guesses add another hint like "she wears glasses." You can also play this game with animals, comic book characters, famous people, etc…
When you need a break from the family games remember to also pack a Road Trip Bag for the kids. Fill it with books, fidget spinners, play dough, stickers, pipe cleaners, markers and paper. We always bring a DVD player and Nintendo 3DS as well. (Psstt.. mom might need her own Travel Bag too.)
Any cool games your family plays in the car that are not listed above? 
All successful road trips must have great snacks. Something salty, something sweet, and of course soda pop. Here are great options we've found this summer to take on our summer road trip to Vancouver Island. I like to put the treats in everyone's separate container and in correct portions. They'll last longer.
Milka OREO: this large bar is a great sweet treat to share with the whole family. A layer of crunchy OREO cookies between 2 layers of rich vanilla creme, coated in European Milka chocolate candy. You can't go wrong!
RITZ Crisp&Thins: This one is for me! But, the kids love them too. You can eat 21 of these deliciously thin and crispy chips for one serving. They are truly oven baked to perfection. The best part? There is 50% less fat per serving than the leading regular fried potato chips!
7UP® — The 6pk and 8pk is so convenient for road trips! More affordable than buying one drink at a time, and it's a perfect complement to RITZ Crackers. We prefer bottles because you can reseal them – perfect for on-the-go and family road trips. The best part? 7UP® is caffeine free, so no hyped-up kids in the car!
Any upcoming family travel? I'd love to hear where you're heading. Also, send me your best travel hacks — I love incorporating new ideas into our family travel.
Find all these treats at your local Walmart:
RITZ Crisp&Thins are found on the Crackers aisle. Milka OREO bars were found on my Candy aisle. The 7UP® multi-packs were found on my store's back wall by the other Beverages.