My two kids both love role playing in the medical field. Bring on the  white coat and stethoscope and they are happy! That's the same vision behind Little Medical School's launch of a retail line of kid-size healthcare wear, gear and activity items and they align perfectly with the need for more STEM products. These educational tools are irresistible to curious kids. I should know — mine LOVE it.
What is STEM Education
In a world that's becoming increasingly complex, where success is driven not only by what you know, but by what you can do with what you know, it's more important than ever for our youth to be equipped with the knowledge and skills to solve tough problems, gather and evaluate evidence, and make sense of information. These are the types of skills that students learn by studying science, technology, engineering, and math—subjects collectively known as STEM. source
[Tweet "STEM learning is fun with Little Medical School!"]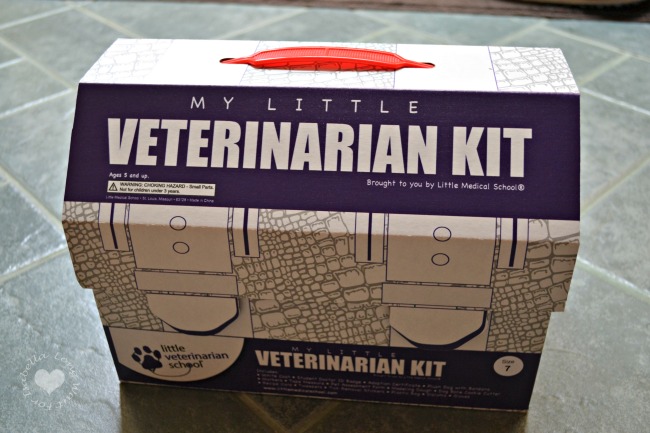 Look for the Little Medical School logo on My Little Pediatrician, Veterinarian or Sports Medicine Kits, White Doctor Coat, Organ and Skeleton Sticker Sets and more! The power of role-play, crafts and games to simulate a mini-medical student is the brainy concept behind Little Medical School. Their popular after-school and summer programs for future veterinarians, pediatricians and even sports medicine have been empowering kids coast to coast!
[Tweet "The power of role-play, crafts and games to simulate a mini-medical student!"]
My Little Veterinarian Kit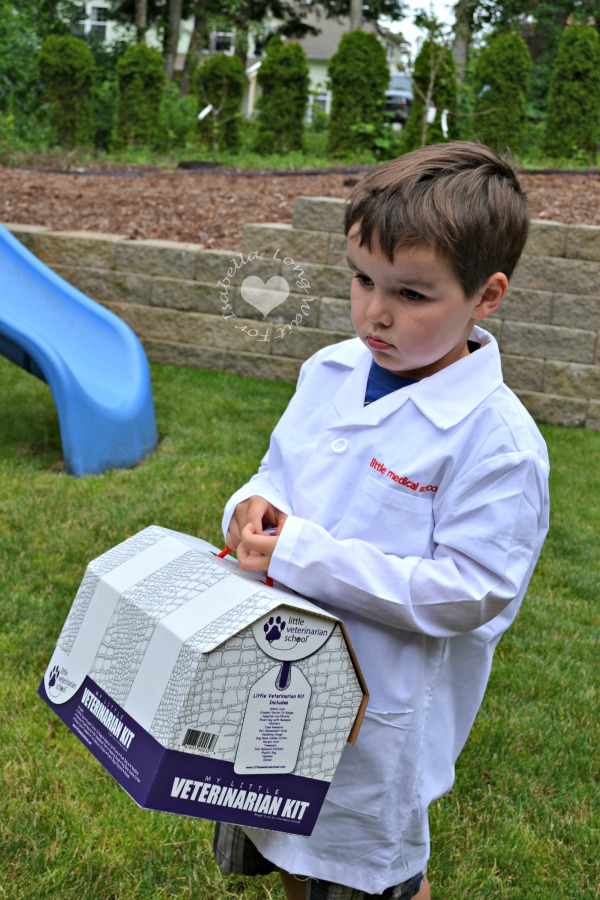 This 'mini-veterinarian school journey' for kids offers a wondrous array of fun and exciting props and activities through which children explore the world of veterinarian medicine, science, health and pet care taking.
The workbook engages little veterinarians with activities that are as fun as they are enlightening:
adopting
naming
and learning about a dog
learning about healthy snacks dogs can eat
measuring the chest size perimeter and front leg length of the dog
performing a 'Nose to Tail Exam
doing a tick check and removing tick stickers from the dog
an introductory and graduation ceremony
My Little Veterinarian Kit promotes social development, cooperation, teamwork, creativity and problem-solving, among other skills.
When my two kids (age 5 and 9) can play together for over 30 minutes without fighting, I think that's a big win. This product was a HIT in our house. They loved playing veterinarian and they loved bringing their new dog in to get his check-up. What a fun medical kit! They've even played it with their 9 year old cousin — and he loved it too.
Connect with Little Medical School
Facebook | Twitter | Instagram
Win Little Medical School Kit
One lucky Long Wait For Isabella reader will win their own My Little Pediatrician kit or My Little Veterinarian kit, or My Little Sport Medicine kit. Winner's choice! Open to US residents 18+.
ABOUT LITTLE MEDICAL SCHOOL®
How can you get children to aspire for careers in health care such as medicine, nursing, pharmacy, dental and veterinarian medicine? That's the mission of the founder of Little Medical School, Mary Mason MD, MBA, FACP. Her innovative educational company creates mini-medical, nursing, pharmacy, dental and veterinarian school experiences for children ages 3-14. Through hands-on demonstrations, crafts and games, children are actively engaged as they explore the world of healthcare. New for 2017 is the launch of a retail line of award-winning educational kits and products, created in response to demand from family participants of the Little Medical School locations. A percentage of proceeds of the new line will be donated to the Dr. Genie's Kids Foundation. The Foundation provides scholarships for children to be exposed to the many healthcare career paths. Dr. Mason is a mother of three, all of whom she proudly notes attended Little Medical School! For more information, click on www.LittleMedicalSchool.com.
Disclosure: I was sent the above product for review. No other compensation was given. All opinions are mine alone.