If you have a son or two, you know that old saying, boys will be boys. While I agree boys will be boys, I believe we can also prepare them to be great men one day. Below are ways you can help teach your son how to be a stand up guy when he is grown and leaves the nest.
I believe that raising boys to be a loving, caring, kind is essential. It is important to teach boys:
how to respect women
have a good work ethic
be honest
be kind
and so much more!
Below you will find tips for raising sons the best you can. Kids grow up fast, and before you know it they will be off to college. So start early, learn how to raise boys, and make sure to take every opportunity you can.
Raising Boys to be Great Men One Day
Be Kind to Others
Teach your son to be kind to everyone: old, young, and even animals. This is a great way to teach your child to respect others and that everyone has worth. You can do this when your child acts rude to someone, explain you have to be nice to everyone.
[Tweet "Raise boys your boys to respect others."]
Do Chores Around The House
It is not bad to ask your children to help around the house, girl or boy. Teaching them house chores will help them grow up to know that these things have to get done for a clean home, and it doesn't matter your gender. Have them help with dishes, sweeping, dusting, laundry and so on. Laundry is a great one, so in time they can learn how to do it on their own and not depend on someone else to clean their clothes.
Learn to Cook
Teach your son how to cook and bake. This is something I think every child should learn. It will help when they leave home, that they will know how to cook for themselves and later on a spouse possibly. Start early by letting them help make cookies and goodies, and then as they get older introduce more foods to them. This task is something a lot of parents don't take the time to teach their children, so try and take the time. It might take longer to make the meal, but the value behind it is huge.
We are Equal
Teach your son that women and men are equal. We all can do the same things despite the gender we are. You can be a surgeon, engineer, teacher, or anything else whether you are a girl or boy.
The Value of a Dollar
If you give your son an allowance or he works when he is older, teach him how to save money and the value of a dollar. Saving money and knowing its value are both huge. We live in a world of things, and knowing what to spend and what to save can help them financially as they get older!
[amazon_link asins='1414391331,B003FW0YZG,B00QZERQJI,0307731685,B018B2DY0G' template='ProductCarousel' store='wpplugin01-20′ marketplace='US' link_id='e7a52332-4c60-11e7-aea0-210f7730b8ac']
Show Love and Support
Make sure to tell your son you love them, and give them praise. When they make a mistake help them to learn from it in a positive way. Help your son to grow up confident and strong in who they are  as a person. Always cheer them on, and be in their corner if they need you. Let them make decisions on their future and stand behind them.
Be a Role Model
Make sure you are leading by example. Boys will watch their parents and see how they treat others, act in situations and just are as a person in general. So if you want your son to be loving and kind, you need to lead by example.
Family Time
Make sure to have family time, whether that is eating meals together, family game night, etc. Making sure to have family time on a regular basis will teach your child the importance of family. That is something you truly want to instill as they get older and leave, they will want to come home for family time.
Compassion
Make sure your son knows that it is okay if they cry and show emotion. It doesn't make them weak, it actually makes them strong. Teach your son about the importance of being kind, and showing compassion to others. Demonstrate love to friends and family and the world around them.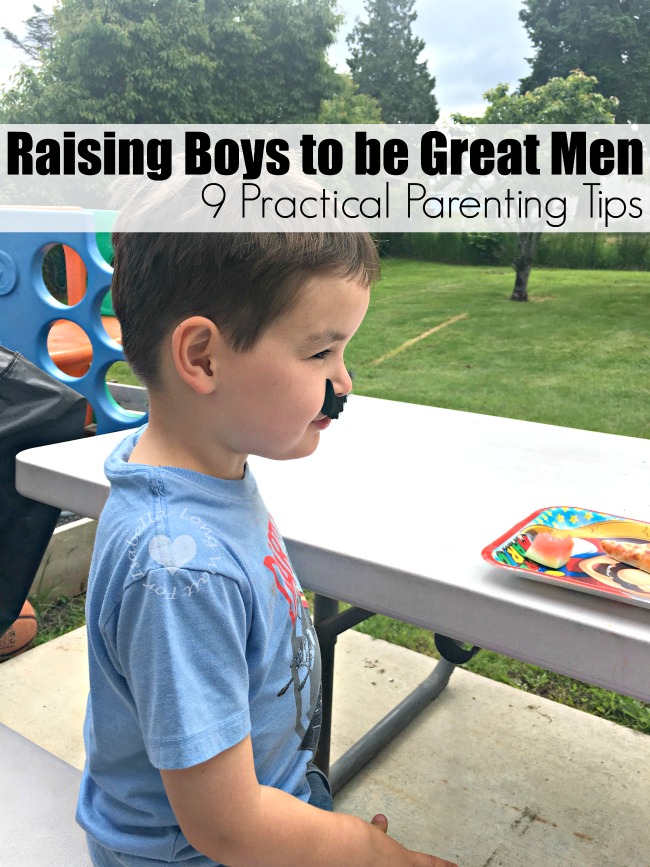 Most importantly just be there for your son as he grows. Show him love, compassion, encouragement, and he will be okay. If you make a mistake, remember that tomorrow is a new day!
You might also like: