Looking for a way to make learning to count more fun? Here's an activity to inspire your child to recognize numbers by having him make homemade flashcards. All you need are some rubber stamps and index cards to get started!
Kids love using rubber stamps, and because craft stores carry many fun shapes, your child will be able to personalize his very own flashcards. While your child works on building foundational math skills, he will also learn a great study strategy that'll help him in years to come!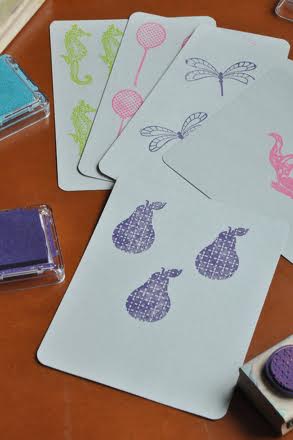 What You Need:
Rubber stamps
Stamp pad
Markers
10 blank cards from cardstock
[amazon_link asins='B000GIKZ4W,B0007P9554,B013RQPB5C,B00MC7T9S8,B006P1EQIA' template='ProductCarousel' store='wpplugin01-20′ marketplace='US' link_id='86d68864-180c-11e7-9d10-3b5a5aaab5e6′]
What You Do:
Cut your cardstock so that you have ten cards. Depending on your stamp size, make sure your flash card is large enough to hold ten stamps.
Using markers, write the numbers one through ten on your flashcards.
Ask your child to say the number on the card and then to stamp that many pictures. You might have to show him how to do the first one. If you have multiple-colored stamp pads, show him how to wipe the stamp clean before changing to a different color. Have your child count out loud while stamping. This reinforces one-to-one correspondence, when what he says matches the object.
Continue stamping different stamps on all the flashcards.
When finished, try out your rubber stamp kids flash cards. Hold them up and ask him to say the number and count the stamps. If he gets it correct, he may keep the card.
What a great and simple way to start teaching math!