On March 11, our Women's Ministry team decided to have a vespers devotional and potluck supper to coincide with Purim. Purim is a Jewish holiday that commemorates the saving of the Jewish people from Haman, who was planning to kill all the Jews.
In the twelfth month, which is the month of Adar, on its thirteenth day … on the day that the enemies of the Jews were expected to prevail over them, it was turned about: the Jews prevailed over their adversaries. – Esther 9:1
We decided we wanted to have a royal party theme — with great Jewish/Mediterranean influences.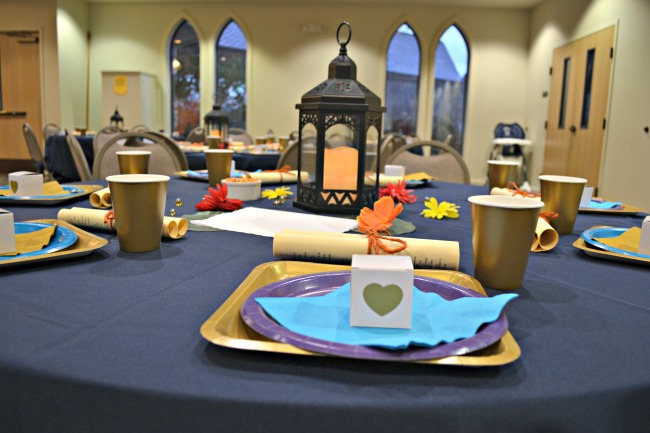 Pastor Marcia, our female pastor on staff, gave us a great talk about Esther and her ability to stand for her people in the face of great stress and possible loss of life. We also read through the book of Esther in rhyme which we printed on legal paper and rolled like a scroll. When Pastor Marcia got to Haman's name in the rhyme, we all booed and made hissing noises. It was so much fun.
And they gained relief on the fourteenth, making it a day of feasting and gladness. – Esther 9:17
In following with Purim tradition, we read through the story of Esther twice (in a devotional and in a rhyme), brought gifts for the poor (donated socks to our homeless ministry) and gave food gifts (the above little white boxes with gold hearts on them have pistachios inside).
To download a copy of the legal size of Esther in rhyme, click here ==> The Story of Esther in Rhyme.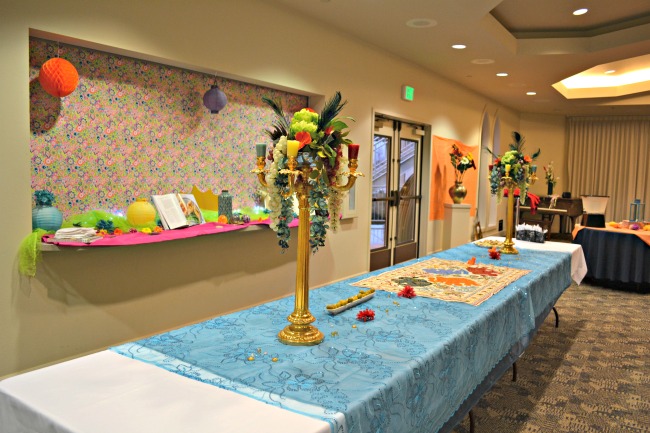 [Mordecai instructed them] to observe them as days of feasting and gladness, and sending delicacies to one another, and gifts to the poor. – Esther 9:22
Royal Party Ideas
We decorated with bright royal colors and gold trying to keep with a royal party theme since Esther was a Queen. A royal party is a common Women's Ministry party idea, but having this party on Purim was very unique and fun for all the women and girls that attended.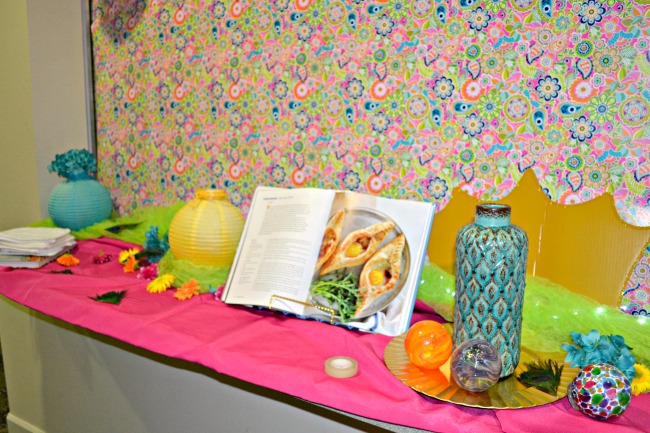 We set up for 48 guests and had almost 45 attend, so the Purim Celebration was a big hit for the women in our church. I used Facebook to create the event, and invited everyone from our Women's Ministry Facebook group. I encouraged the ladies to invite friends and family and also to bring their daughters. I also posted potluck food ideas. We asked the ladies to bring Jewish and Mediterranean style food options.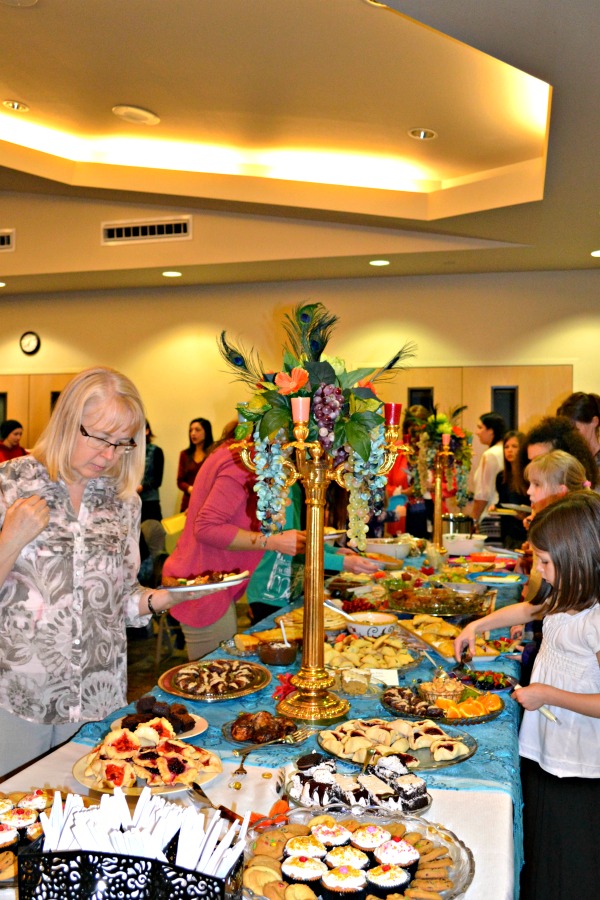 We had so much food — delicious rich royal party foods that everyone loved. Trying new foods was also fun. Hamantashen and kreplach, both with their fillings hidden inside, allude to the hidden nature of the Purim miracle. On a lighter note, the three-pointed hamantashen are said to evoke Haman's three-pointed hat or his triangular ears.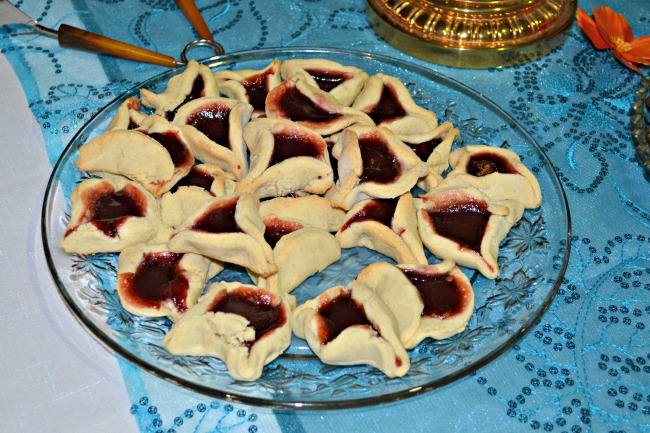 What a fun Purim Celebration! A special thanks to Oriental Trading for great party supplies. (You'll find everything you need at Oriental Trading. They even had great photo props for our fun photo booth.
Connect with Oriental Trading
Facebook | Twitter | Pinterest | Google+  | YouTube
Pin it for later: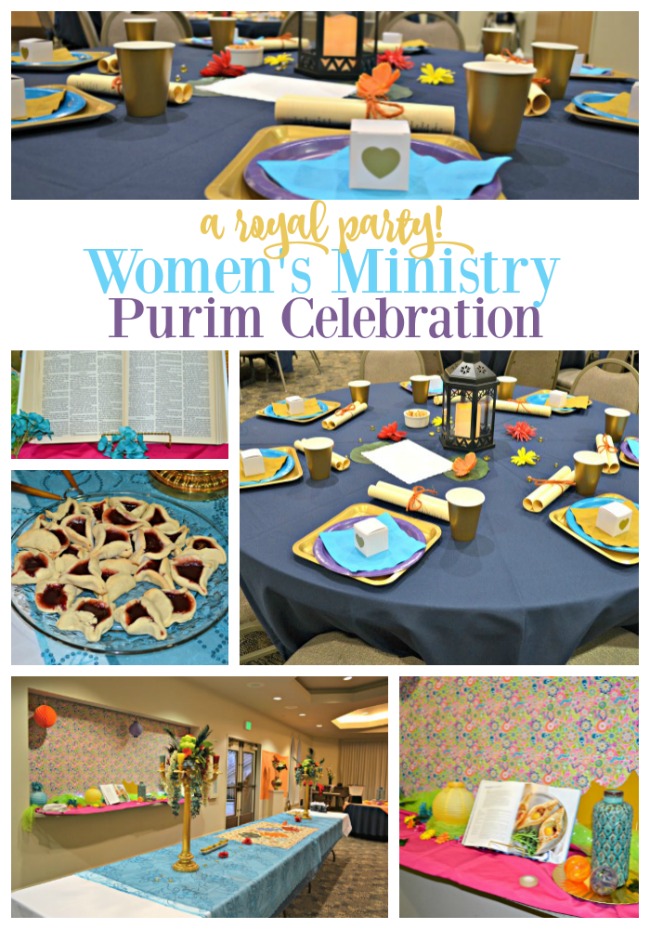 Disclosure: This is a review post with Oriental Trading. All opinions are mine alone.