This year my children both have a Nintendo 3DS game that they love. It's their go-to game, and they first learned about and played it on our visit to Nintendo HQ in Renton, Washington. That game is the 3DS Mario Party Star Rush. Have your kids played a Mario Party game on Nintendo before?
About Mario Party Star Rush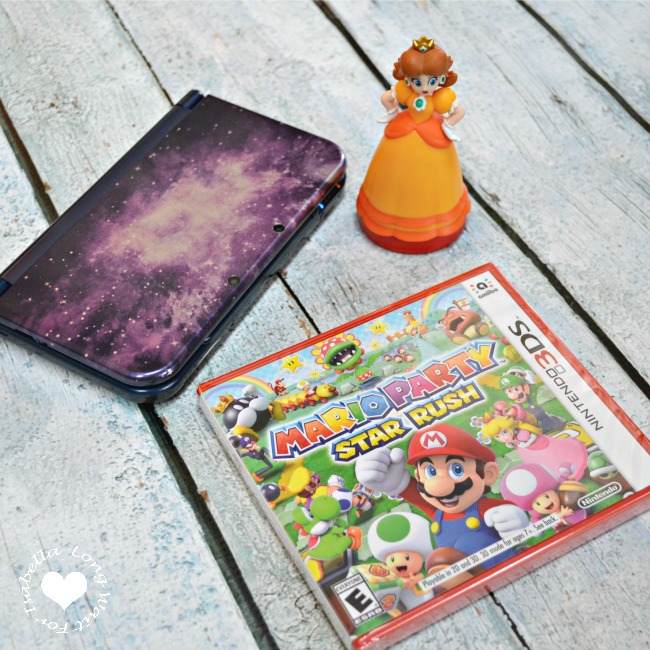 Break free of turn order, with all players plotting strategy, rolling the dice, and moving. all simultaneously!
Team up with your friends in the real world to compete to take down bosses in each game board. Mario Party fun is back and better than ever for multiplayer. Rated "E" for Everyone. My kids both have Mario Party Star Rush so they can play the game with each other. When they visit their cousin, he also has the game. So all three of them play together. It's so much fun for them!
Buy Mario Party Star Rush here:
Don't forget to get your amiiboo! amiibo are game accessories that reward players with cool in-game "extras." They are cute and easy to use – just tap an amiibo on the New Nintendo 3DS XL* screen to score new characters, game modes, and other bonuses. In Mario Party Star Rush specifically, you can use one of 7 new amiibo to immediately team up with Mushroom Kingdom allies.
[amazon_link asins='B01H3NU4OS,B01AC3ZA0Y,B00OSWJUBQ,B00CH9253W,B015ZGXL0O' template='ProductCarousel' store='wpplugin01-20′ marketplace='US' link_id='670a5784-ed56-11e6-8893-3b87ff92123a']
Simple Mario Party Ideas
Mario Party Decor
Mario Party Food
Mario Party Games and Fun
My son's 5th birthday is coming up this Spring. I think a Mario Bros party is a great idea, what do you think?
Keep it even more simple and buy decor and favors right on Amazon:
[amazon_link asins='B0195LZDJC,B01B8AMNM8,B013OZXE0U,B00GKNY1RY,B0195LW0QQ,B019XEU5FS,B014TMU0IQ' template='ProductCarousel' store='wpplugin01-20′ marketplace='US' link_id='93e0eab3-ed56-11e6-ae0c-416ccd2c66a3′]
Disclosure: This is a sponsored post. This post contains affiliate links.