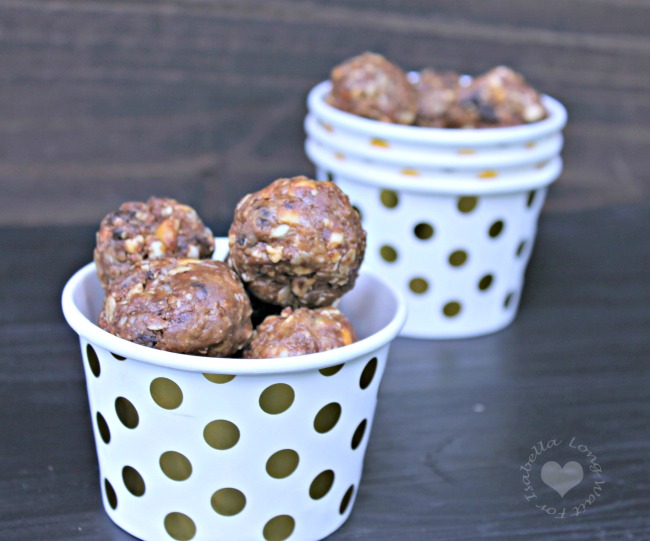 It's a New Year! Wowza — where did 2016 go? With a new year comes resolutions to exercise more and eat better. Am I right? I do it too. So in honor of all those amazing resolutions, I thought I'd share a very simple no-bake vegan energy bites recipe.
Life is busy for us. I need simple recipes. And no-bake? Well that not only helps the environment, but saves me time! Big win!
Energy Bites Ingredients
1/2 cup peanut butter
1/4 cup cocoa powder (this is the brand I use for recipes and smoothies!)
2 T Protein Powder
2 tsp. water
1 cup rolled oats
1/4 cup dark chocolate chips
1/2 cup cashews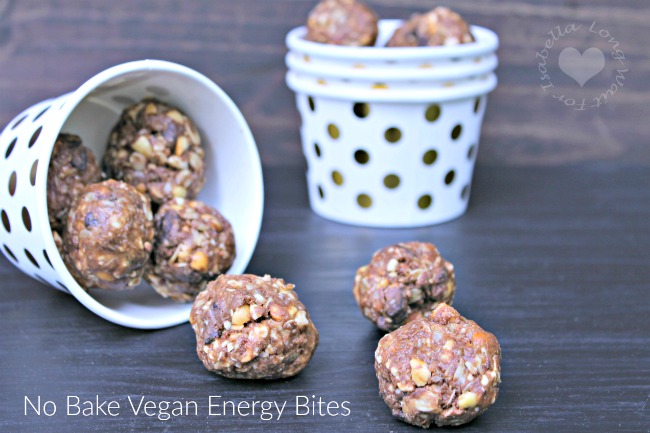 Energy Bites Instructions
In your food processor, pulse 1/2 of the cashews until medium ground and set aside. Next, add peanut butter, cocoa powder, protein powder, chocolate chips and the remaining 1/2 of the cashews. Pulse together until well blended. In a medium bowl, add oats and mixture from food processor until ready to form into balls. Add water as needed. Keep refrigerated until you are ready to eat. These also freeze well!
Pin it for later: