Hot chocolate in the winter is always a good idea. But what about hot chocolate cookies? Brilliant, in my opinion. The kids will love these and of course the kids at heart as well. We love cookies here! You can make these with a chocolate cake mix if you'd like, but this recipe is from scratch — and so delicious.
Triple Chocolate Hot Chocolate Cookies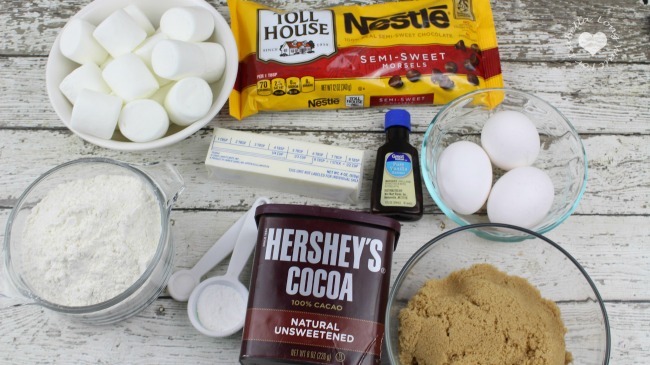 INGREDIENTS FOR COOKIES
1 1/2 cups all-purpose flour
1/3 cup cocoa powder
1 1/2 teaspoons baking powder
1/4 teaspoon salt
12 ounce bag of semi-sweet chocolate chips
1/2 cup (1/2 stick) butter
3 eggs
1/2 Tablespoon vanilla extract
1 1/4 cups brown sugar – firmly packed
12 large marshmallows – cut in half horizontally (24 total)
INGREDIENTS FOR ICING
2 cups powdered sugar
1/4 cup cocoa powder
4 tablespoons (1/2 stick) butter – melted
1 teaspoon vanilla extract
1/4 cup hot water
Red and white sugar pearls
Heart sprinkles
Hot Chocolate Cookies DIRECTIONS
1. Line a large baking sheet with parchment paper. Set aside.
2. In a large mixing bowl, whisk the flour, cocoa powder, baking powder and salt. Set aside.
3. In a double boiler pan, warm the chocolate chips and butter over low/medium heat. Stir continuously until melted and smooth. Remove from heat and allow to cool for 5 minutes.
4. In a medium mixing bowl add the eggs, vanilla and brown sugar. Beat with a mixer on low speed until blended.
[amazon_link asins='B002BFQR3G,B001CDP5VS,B01HTYH8YA,B00LGLHUA0′ template='ProductCarousel' store='wpplugin01-20′ marketplace='US' link_id='928e3910-db66-11e6-8632-5db53f106e77′]
5. Fold the melted chocolate into the brown sugar mixture and stir well to incorporate.
6. Add half of the dry ingredients and stir until mixed well. Add the remaining half of the flour mixture and stir until the cookie dough is completely mixed.
7. Cover the bowl and chill for 1 hour for easier handling.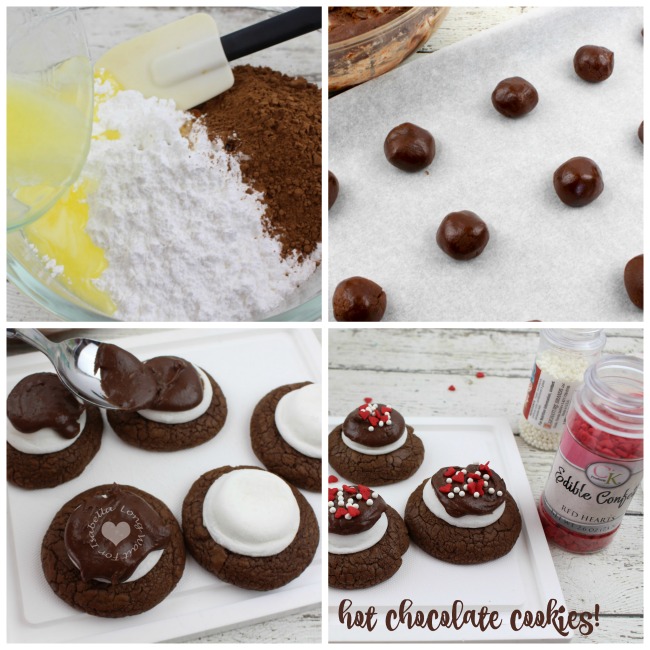 9. Preheat oven to 325°.
10. Remove cookie dough from refrigerator and shape into 1 inch balls. Place on baking sheet at least 2 inches apart. Slightly flatten with the bottom of a spatula or drinking glass.
9. Bake for 11-12 minutes. Remove from oven and place a marshmallow piece into the middle of each cookie by gently pressing down.
10. Return cookies to the oven and bake for an additional 2 minutes. You want the marshmallows to be soft and puffy but not brown.
11. Remove from oven and allow to cool on the baking sheet for 5 minutes before transferring to a wire rack to completely cool.
12. In a medium mixing bowl, add the powdered sugar, cocoa powder, vanilla, melted butter and hot water. Stir until well blended and a glaze forms. Set aside for 5 minutes to thicken.
13. Spoon the chocolate glaze on top of each marshmallow. Sprinkle with the red and white sugar pearls and heart sprinkles.
14. ENJOY!!
Pin it for later: